Hulu's The Great Season 3 - Everything You Need To Know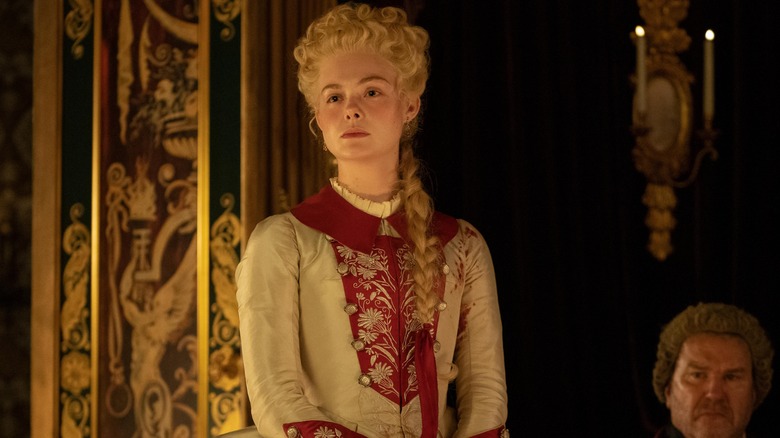 Gareth Gatrell/Hulu
We may receive a commission on purchases made from links.
You can't keep a good queen down — especially when she's spent so long trying to climb up the royal ladder.
The version of Catherine the Great (Elle Fanning) presented in "The Great" is both a political schemer who wants to be rid of her arranged marriage so she can rule Russia solo and a woman who, in spite of it all, finds herself attracted to Peter III (Nicholas Hoult). At the conclusion of Season 2, their love-hate relationship has been put aside to present a united front to a Russia that's in tumult after the Russo-Turkish war. Catherine now knows that Peter has had an affair with her mother Joanna Elisabeth of Holstein-Gottorp (Gillian Anderson) after Marial (Phoebe Fox) spilled the beans. She also knows that Peter was present when Elisabeth fell to her death. 
Catherine, in turn, tries to kill Peter — only for her assassination plans to go wildly awry. The twosome then tries to commit to peace. Their ability or inability to get their acts entirely together during Season 3 will, naturally, mean Russia's boon or their bane. Court pressures, internal pressures, parental pressures, and their attempt at pleasing international factions collide to make Catherine and Peter's lives difficult. And then Catherine becomes determined to enlighten her public ...
After a long production hiatus (Season 2 of the show rolled out in November of 2021), fans of the seriocomic take on real life are about to be rewarded. Season 3 of "The Great" is about to hit Hulu, and that means more fun for fans of the show everywhere. Here's what we know so far about the latest batch of adventures from everyone's favorite miscreant monarchs.
When will The Great Season 3 be released?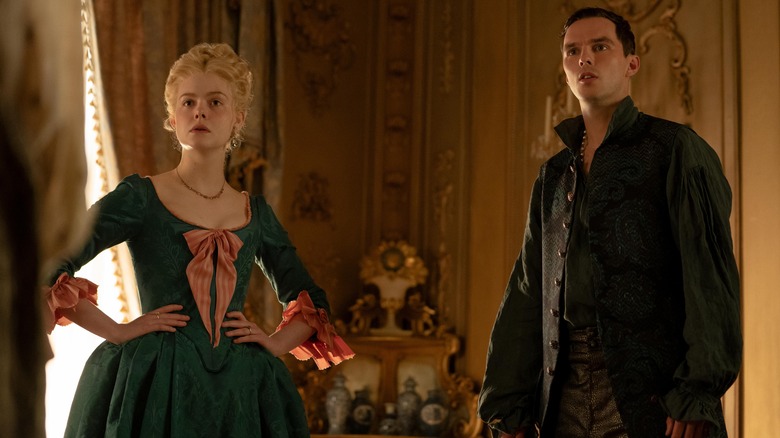 Gareth Gatrell/Hulu
The entire Season 3 of "The Great" is set to hit Hulu on May 12, at midnight EST. That means the whole show will be ready to binge a couple of weeks ahead of Memorial Day, so if you're looking to get in out of the heat and dip into something fun and soapy, all 10 episodes will be there for you to watch at your leisure. 
All 10 titles for Season 3 have also leaked ahead of time. These are "The Bullet or the Bear"; "Choose Your Weapon"; "You The People"; "Stag"'; "Sweden"; "Ice"; "Fun"; "Three Pieces"; "Destiny"; and "Once Upon a Time."  Since there's no word as to whether or not this intentionally historically inaccurate telling of Catherine the Great's life will last beyond the third season, we don't know what will be skipped and what will be covered in Catherine's impressively long reign, but these episode titles definitely hint toward Catherine's eventual assumption of the throne.
What is the plot of The Great Season 3?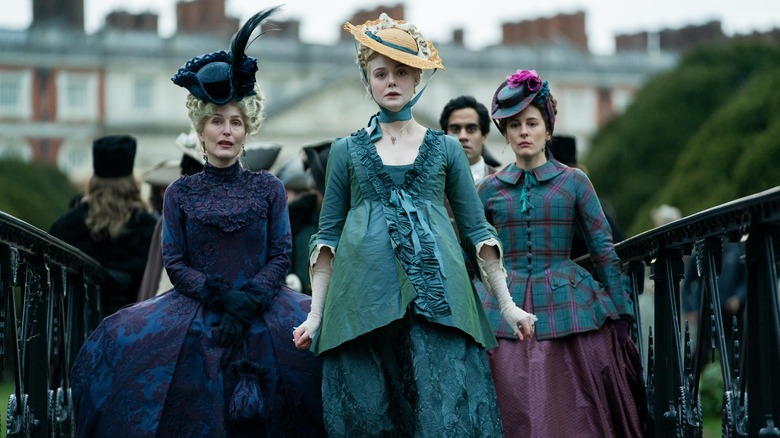 Gareth Gatrell/Hulu
In the wake of Catherine's accidentally stabbing Pugachev (also Nicholas Hoult) to death and her unsuccessful diplomatic mission to Turkey to meet with Sultan Mustafa III (Billy Postlethwaite), which resulted in her assassinating him after he tries to stab Catherine, our royal couple has a lot of emotional healing to do — and a lot to answer to. After all, Peter tries to flee Russia with baby Paul only to decide against it as Season 2 comes to a close. Both Peter and Catherine are brought together by their inability to walk out on one another; ergo, Season 3 seems to be about the twosome absorbing advice as to how to fix their broken union as well as to properly rule their kingdom. And to — at the bare minimum — find peace with one another.
To wit, the Season 3 trailer shows them performing trust exercises from a book given to them by Elizabeth (Belinda Bromilow) as a form of couple's therapy. Catherine is also shown trying to bring the Enlightenment about by conferring knowledge upon the peasant class. Unfortunately, this results in said peasants believing she is a witch. An uprising is threatened, and Catherine's diplomatic skills begin to spread her renown far and wide. But Catherine's confidence remains unshaken; she will pull this off or die trying. 
And she might die trying — especially because Peter is being haunted by visions of his father (Jason Isaacs). Peter also tries house husbandry, seeking to establish a legacy, hunt well, and create new cuisines. But will he be able to contain his lust for power? Especially since Catherine has had all of his supporters, including Marial, imprisoned? 
Who is starring in The Great Season 3?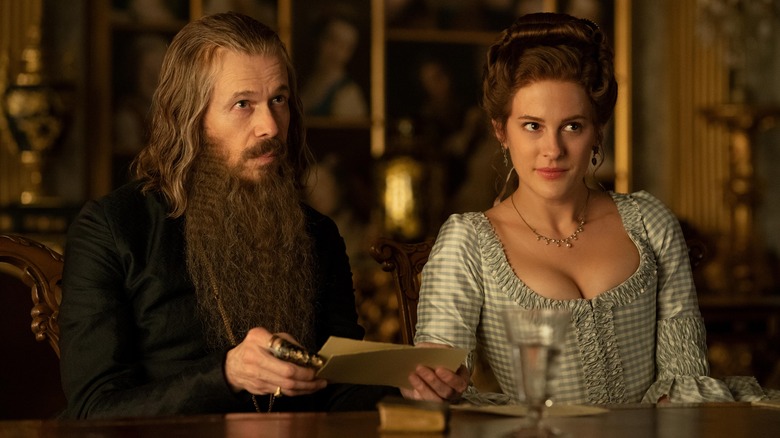 Gareth Gatrell/Hulu
Judging from the Season 3 trailer, it appears that all of the show's major players remain in place for Season 3. Elle Fanning and Nicholas Hoult will be on board as Catherine and Peter, naturally. Sacha Dhawan's Orlo and Belinda Bromilow's Elizabeth are visible in the Season 3 trailer as well. Phoebe Fox will be back as Marial, and Adam Godley returns as Archie. Gwilym Lee's Grigor and Charity Wakefield's Georgina Dymov, Douglas Hodge's General Velementov, and Bayo Gbadamosi's Arkady are all set to keep making appearances in Season 3. And expect Peter's father, Peter the Great, to return in the form of Jason Isaacs on a recurring basis as his son struggles with visions of his dead father. 
There's no current word as to any guest stars set to appear in Season 3 of "The Great," nor is there any hint as to any recurring parts on the current season aside from Isaacs' return engagement.  
Who is producing, writing, and showrunning The Great Season 3?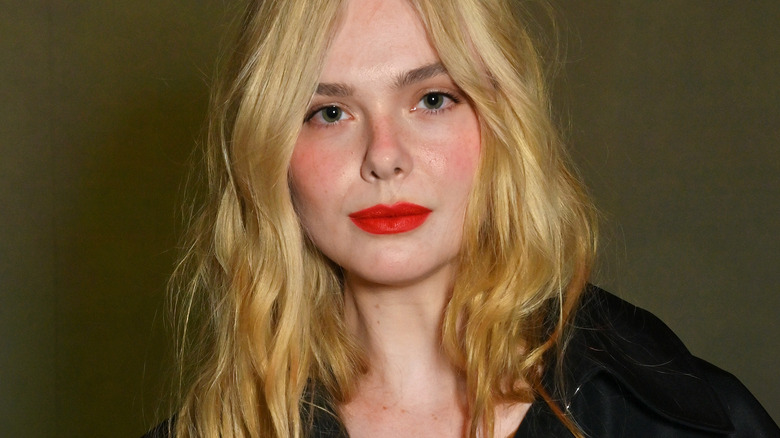 David M. Benett/Getty Images
As she did with the show's previous season, Elle Fanning will be one of several people producing Season 3 of "The Great," per Variety. She'll be joined by Marian Macgowan, Mark Winemaker, and Nicholas Hoult. Also on board? Showrunner Tony McNamara, the show's head writer, creator, and co-executive producer. Brittany Kahan Ward, Doug Mankoff, and Andrew Spaulding will also produce on behalf of Echo Lake. Ron West and Josh Kesselman will represent Thruline. 
McNamara has written the majority of Season 3, with an assist on Episodes 4 and 9 by Fiona Seres and Episodes 5 and 8 by Ava Pickett. There's no word as to who will be directing the show's 10-episode run; no one season of "The Great" has been directed by any single person and it's not likely that the show will switch out that formula for its third season.
Is there a trailer for The Great Season 3?
The show's trailer for Season 3 was released on April 12, 2023, a month ahead of Season 3's release. As you can see, Catherine's quest for love and loyalty is not going to be an easy one. In fact, her citizens don't seem to be too willing to pay back her love and loyalty with anything more than suspicion and scorn. Worse, it appears that her advisors aren't willing to step in to lend her a helping hand. What can a person who when help's not coming? The only answer seems to be to rely upon her own pride and gumption.
While Catherine and Peter try to cement their destinies and entertain the court, they also try to drag the world into the next century with them; something their citizens do not seem willing to stomach. Will they turn on one another? Will they find true love? 
Where to watch previous seasons of The Great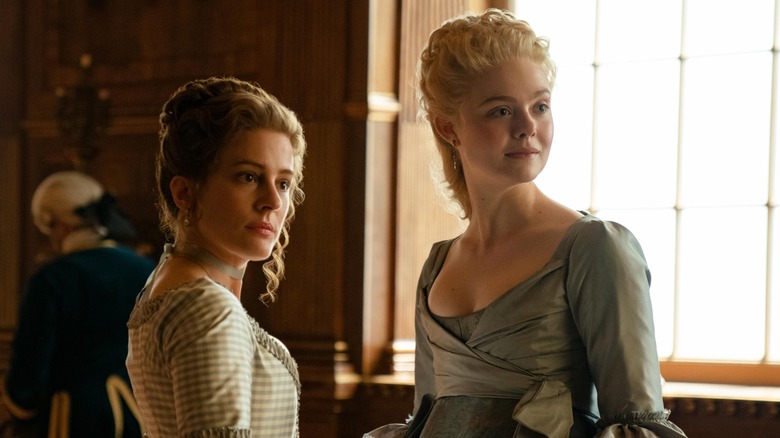 Gareth Gatrell/Hulu
As you might have guessed, this Hulu-born program is available on Hulu, and it's the only place where you can stream both seasons of "The Great." You can subscribe to Hulu and watch The Great on the platform for free for a month, but after that first month, you'll have to switch to the streamer's $7.99, $14.99, or $69.99 a month plans. 
For those unwilling to commit to a Hulu subscription, you can sample the series on an episode-by-episode basis. YouTube TV has all of Season 2 up for sale at $1.99 per episode as of this writing. That cost goes up to $2.99 for an HD version of the outing. The whole second season goes for $18.99 or $19.99 each. There are no rental options. Google Play offers Season 1 and Season 2 for the same price points, and so do Apple TV,  Vudu, and Prime Video. 
No matter where you choose to see the series, you're guaranteed one heck of a romp until Season 3 turns up.