Who Plays Hilary Banks In Bel-Air?
"Bel-Air" may be a bold new take on the classic sitcom "The Fresh Prince of Bel-Air," but that hasn't stopped most of the major characters from the original series from jumping into the new one. Just as Jabari Banks portrays a fresh iteration of Will Smith, so too are there new takes on characters like Uncle Phil, Carlton, and, of course, Hilary Banks. Hilary in particular has received quite the modern update, with the Smith cousin getting reimagined as a trend-savvy social media influencer.
This new version of Hilary makes for a convincing rendition of what the classic character would be like in the 21st century, but some fans may be wondering just who exactly plays the Banks daughter in the reboot. Wonder no longer — "Bel-Air's" Hilary is portrayed by none other than Coco Jones, a popular singer who viewers that grew up watching Disney Channel in the early 2010s have a good chance at recognizing.
Coco Jones balances music and acting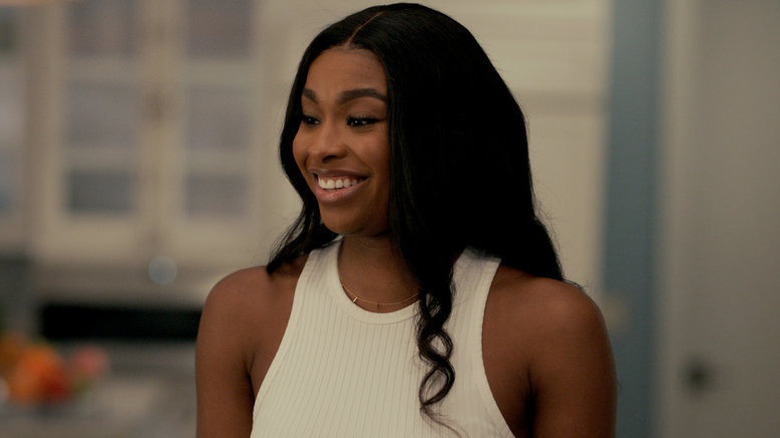 Peacock
Coco Jones got her start as an actor by appearing in various Disney Channel productions in the early 2010s, including sporadic appearances in the "Sonny with a Chance" spin-off "So Random!," a recurring part in the Bridgit Mendler-led sitcom "Good Luck Charlie," and a starring role on the cast of the Disney Channel Original Movie "Let It Shine." At this point, she had already been performing as a musician for several years, and she continued that work even after she left the family-friendly Disney network behind.
In more recent years, Jones has continued to accrue acting credits on various productions. She notably appeared as part of the cast for the 2020 Netflix horror-comedy "Vampires vs. the Bronx." After a slew of successful independent singles and EPs, the singer also signed to Def Jam Recordings in 2022 and released her first studio label EP "What I Didn't Tell You," which has amassed quite a bit of popularity since then.
While Jones has quite a successful run as a performer since she first hit the scene, the actor speaks warmly of her role as Hilary on "Bel-Air" for helping kickstart a new chapter of her career. "I feel grateful, honestly," she said in an interview with Teen Vogue. "My life has changed so much and Hilary has opened doors to a whole new audience that supports me and everything that I do, and that's just amazing. That's all I could ask for. I feel very grateful."