What Taissa Farmiga Took From The Set Of American Horror Story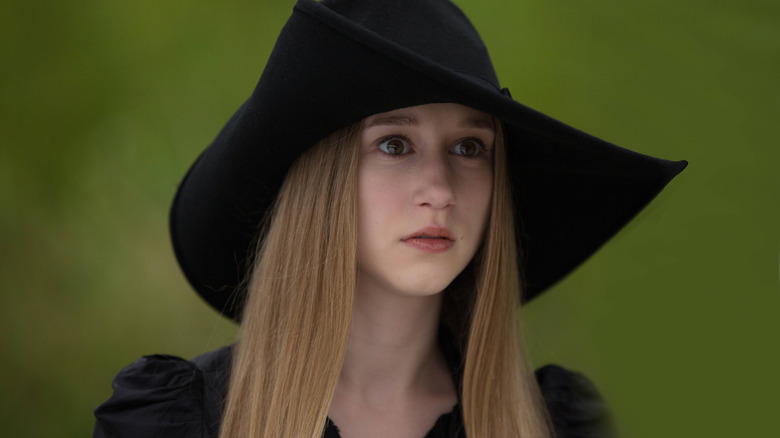 FX
The narrative of "American Horror Story" may change with each new season but something that doesn't is its impressive fashions. Be it the impeccable styling of Antichrist Michael Langdon (Cody Fern) or the subtle period pieces of Lana Winters (Sarah Paulson), the unforgettable designs are constantly scene stealers. Taissa Farmiga is one of the series' most constant presences, having appeared in four different seasons, with her most notable roles being Zoe in "Coven" and Violet in "Murder House." The actress is well aware of how fondly fans view the pieces she wore in both, especially in the bewitching world of "Coven," so it was no surprise that one asked her about those fashions during a Reddit AMA.
Not surprisingly, Farmiga had nothing but praise for the look. Of course, the fan wanted to know if she kept any of those pieces from the season. "My style is slightly different, but that doesn't mean I couldn't walk away from set with a few pieces out of Zoe's closet," she answered. We're not sure of the clothing items she took specifically, but her own closet is definitely more stocked. The actress offered up total admiration for costume designer Lou Eyrich, a frequent Ryan Murphy collaborator. "Lou, the costume designer, is such a talent," she wrote.
The AHS: Apocalypse fashions grew with Zoe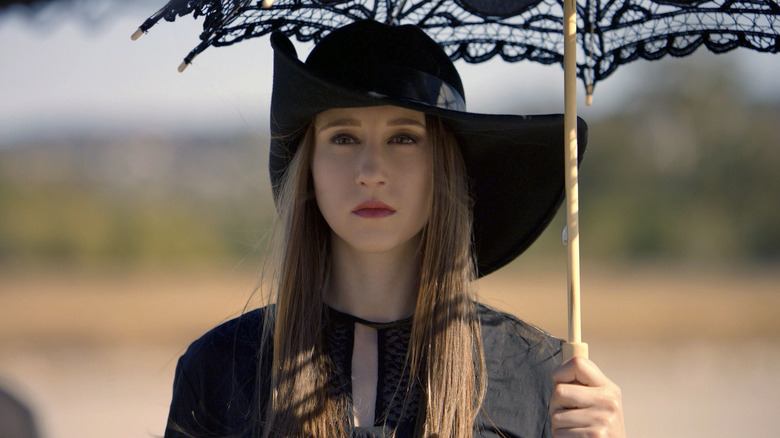 FX
It's easy to understand why the cool fashions of "Coven" would have one of its stars grabbing for a few items. After all, their influences came from a host of famed designers and legendary looks. Lou Eyrich herself spoke about what they wanted for those "Coven" costumes and reflected on the changing style with "Apocalypse" co-designer Paula Bradley during a W magazine interview.
Eyrich cited Yves Saint Laurent and the '70s as major influences for the witches of "Coven," with each character having a unique style echoing their special traits. When it came to Taissa Farmiga's style, the costume designer looked toward Belgian designers Margiela and Ann Demeulemeester. The look helped Zoe become a fan favorite during the season. Revisiting the character later with "Apocalypse" gave Bradley a chance to explore how Zoe had grown up and changed somewhat from Eyrich's youthful costumes. "Zoe is now a teacher, but she is still in that Margiela, and a little bit of Alexander Wang. But it's still her," Bradley said. "And luckily, fashion has moved right in that space and gone along in there with Saint Laurent and those type of looks that are there."