American Horror Story Fans Agree That Apocalypse's Saving Grace Is The Wardrobe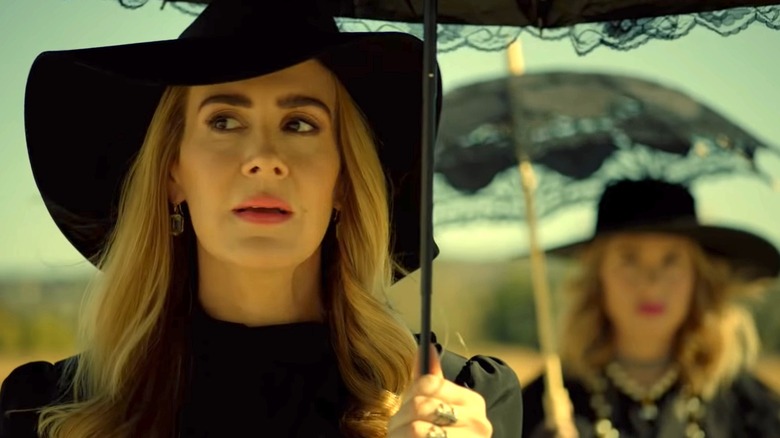 FX
Fear tripled with "American Horror Story: Apocalypse" as the series brought together three of its most popular seasons — Coven, Murder House, and Hotel — for a shocking journey. Its storyline focuses on the end of the world, with only the well-known characters from Coven able to stop an impressive enemy. Ryan Murphy's anthology made sure to bring back his core cast members like "Dahmer" star Evan Peters and "Scream Queens" lead Emma Roberts. While the season may have been set up to continue on the past successes of "AHS," many felt underwhelmed. Critics were equally unimpressed yet "Apocalypse" came out fairly unscathed with a 79% Rotten Tomatoes score.
An aspect that is never in question is the accomplished artisans who work on "AHS." Season 8 of the anthology saw its makeup, hairstyling, and costumes honored with Primetime Emmy nominations, that's in addition to the dramatic guest actress nomination for veteran performer Jessica Lange. Longtime viewers were quick to note the quality of these Emmy-worthy creatives with special emphasis on costuming. Their thoughts suggest this is at least one area of "AHS" in no need of an update.
Michael Langdon became a style icon for some viewers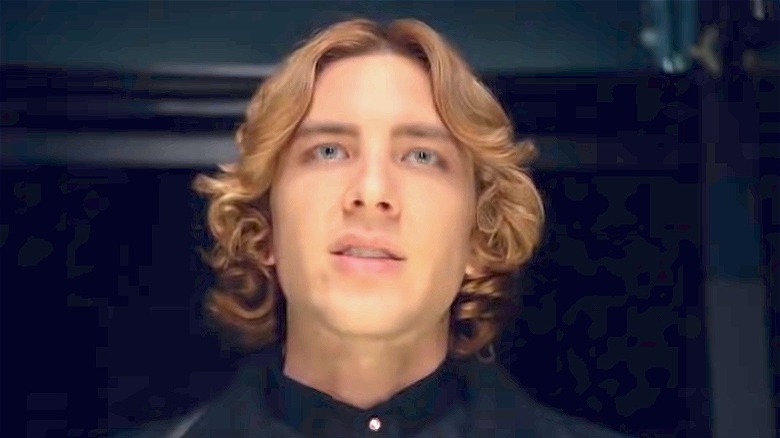 FX
Much of the debate surrounding "Apocalypse" touches on the plot and the approach to the material — with three previous seasons represented in the narrative. The antichrist versus witches theme is a crucial point that continues to stir debate. Reddit users talked about the ups and downs of the season while looking at these outstanding costumes. "The costumes were amazing." wrote u/foiegraslover. They elaborated that much of "Apocalypse" got better after several viewings. For the user, time made them grow to appreciate the other aspects more, but there was never any doubt about the various designs.
A certain diabolical character got much attention from viewers, and online users were not shy to express their affection. Michael Langdon (Cody Fern) may have intended to set off an apocalypse, but his wardrobe was a highlight. "He looks like he's about to make you have a change of heart," u/cozycreeping posted about an included photo. The user refers to the striking red gloves, which are more than an accessory — they complete the antichrist's all too stylish ensemble. "Yep the gloves do it. I always think of Persona 5," added u/Masterofunlocking1. Digging further into the sexual aspects of the series and its characters is something users were keen to do; after all, "AHS: has never shied away from the subject. "Since my sexuality is "suit", I very much appreciate the costumes," wrote u/DoctorCaptainSpacey. The sentiment is shared by many who have adapted the costume for cosplay and whose adoration of Langdon may be a nod to a collective fascination with bad boys.
Zoe's style represented growth from Coven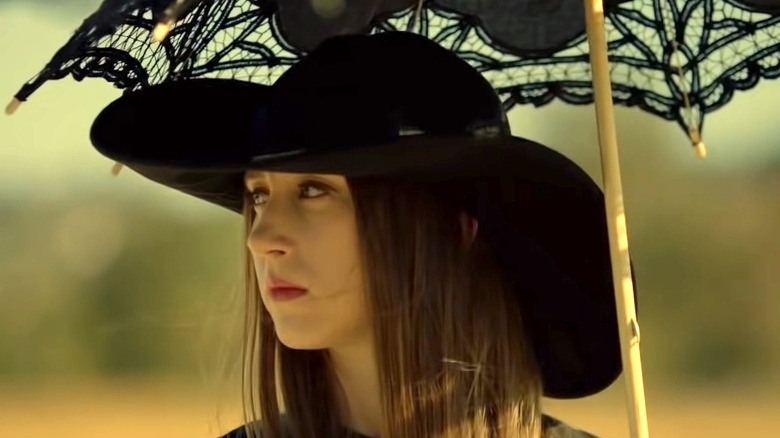 FX
Zoe Benson (Taissa Farmiga) is yet another addition to the cast whose costuming received praise. "Murder House" and "Coven" star Farmiga's appearance in season 8 came with changes in her overall style. u/kittxan took to Reddit to commend the use of costumes as part of the character's development.
The user was actually on to something with their commentary. W Magazine spoke to costume designer Lou Eyrich and co-designer Paula Bradley about working on a season with such an impressive cast and storyline. Bradley described it as a tough show but gave Eyrich credit for establishing an iconic look during "Coven." For the designer, it was essential to approach two aspects of "Apocalypse." "One, they've grown up, and two, they are fashion-chic, so as girls they would have also changed their style a little without changing who they are," she said.
Outfits worn by Langdon and the witches were in high demand among fans. "Finally caught up on AHS: Apocalypse and I need the direct number for their costume designer because I need ALL of the witches outfits," wrote Twitter u/@JulietMuldoon. Another user was equally impressed with these looks and the characters who were wearing them. "thank goodness finally finished ahs apocalypse WOO I love witchy women + beautiful costumes," tweeted u/@Aurora__Celeste.