Whatever Happened To The Cast Of Wayne's World?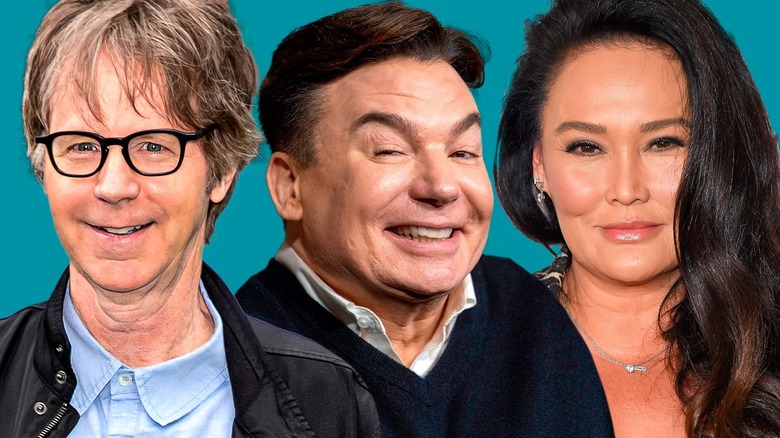 Static Media
Since it came out in 1992, "Wayne's World" has become one of the most beloved of "Saturday Night Live" skits to be put on the big screen. Starring Mike Myers and Dana Carvey as Wayne Campbell and his friend Garth Algar, "Wayne's World" charmed its way into the hearts of comedy fans young and old through its hilarious dialogue and parodies. It won both the best on-screen duo and best video from a film from the 1992 MTV Movie and TV Awards, while Myers, Carvey, and Tia Carrere, were all nominated for their performances. The basic story saw Wayne, Garth, and their group of friends sign a corporate contract for their public-access TV show, while Wayne also begins a relationship with female rocker Cassandra.
Myers first invented the character of Wayne for the 1987 TV show "It's Only Rock and Roll," where he would host "Wayne's Power Minute." This evolved into the famous "Saturday Night Live" sketch after Myers joined the cast, which then morphed into "Wayne's World" and its sequel.
In 1993, the sequel "Wayne's World II" came out, and it continued Wayne's, Garth, and Cassandra's story. After having a vision in a dream, Wayne threw "Waynestock," a massive outdoor festival in Chicago. Though it was not as successful or well received as the original, many of the original stars reprised their roles, including Ed O'Neil and Chris Farley. Now, more than 30 years after it came out, here's what happened to the cast of "Wayne's World."
Mike Myers - Wayne Campbell
Paramount Pictures, Eugene Powers/Shutterstock
As the main character and star of "Wayne's World" and its sequel, Mike Myers will always be synonymous with Wayne Campbell. In the story, Wayne resides in Aurora, Illinois, and is a heavy metal and rock and roll music fan, who hosts a public-access cable show called "Wayne's World." It stars him, his friend Garth Algar, and various other local personalities, who come onto the show to show off their inventions or talk about music. Wayne later meets Cassandra, the bass player and lead singer of the local band Crucial Taunt, and they start a relationship. He has to fend off corporate executive Benjamin Kane who tries to woo Cassandra away, with Wayne eventually winning out with his charm.
In real life, Myers has had one of the most successful careers of any of the "Wayne's World" alum. Having joined the cast of "Saturday Night Live" in 1989, he stayed around as a regular member for a few years after the movie's release. Already a big draw, Myers hit mega-stardom with the release of the "Austin Powers" trilogy, which lasted from 1997–2002.
Some of his other popular titles include playing the titular character in the "Shrek" series, Guru Pitka in "The Love Guru," and the cat in "The Cat and the Hat." In 2022, Myers starred as multiple different characters on the Netflix series "The Pentaverate," which he also created.
Dana Carvey - Garth Algar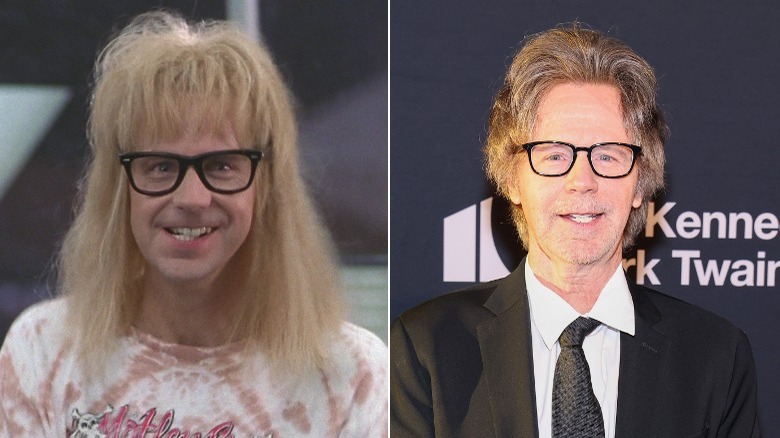 Paul Morigi, Getty
As the sidekick to Wayne, Dana Carvey's performance as Garth Algar was second only to Mike Myers in "Wayne's World." Garth is Wayne's best friend and co-host of their  TV show. He plays the drums in his spare time and is incredibly skilled, though he rarely shows off his talents. Garth also has a collie with its hair styled in a hilarious mullet. Garth is exceedingly shy and timid, often relying on Wayne to do most of the talking and negotiating when they are out together. 
Still, Garth has a heart of gold and is one of the most iconic characters in the series, combining a perfect mix of slapstick and sarcasm. Prior to starring as Garth, Carvey had a memorable role as a mime waiter in "This is Spinal Tap" in 1984, and in 1986 he was cast on "Saturday Night Live," where he was famous for his parodies of political figures. That same year he starred in "Tough Guys," which is one of his most iconic roles. 
Following his portrayal of Garth, Carvey briefly had his own show, "The Dana Carvey Show," in 1996, and starred as Pistachio Disguisey in 2002's "Master of Disguise." His more recent work includes voicing the role of Pops in "The Secret Life of Pets 2," and in 2021 he reprised his role as Garth for an Uber Eats commercial.
Rob Lowe - Benjamin Oliver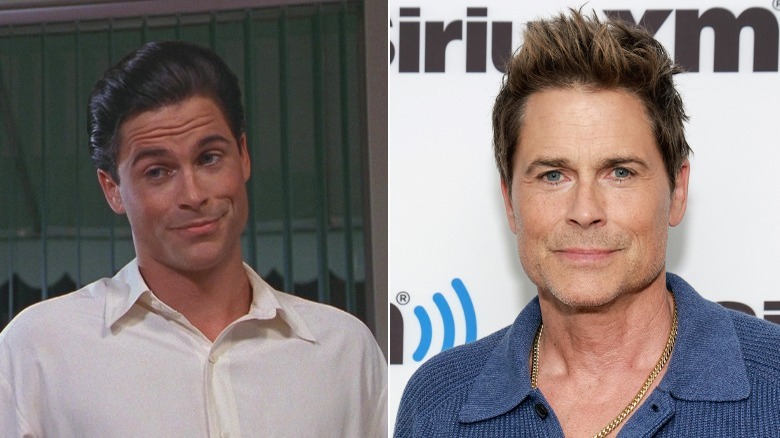 Paramount Pictures, Jason Mendez/Getty
Playing the villain Benjamin Oliver, Rob Lowe's character in "Wayne's World" is what really tied the film together. Oliver is a fast-talking and worldly executive and TV producer, who is intent on exploiting Wayne Campbell and his public access show, while also trying to steal away his girlfriend Cassandra. He oversees the corporatization of "Wayne's World," transforming the show from an independent production to an advertisement for Noah Vanderhoff's "Noah's Arcades." He briefly is able to push Wayne and Cassandra apart, but in the end, Cassandra realizes that Wayne is her true love, dumping Oliver.
Along with Mike Myes, Lowe's career before and after "Wayne's World" has been one of the most successful of the cast. Lowe was already a big draw before playing Oliver, with his roles in "The Outsiders" (1983) and "St. Elmo's Fire" (1985) having firmly established him as a brilliant actor. He did not appear in the sequel "Wayne's World II," but in 1995 had a memorable role as Paul Barrish in "Tommy Boy" alongside "Wayne's World" co-star Chris Farley.
He had roles in all three "Austin Powers" movies, and starred on "The West Wing" as Sam Seaborn for several years. More recently, Lowe has had major recurring roles on "Parks and Recreation," "Lone Star 9-1-1," and "Unstable." He also appeared on Myers' newest show "The Pentaverate" for four episodes in 2022.
Tia Carrere - Cassandra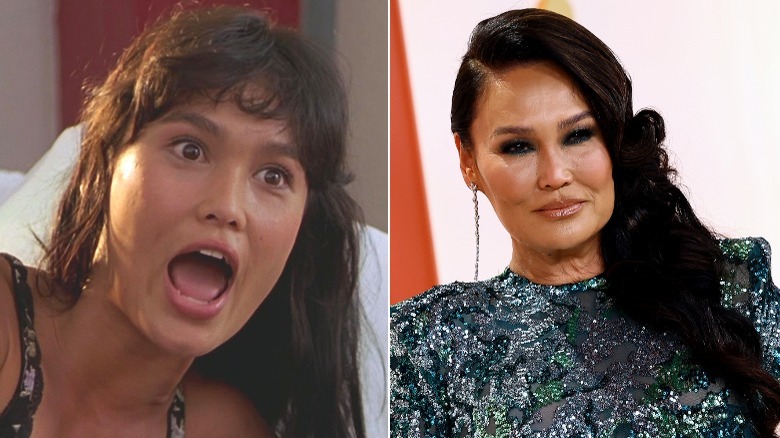 Paramount Pictures/Arturo Holmes/Getty
Wayne Campbell first sees his future girlfriend, Cassandra, playing bass and singing lead for the band Crucial Taunt. A two-time Grammy award-winning musician, Carrere performed her own vocals for the movie, singing iconic songs like "Ballroom Blitz." After Cassandra and Wayne meet they start a relationship, which almost ends thanks to Wayne's insecurities. However, at the end of "Wayne's World" they stay together, and Cassandra appears in the sequel, too, still Wayne's love interest.
Carrere had a few starring roles prior to playing Cassandra, but "Wayne's World" was really her big break and it led to roles in "True Lies" and "High School High." From 1999–2002 she starred as Dr. Sydney Fox on "Relic Hunters," before landing the voiceover role of Nani in Disney's "Lilo and Stitch." She has done lots of other voiceover work, including on "Duck Dodgers," the video game "Saints Row," and reprising her role as Nani in various specials and movies.
Carrere had an arc on "Curb Your Enthusiasm" as Richard Lewis' girlfriend Cha Cha in 2007, and as Lia Hernandez in 2012 on "In Plain Sight." In 2022, Carrere appeared in the films "Easter Sunday" and "A Big Fat Family Christmas."
Kurt Fuller - Russell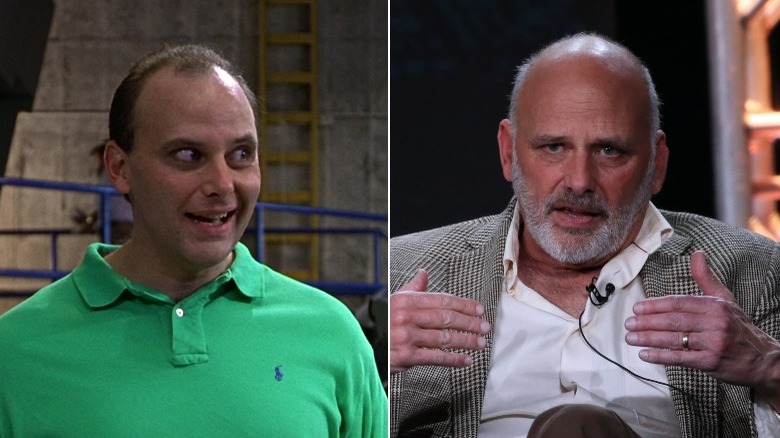 Paramount Pictures, David Livingston/Getty
He might not have had the biggest role in "Wayne's World," but Kurt Fuller's portrayal of Russell was downright hilarious. Russell is a TV executive and producer who works with Benjamin Oliver. He is instrumental in setting up the corporate edition of "Wayne's World," and works comically with the crew to teach them the finer points of TV production, such as how to properly countdown and use the green screen. While at first siding with the villain, Russell has a change of heart and helps the guys to broadcast Cassandra's record to the CEO of Sharp Records, ensuring she gets her record deal.
Fuller started acting in Hollywood in 1984 and has more than 200 acting credits over the past three-plus decades. He has largely starred as a character actor and has done a lot of work on both TV and in movies. He has had small but memorable arcs on shows like "Capital News," "Alias," and "Desperate Housewives." 
From 2009–2014, he had a semi-regular role on the TV show "Psych" playing the coroner Woody Strode, and he has appeared in all three of the TV movie follow-ups. Starting in 2019 and continuing through 2023, Fuller began playing Dr. Kurt Boggs on the Paramount Plus original series "Evil."
Brian Doyle-Murray - Noah Vanderhoff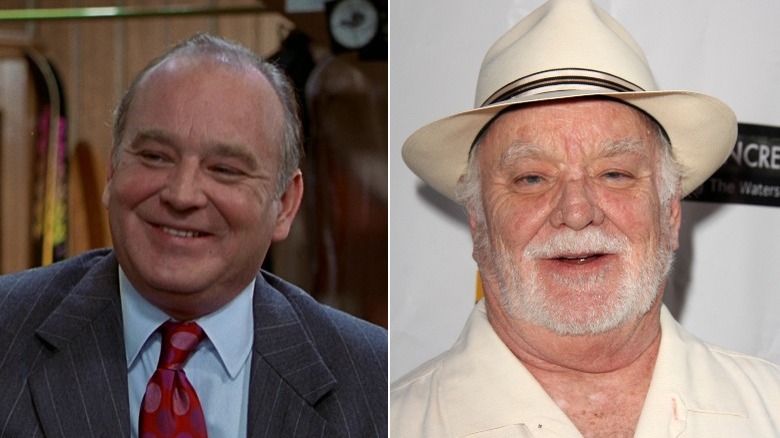 Paramount Pictures, Kathy Hutchins/Shutterstock
Already an established industry veteran by the time he starred in "Wayne's World," Brian Doyle-Murray's turn as arcade owner Noah Vanderhoff was memorable and funny. He is trying to find a way to advertise his business, Noah's Arcade, while also appealing to and attracting a younger audience. When Benjamin Oliver is introduced to Wayne Campbell's public access show through his girlfriend, he immediately sells the idea to Vanderhoff, convincing him to become the new corporate sponsor. By far, the best scene involving Vanderhoff is his live interview on the show, where Wayne holds up cards with humorous and inappropriate messages on them directed at an oblivious Vanderhoff.
Like his co-stars Mike Meyers and Dana Carvey, Doyle-Murray also starred on "Saturday Night Live," appearing in 52 episodes from 1978–1982. He also starred alongside Rodney Dangerfield and Chevy Chase in "Caddyshack." Following his time on SNL, he appeared in two Bill Murray movies, "Club Paradise" in 1986 and "Scrooged" in 1988.
After "Wayne's World," Vanderhoff appeared in another Murray movie, "Groundhog Day" in 1993, and starred as Sgt. Bill Hampton in "Bakersfield P.D." for the next two years. He made a few appearances on "Seinfeld" as Mel Sanger, the father of the Bubble Boy, and on "Love and Money" as Finn McBride. He also voiced The Flying Dutchman on the "SpongeBob SquarePants" animated TV show, and in played Gnome in "Yellow Bird" in 2023.
Lara Flynn Boyle - Stacy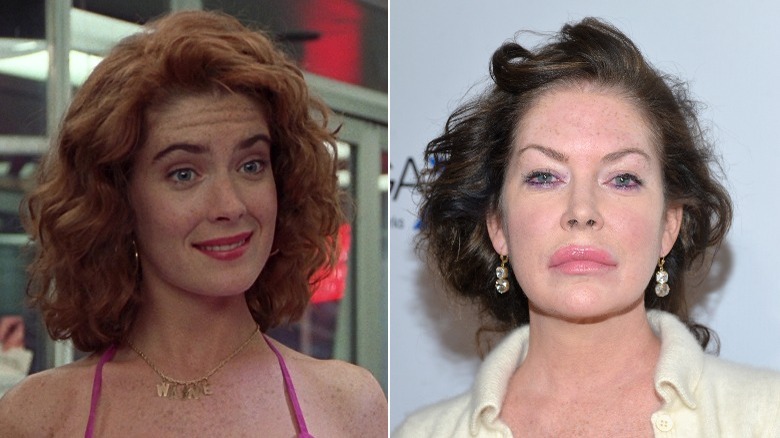 Paramount Pictures, Michael Tullberg/Getty
It was clear during "Wayne's World" that Wayne and Cassandra were always meant to be together, but that did not stop Lara Flynn Boyle from a very amusing portrayal of his overly clingy ex-girlfriend Stacy. Prior to the events of the film Stacy and Wayne were an item, but Wayne broke up with her because she was too much to handle. She tries to win Wayne back by giving him gifts and trying to make him jealous, but this doesn't work and she is ultimately rejected.
Prior to starring as Stacy, Flynn played Donna Hayward on the TV show "Twin Peaks" from 1989–1991. Since then she has had a number of starring roles, most memorably as Helen Jordan in "Happiness" alongside Phillip Seymour Hoffman, and as Serleena in "Men in Black II." 
As Serleena, Boyle was the lead villain in the movie, trying to take over Earth in search of "The Light of Zartha." She also played Assistant District Attorney Helen Gamble on "The Practice" for more than 130 episodes from 1997–2003. Since 2009 Boyle's appearances have been more sporadic, but include "Lucky Dog" in 2015 and "Death in Texas" in 2020.
Colleen Camp - Mrs. Mimi Vanderhoff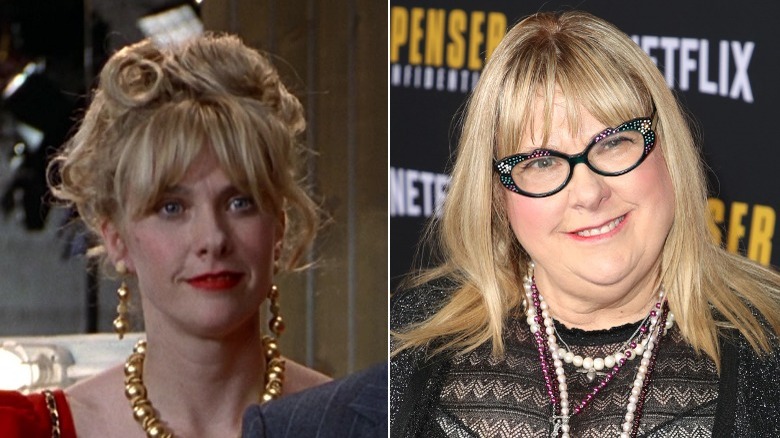 Paramount Pictures, Joe Scarnici/Getty
Colleen Camp's role as Mrs. Mimi Vanderhoff, Noah Vanderhoff's wife, in "Wayne's World" was short but sweet. She appears in a handful of scenes, usually alongside her husband, but has a goofy and ditzy personality that is just too funny. She tags along with Noah when "Wayne's World" is shooting its first corporate show, and is completely unaware of the pranks being played on him.
Like Brian Doyle-Murray, Camp already had a burgeoning career in Hollywood prior to appearing in "Wayne's World." She started out in the mid-'70s and is probably most well known for her role in Francis Ford Coppola's "Apocalypse Now" in 1979. After playing Mrs. Vanderhoff, she appeared in the action thrillers "Last Action Hero" with Arnold Schwarzenegger in 1993 and "Die Hard with a Vengeance" with Bruce Willis in 1995.
In 1997, she appeared in "Plump Fiction," a spoof of Quentin Tarantino's "Pulp Fiction." Camp also has had small roles in "House," "Entourage," and "Mob City," and in 2022 appeared in "5-25-77" as Janet Johnson.
Ed O'Neil - Glen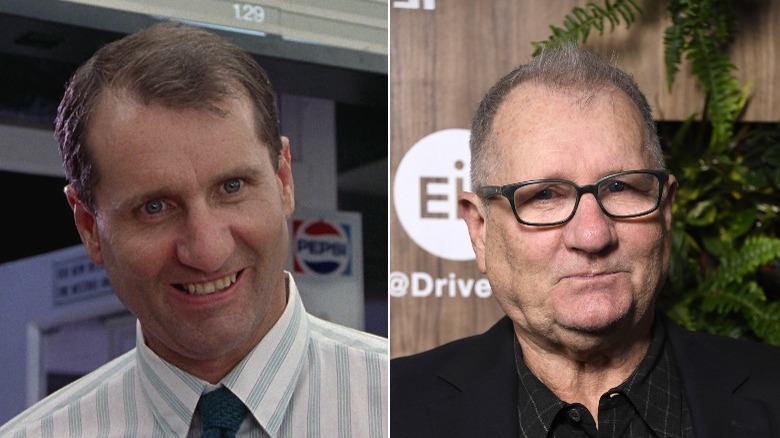 Paramount Pictures, Frazer Harrison/Getty
Of all the side characters in "Wayne's World" and "Wayne's World II," Glen, the manager of Stan Mikita's Donuts, might just be the best. He is the only one besides Wayne and Garth who is capable of breaking the fourth wall and talking to the camera, though Wayne scolds him when he does so. His monologues are dark and disturbed, like when he seemingly confesses to being a murderer or fantasizes about ripping people's hearts out. He is a great contrast to the lighthearted and zany antics of the rest of the gang, and his role is truly memorable.
Before playing Glen, O'Neil was already a household name due to starring as Al Bundy on the TV show "Married... With Children." He played the role of Al until 1997, and from 2003–2004 took the role of Lt. Joe Friday on "Dragnet." After brief roles on "The West Wing" and "8 Simple Rules," he played Jay Pritchett, the patriarch of the Pritchett family, on the TV series "Modern Family" from 2009–2020. For his work as Jay, O'Neil was nominated for three consecutive Primetime Emmys from 2011–2013.
Alice Cooper - Himself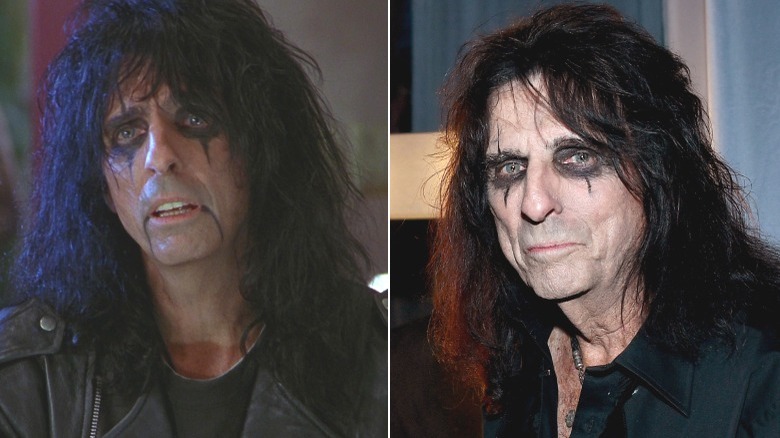 Paramount Pictures, Denise Truscello/Getty
One of the best scenes in "Wayne's World" is when Wayne Campbell and Garth Algar get tickets and backstage passes to the Alice Cooper concert. After watching Cooper rock the house, they find their way backstage and into his dressing room. Cooper greets them and then gives a surprisingly well-researched speech about the Algonquin Native American tribe before Wayne and Garth bow to him and start chanting "We're not worthy! We're not worthy!" It was a short but unforgettable scene that solidified Cooper's impact on the movie.
Largely known for his music career, Cooper had only appeared in a few movies prior to "Wayne's World." He has since made several more appearances on screen, usually playing versions of himself, including on Disney's "Mickey Mouse's Mixed-Up Adventures" as Alistair Coop De Ville from 2019–2021. Musically, Cooper began his career in the 1960s and has released multiple albums every single decade through the 2010s. He was inducted into the Rock and Roll Hall of Fame in 2011 in recognition of his amazing career. In 2021, he dropped the album "Detroit Stories," and has also been touring with Johnny Depp in the band Hollywood Vampires.
Chris Farley - Security Guard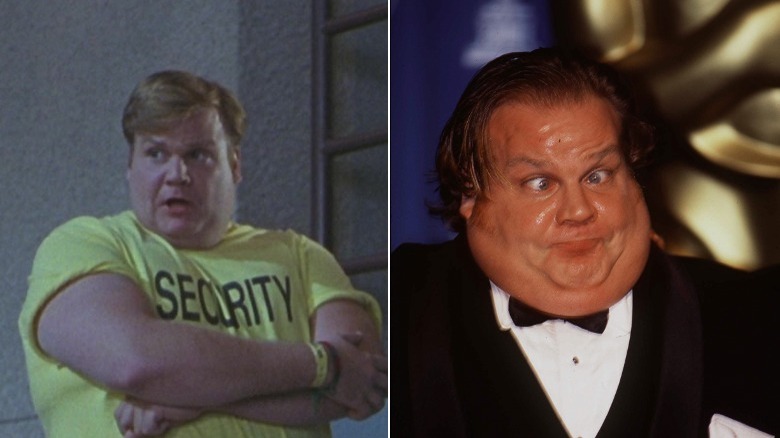 Paramount Pictures, Stewart Cook/Getty
Starring in both "Wayne's World" and "Wayne's World II," Chris Farley brought his larger-than-life personality to the film and more than made his mark. His role in the original film was as an unnamed security guard who provides Wayne Campbell and Garth Algar with crucial information about the CEO of Sharp Records' whereabouts. At the time, the information seems extraneous, but ultimately it allows Wayne and Garth to concoct their do-or-die plan to save Cassandra's career.
Prior to appearing in "Wayne's World" and its sequel, Farley co-starred with them on "Saturday Night Live" beginning in 1990. Afterward, he had a string of cult movies, including "Tommy Boy," "Beverly Hills Ninja," "Airheads," and "Black Sheep." Tragically, Farley passed away on December 18, 1997, after an overdose. He was just 33 years old. His final credited work was in "Almost Heroes," which he starred in alongside Matthew Perry, but was poorly received.
If you or anyone you know needs help with addiction issues, help is available. Visit the Substance Abuse and Mental Health Services Administration website or contact SAMHSA's National Helpline at 1-800-662-HELP (4357).
Meat Loaf - Tiny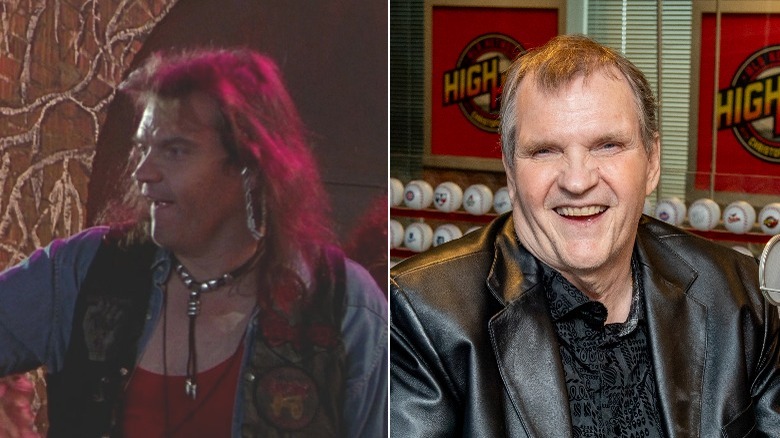 Paramount Pictures, Roy Rochlin/Getty
If you blink you just might miss Meat Loaf's cameo as Tiny the bouncer in "Wayne's World." He only appears in one scene, advising Wayne Campbell, Garth Algar, and the rest of the crew about the band Crucial Taunt that is playing at the Gasworks Club. He lets all of them cut the line to get in and inadvertently introduces Wayne to his future lover and the lead singer of Crucial Taunt, Cassandra.
Meat Loaf, like Alice Cooper, is better known for his incredible musical career than his time on the silver screen, though he does have a number of acting credits under his name. Before "Wayne's World," he appeared in "The Rocky Horror Picture Show" in 1975, but made it big upon the release of his 1977 album "Bat out of Hell," one of the most critically acclaimed albums of all time.
After "Wayne's World," Meat Loaf continued to play music and act in movies. Some of his most memorable roles included Robert Paulson in "Fight Club," The Lizard in "Formula 51," and a cameo on the TV show Glee. Unfortunately, Meat Loaf passed away in 2022 at the age of 74.
Frederick Coffin - Officer Koharski
In "Wayne's World," the role of lovable police officer Koharski is played by Frederick Coffin. He jokes around with Wayne Campbell and his friends, including when they make fun of police officers by making bacon jokes around him. At the end of the movie, Koharski plays an important role in detaining Benjamin Oliver, which allows Wayne and pals to successfully beam Cassandra's music to the CEO of Sharp Records, securing her a record deal.
Coffin started acting in the mid-1970s, and had already starred in a number of movies and TV shows prior to "Wayne's World." This included a six-episode stint on "Dallas" in 1987 and the co-lead role of Lt. Kevin O'Malley alongside Steven Seagal in "Hard to Kill." After playing Officer Koharski, Coffin consistently found work guest starring on TV shows, and he also did voice-over work for video games. 
His final roles came in 2003 when he played Detective Varole in "Identity" and Mr. Stewart in "View from the Top." He was also known for his stage roles, which included "Much Ado About Nothing" alongside Sam Waterson. On July 31, 2003, Coffin passed away after being diagnosed with lung cancer.