Chicago Fire's David Eigenberg Flexed His Theater Kid Muscles In This Episode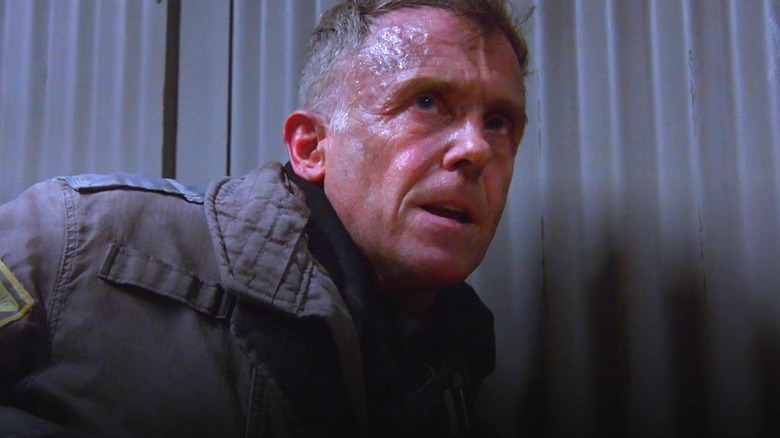 NBC
Loyal fans flock to "Chicago Fire" and its sister shows for the non-stop action and life-or-death emergencies that make all three One Chicago franchises enduring network TV hits. But the fact is, without the superior acting chops of characters like David Eigenberg's veteran firefighter Christopher Herrmann and the other top-notch talent on "Chicago Fire," the show would just be one more disaster-of-the-week genre exercise with zero emotional resonance.
As Eigenberg revealed in a 2021 interview with Entertainment Weekly, his early career included training as a stage actor. As such, he was able to lean into his theatrical experience for the intense personal drama of the "Chicago Fire" episode "My Lucky Day." "I'm an old theater wh***," Eigenberg said, laughing. He then explained that the episode was set almost entirely within the confines of a freight elevator, with many extended shots that played out more like a theatrical production than a TV show. "We did one take that was 24 minutes long, which is unheard of in television."
He added that the close quarters actually helped fuel the dramatic impact, saying, "We were all locked up in an elevator, and it all really flowed." And the actors apparently weren't the only ones who appreciated the experience. "I remember after some of the more crazy takes, the entire crew broke into applause," Eigenberg recalled. "And this wasn't just for the actors, but all the hard work that went into it from everyone to pull this together."
Eigenberg enjoyed the episode's novel theatrical approach
As David Eigenberg noted in the interview above, his initial training as a stage actor was put to good use during the special filming conditions imposed by the storyline of the "My Lucky Day" episode. He also appreciated that, in addition to allowing him to tap into his previous life performing plays, the constrained elevator environment represented an intriguing visual change from the usual "Chicago Fire" spectacle of huge structure fires and similar large-scale action sequences. "Shooting this episode was so much fun," he said. "It was a bit of a step out of where we normally go."
But the fact is, Eigenberg isn't the only team member at Firehouse 51 drawn to the experience of 'treading the boards' of a playhouse stage. For instance, Chief Wallace Boden actor Eamonn Walker started his acting career in British theater. He also appeared on a local Chicago stage in 2016, acting with the famed Steppenwolf Theater in its production of "Between Riverside and Crazy." That same year Monica Raymund, who played former firefighter and paramedic Gabby Dawson on "Chicago Fire," entertained audiences in "Thaddeus and Slocum" at Chicago's Lookingglass Theatre.