Where You've Seen The Cast Of Ahsoka Before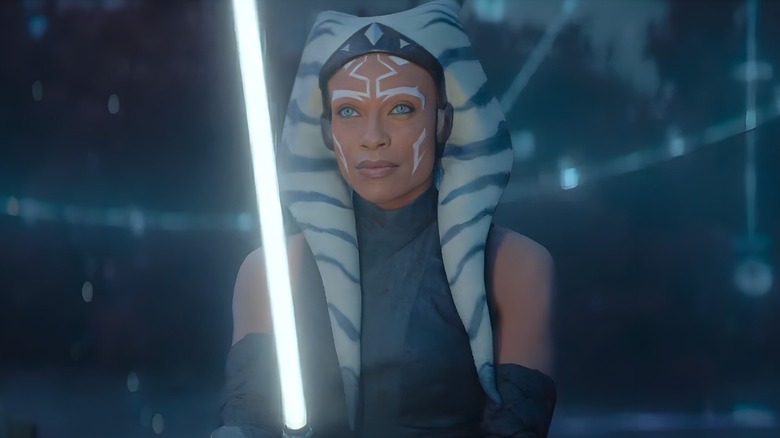 Disney Platform Distribution
Shortly after a flesh-and-blood Ahsoka Tano made a somewhat surprise appearance in Season 2 of "The Mandalorian," Disney+ announced that a spinoff series starring the popular character was on the way. 
As "Ahsoka" hits the streaming service, it does so with a cast of recognizable "Star Wars" characters (and the actors who have played them, in some cases for decades), alongside some intriguing strangers. The inclusion of Hera Syndulla, Sabine Wren, Ezra Bridger, and Chopper hints that "Ahsoka" functions like a live-action follow-up to "Star Wars Rebels." But "Ahsoka" takes place closer to Mando's timeline and features at least one character from "The Mandalorian." On top of those, obviously, are likely tie-ins to "The Clone Wars." 
"Ahsoka" sees the eponymous heroine continuing her quest to track down Grand Admiral Thrawn. Who will help her, and who will stand in her way, is the question at hand.
Below, a breakdown of the newly-created and established "Star Wars" characters that fuel "Ahsoka," and where you've previously met the actors who portray them.
Rosario Dawson as Ahsoka Tano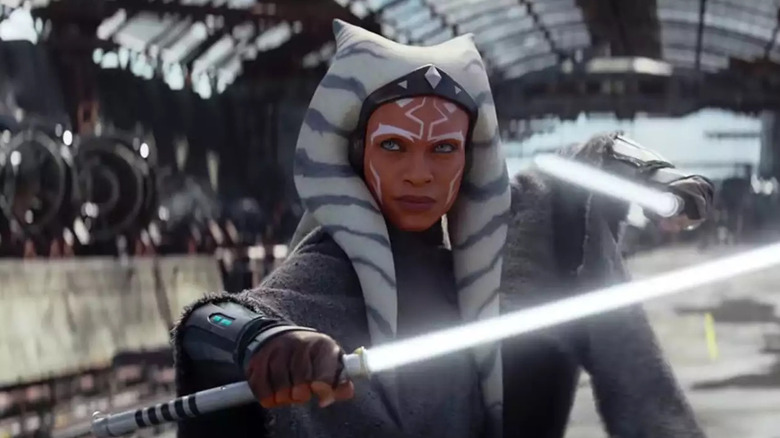 Disney Platform Distribution
Ahsoka Tano — the twin-lightsaber wielding Togruta Padawan turned Rebel agent — was the result of some fortuitous brainstorming between George Lucas and Dave Filoni in the early 2000s, shortly after the latter's arrival at Lucasfilm. She made her debut as a plucky teenager in the 2008 – 2020 animated series "The Clone Wars," where her initial purpose was to add some dimension to her Jedi Master, Anakin Skywalker. Over time, Ahsoka became a much important, complex character in her own right, and a fan favorite thanks in part to a strong vocal performance by Ashley Eckstein.     
When Ahsoka first appeared in live action via the "Mandalorian" episode "Chapter 13: The Jedi," (Season 2, Episode 5), she was portrayed by Rosario Dawson. Dawson is reprising her role for the "Ahsoka" miniseries. 
A fixture in Hollywood for nearly 30 years, the New York-born actor and producer made her debut in Larry Clark's controversial 1995 coming-of-age film "Kids," and has accumulated more than 100 screen credits in the decades since. Some projects (like "He Got Game," "Men in Black II," "25th Hour," "Sin City," "Rent," and "Percy Jackson and the Olympians: The Lightning Thief") have been high-profile, while others *"Sidewalks of New York," "Chelsea Walls," the last two "Clerks" films) have kept Dawson in touch with her indie roots. 
She's done vocal work for multiple video games and TV series (including frequently voicing Wonder Woman) and has popped up on the small screen before as a regular on Netflix's Marvel shows ("Jessica Jones," "Daredevil," "Iron Fist," "The Defenders," and "Luke Cage") where she portrayed Claire Temple, well as "Jane the Virgin," plus "Gemini Division" and "Briarpatch," both of which she also co-produced. 
Mary Elizabeth Winstead as Hera Syndulla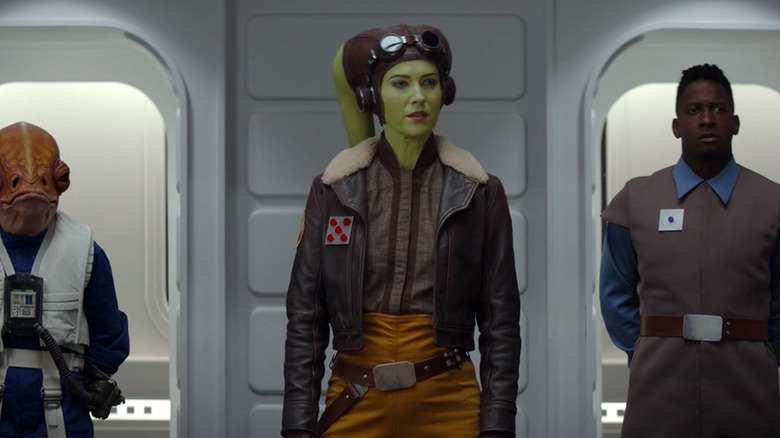 Disney Platform Distribution
Reuniting with her "Death Proof" co-star Dawson is Mary Elizabeth Winstead. She plays Hera Syndulla, the Twi'lek pilot of the Ghost, love interest of the late Jedi Kanan Jarrus, and de facto matriarch of the found family that is "Star Wars: Rebels." 
In the animated series and video games, she is voiced by Vanessa Marshall. In "Ahsoka," she is brought to life by Winstead. Though Hera isn't likely to be quite as central a character as she was in "Rebels," based on Winstead's name recognition and Hera and Ahsoka's mutual respect for each other, there's a good chance she'll be a significant factor in the events of the show. 
Winstead got her start on the NBC soap "Passions." From there, she carved out a career for herself in horror, appearing in the series "Wolf Lake" and in movies like "Monster Island," "Final Destination 3," "Black Christmas," Quentin Tarantino's "Death Proof," 2011's remake of "The Thing," "Abraham Lincoln: Vampire Hunter," and "10 Cloverfield Lane." She's done independent films with up-and-coming directors like the Oscar-winning "the Daniels," co-starring in the "Everything Everywhere All At Once" directors' 2016 absurdist dramedy "Swiss Army Man." She also received strong reviews for her roles in "Smashed" and "The Spectacular Now." 
To some audiences, Winstead might be known for "Scott Pilgrim vs. the World," in which she played the object of the titular Scott's affection. She has also been cast alongside Will Smith (playing multiple versions of himself) in Ang Lee's "Gemini Man," and as Huntress in 2020's "Birds of Prey." Her TV credits include "BrainDead," "Mercy Street," and "Fargo." 
Natasha Liu Bordizzo as Sabine Wren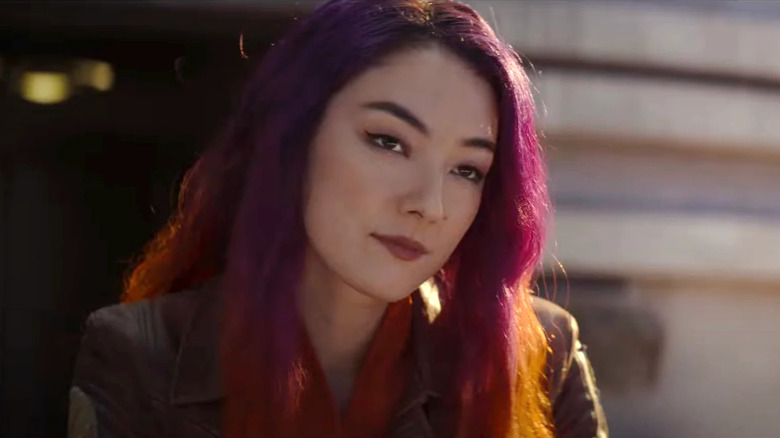 Disney Platform Distribution
Another member of the "Rebels" crew, Sabine Wren was a wayward teen when first introduced. This technicolor-haired graffiti enthusiast left the Imperial Academy after her innovations were used against her kind, becoming an outcast as far as the Empire and her Clan were concerned. She found a home on the Ghost as the weapons master and would go on to become a critical strategist and operator within the Rebellion. Sabine also played a vital part in Mandalorian lore when she reunited her people under the Darksaber before bequeathing it to Bo-Katan. The animated version of Sabine is voiced by Tiya Sircar. Natasha Liu Bordizzo portrays the complicated and charismatic heroine in the live-action series. 
Bordizzo — an Australian actor of Chinese and Italian descent — was one of the first "Ahsoka" cast members announced in November of 2021. The 29-year-old made her debut as Snow Vase in Netflix's "Crouching Tiger, Hidden Dragon: Sword of Destiny." She was then seen as acrobat Deng Yan in 2016's "The Greatest Showman," and in the 2018 drama "Hotel Mumbai" opposite Dev Patel, as well as the 2019 action comedy "Guns Akimbo" opposite Daniel Radcliffe and the 2022 vampire spoof "Day Shift" opposite Jamie Foxx. She was a member of the cast of the short-lived Netflix series "The Society," which wasn't renewed for a second season.   
Eman Esfandi as Ezra Bridger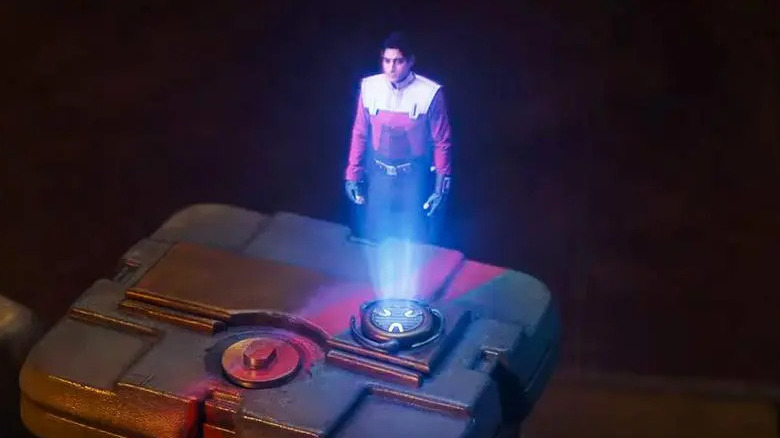 Disney Platform Distribution
Ezra Bridger was the point-of-view character and main protagonist in 2014 – 2018's animated series "Star Wars: Rebels," where he was voiced by Taylor Gray. 
An Aladdin-like figure, Ezra is a Force-sensitive orphan living on the streets and bending (or breaking) rules and laws to survive when Kanan Jarrus finds and decides to mentor him. Fans of the animated series and the character have long been anticipating Ezra's live-action debut. Because of the Aladdin comparison and an uncanny resemblance, rumors swirled that he'd be played by Mena Massoud, who'd starred in the live-action Disney remake. But the part instead went to Eman Esfandi. 
Glimpsed fleetingly as a hologram in the "Ahsoka" trailer, Ezra is a bit older, with "Ahsoka" taking place about 12 years after the events of "Rebels." 
Esfandi is a 25-year-old newcomer who hails from Texas; his mother is an immigrant from Ecuador, his father from Iran. He earned a bachelor's degree in economics at the University of Texas prior to his pursuit of a film career after he discovered his passion for acting while on campus. He quickly booked some commercials (for Coca-Cola and Amazon, among others), then got his first real gig in Robert Rodriguez's "Red 11." Next came a small role in the 2021 Oscar-winning biopic "King Richard," followed by a supporting part in the acclaimed festival circuit film "The Inspection," where Esfandi starred opposite Jeremy Pope as a military recruit bullied for being Muslim. 
Ray Stevenson as Baylan Skoll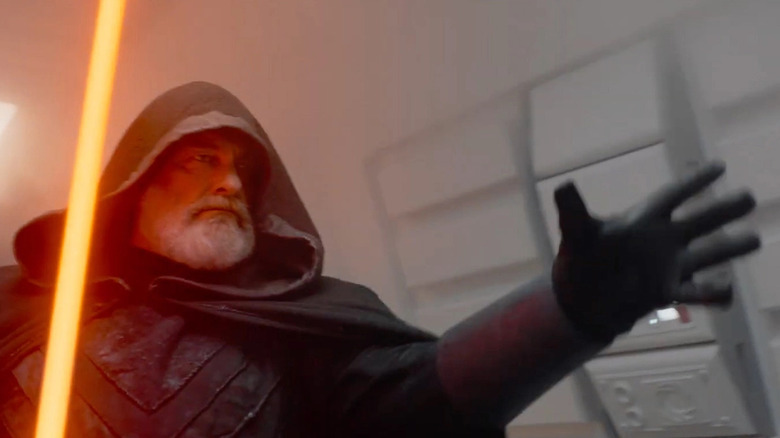 Disney Platform Distribution
While the team behind "Ahsoka" has surrounded the titular Togrutan with plenty of allies, they also seem to have thrown a number of antagonists in her path. New character Baylan Skoll might not be the ultimate big bad, but if the trailer is any indication, he'll be crossing lightsabers with Ahsoka more than once, and he'll probably have more screen time than the apex villain. 
Baylan will be played by Ray Stevenson. It's his voice that can be heard narrating a portion of the teaser, as he cryptically explains, "This is a new beginning. For some, war. For others, power." This hooded Force user with a reddish-orange blade is certainly coded as a Sith, but beyond that it's a mystery.
That's not the case for Ray Stevenson. This veteran character actor from Ireland might not be a household name, but he can be spotted in dozens of popular films and TV shows. He was Porthos in 2011's remake of "The Three Musketeers" and Blackbeard in the series "Black Sails." He's appeared in "Thor" and "Thor: the Dark World" as Volstagg and as Marcus in the "Divergent" films. Stevenson also did a stint on the brutal historical drama "Vikings," and most recently showed up as the vile British governor in the surprise smash international hit "RRR." Perhaps his most notable role, however, has been playing Frank Castle in Lexi Alexander's 2008 gorefest "Punisher: War Zone." "Ahsoka" marks his return to the "Star Wars" universe; he previously voiced the character Gar Saxon on "The Clone Wars" and "Rebels."  
Ivanna Sakhno as Shin Hati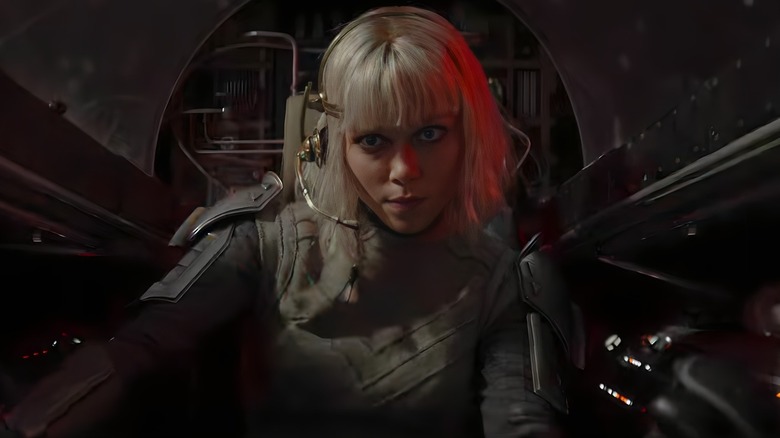 Disney Platform Distribution
Another novel creation for "Ahsoka" is Shin Hati... who appears to be a young, blonde female human and the apprentice of Baylan Skoll. The actor who embodies her in live action, Ivanna Sakhno, confirmed as much in an on-stage interview at Star Wars Celebration 2023. She described her character as "very ambitious, quite intense, and an incredibly skilled lightsaber user," and added that she is Force-sensitive. That lines up with what can be seen in the teaser trailer. When Baylan menacingly utters the word "power," an angry and determined-looking Shin charges forward with her glowing orange weapon. 
Sakhno comes from a family of filmmakers in Ukraine. She first moved to Vancouver, then California where she attended Beverly Hills High School and the Lee Strasberg Theatre and Film Institute in hopes of becoming a working actor. Her first jobs were in Ukrainian and Eastern European films and TV shows, but she reached a wider audience with 2018's "Pacific Rim Uprising," in which she played Cadet Viktoriya Malikova. Previous credits also include the "The Spy Who Dumped Me" with Kate McKinnon, Mila Kunis, and Justin Theroux, plus the TV adaptation of "High Fidelity." Her time in the TIE fighter cockpit as Shin Hati is her most prominent role to date.
David Tennant as Huyang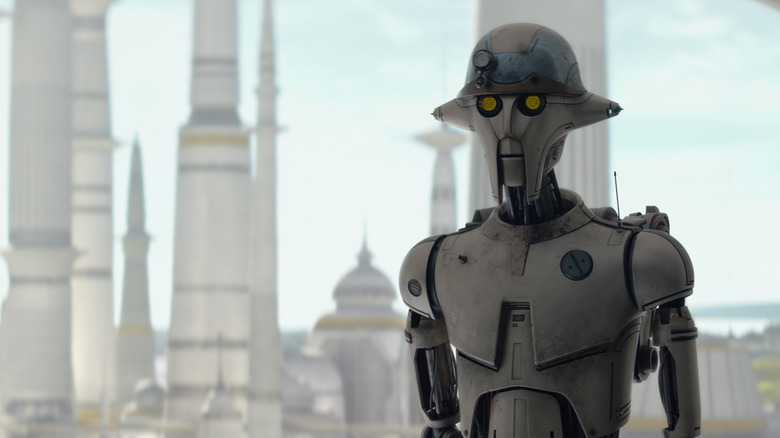 Disney Platform Distribution
"Doctor Who" actor David Tennant won't be seen in "Ahsoka," but he will be heard, coming out of a droid known as Huyang. 
Fans of "The Clone Wars" will recognize Huyang (sometimes referred to as Professor Huyang), but to the rest of the world, this practically archaic architect droid isn't nearly as iconic as C-3P0, R2-D2, or BB-8 (though he ought to be). With origins unknown, he dates back to the High Republic era, during which time he assisted Younglings in the construction of their lightsabers. His knowledge is so encyclopedic that, though he's not technically a Force user, he's a valuable, trusted ally to the Jedi and is thought of as being in their inner circle. 
Tennant lent his voice to Huyang for two episodes of "The Clone Wars" and returns to voice the three dimensional version of the droid in "Ahsoka." The actor is best remembered for his tenure as the tenth Doctor on the long-running sci-fi series, but his full filmography — which is more than 150 credits long — is too prolific to easily summarize. Chances are, most people who've been to the movies or turned on their TVs in the last 30 years or so have seen (or heard) Tennant. Career highlights include his role as the demented Barty Crouch Jr. in "Harry Potter and the Goblet of Fire" as well as his work on the TV series "Broadchurch," "Jessica Jones," and "Good Omens." Tennant is also an accomplished voice actor, with credits ranging from the "How to Train Your Dragon" franchise to the "Call of Duty" games. 
Diane Lee Inosanto as Morgan Elsbeth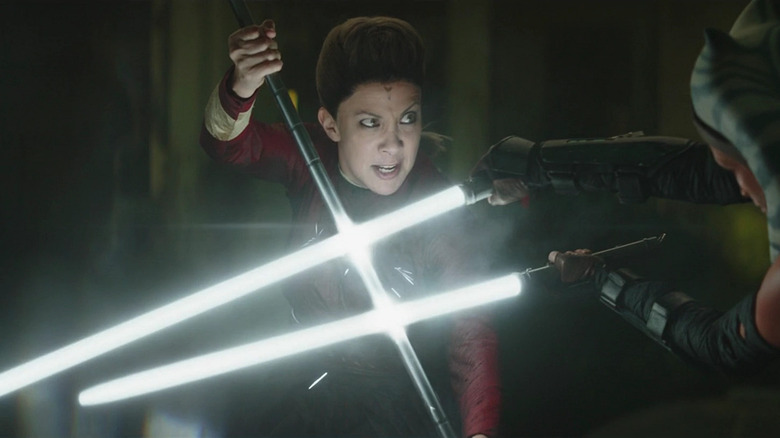 Disney Platform Distribution
Savvy "Star Wars" fans may have recognized a familiar face in a few quick shots of the "Ahsoka" trailer. Diane Lee Inosanto is back as Morgan Elsbeth, the Imperial Magistrate who tried to tempt Din Djarin with a beskar spear if he took out Ahsoka Tano in Season 2, Episode 5. That chapter concluded as Mando and Ahsoka teamed up to outwit and outmatch Elsbeth. He ended up with the spear anyway, and she got a clue as to Thrawn's whereabouts. 
The character provides producers Dave Filoni and Jon Favreau with a convenient way to connect this new series to "The Mandalorian" and "The Book of Boba Fett," which the pair are planning to do with a recently announced crossover movie. 
Viewers may have seen the actor who plays Elsbeth before without realizing it, and that's by design. Inosanto has worked as a martial artist and stunt coordinator since the 1990s. She was a stunt double in "Face/Off" for Margaret Cho and in "Wild Wild West" for Bai Ling. Other stunt work credits include 2003's "Hulk" and "The Fast and the Furious: Tokyo Drift." Inosanto also provided stunt training on "Spy" and "Alita: Battle Angel." As Morgan Elsbeth in "The Mandalorian" and "Ahsoka," the physically gifted performer finally gets to fight for herself.
Genevieve O'Reilly as Mon Mothma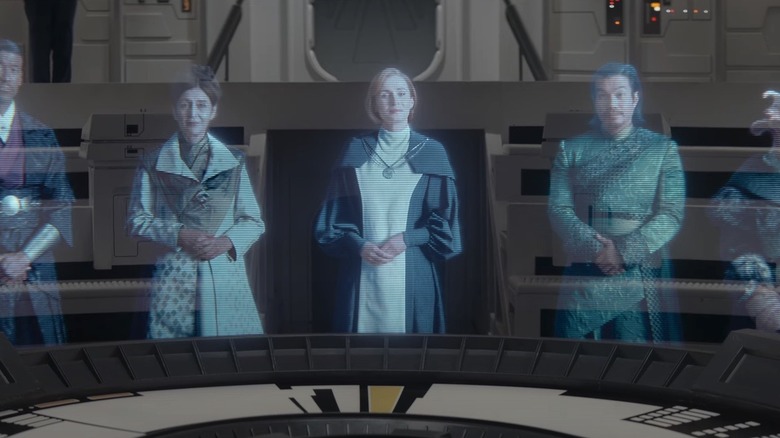 Disney Platform Distribution
Many actors (some A listers among them) are thrilled just get a cameo in a single "Star Wars" scene. But Genevieve O'Reilly is fast becoming a franchise regular. 
The Irish actress embraced roles in sci-fi epics early in her career. She appeared in "The Matrix Reloaded" and "The Matrix Revolutions" as Officer Wirtz, then in 2004's "Cyber Wars" (billed elsewhere as "Avatar") as Dash MacKenzie. Then she landed the role of a young Mon Mothma in "Star Wars: Episode III – Revenge of the Sith." In the original trilogy, the character was played by Caroline Blakiston. 
O'Reilly would go on to portray the Chandrilan politician sympathetic to the Rebellion several more times, but not until after Disney bought Lucasfilm in 2012. In between, she was Princess Diana in the TV biopic "Diana: Last Days of a Princess," and Lady Flora Hastings in "The Young Victoria," opposite Emily Blunt. She was the lead character in British miniseries "An Honourable Woman" and "Banished," and has done guest spots on television shows like "Law & Order: UK." Like many of her co-stars, O'Reilly has lent her voice to video games. She voices Moira in the British version of "Overwatch." But after being a part of "Rogue One" and "Rebels," and particularly after her brilliant performance in last year's "Andor," she'll forever be associated with Mon Mothma... the once-sidelined character she has helped move to the center of the "Star Wars" story.  
Lars Mikkelsen as Grand Admiral Thrawn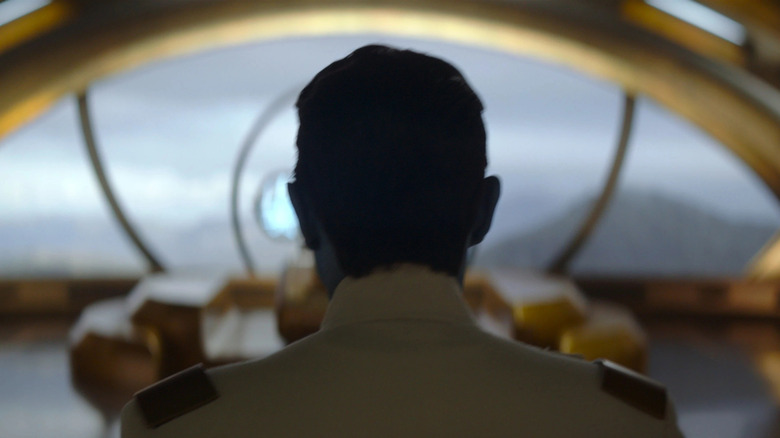 Disney Platform Distribution
For years, there has been frenzied speculation and fingers-crossed fan casting over who would play one of the galaxy's most intimidating antagonists: Grand Admiral Thrawn, the primary villain in Timothy Zahn's "Heir to the Empire" trilogy of novels. 
Thrawn was envisioned by Zahn as the intimidating threat who swoops in to fill the vacuum of power after the Empire falls — and although those books are no longer canon, they've proven to be fertile ground for content that is. The distinctively blue character showed up in "Rebels" voiced by Lars Mikkelsen, and was expected to appear in the live action series "Ahsoka" given their history and her subplot in Season 2 of "The Mandalorian." Thrawn would be a coveted role for any actor, and some of the most popular fan casting theories held that Benedict Cumberbatch, Jason Isaacs, Matt Smith, or Michael Fassbender could snag the gig. But producers stuck with Mikkelsen, who appears only from behind in the teaser trailer. 
Mikkelsen (the brother of Mads Mikkelson, a.k.a. Galen Erso from "Rogue One") is a Danish actor who has spent most of his career making Danish TV series and movies. He's not a stranger to American and International audiences, though. In addition to his previous voice work for "Star Wars," Mikkelsen has appeared in the BBC's "Sherlock," as well as Netflix's "House of Cards" and "The Witcher." Playing the role of Grand Admiral Thrawn in the flesh seems likely to catapult the 58-year-old actor to greater stardom. 
Hayden Christenson as Anakin Skywalker/Darth Vader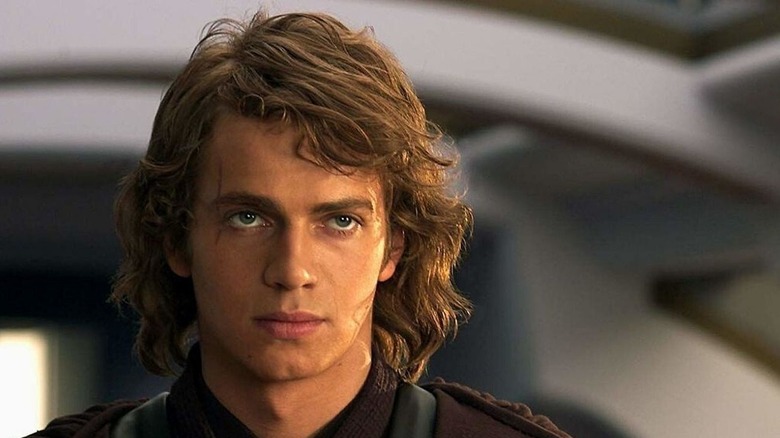 Disney Platform Distribution
Though it isn't a part of any of the three trilogies that make up the Skywalker Saga, the relationship between Anakin Skywalker and Ahsoka Tano (or "Snips," as he called her) might be one of the most consequential and captivating in "Star Wars" mythology. So, when it came time for "Ahsoka," it stood to reason that her former Jedi master turned Sith Lord would have something to do with her standalone series. 
Sure enough, Hayden Christensen is billed as a member of the cast, right next to Rosario Dawson. But — and this is a serious but — "Ahsoka" takes place after "Return of the Jedi," in which (spoiler alert) Darth Vader dies. That means Anakin and/or Vader seems likely to show up in flashbacks or in the form of a Force ghost. 
Christensen was treated harshly by some critics and fans upon the prequel trilogy's release around the turn of the millennium. But, as the younger "Star Wars" fans of the prequel era have aged and view those films with some nostalgia, he's been re-embraced by the community and has taken up the mantle of Anakin/Vader again. Christensen has had a career outside of portraying arguably the most iconic screen villain of all time. He was on '90s tween shows "Goosebumps" and "Are You Afraid of the Dark?" and gave noteworthy performances in films like Sofia Coppola's "The Virgin Suicides" as well as "Life as a House" and "Shattered Glass." Although he continued to make movies after 2005's "Revenge of the Sith," he lost much of his momentum; following 2008's "Jumper," it would be nearly a decade before he returned to mass culture with a role in the "Obi-Wan Kenobi" Disney+ series.
Dave Filoni as Chopper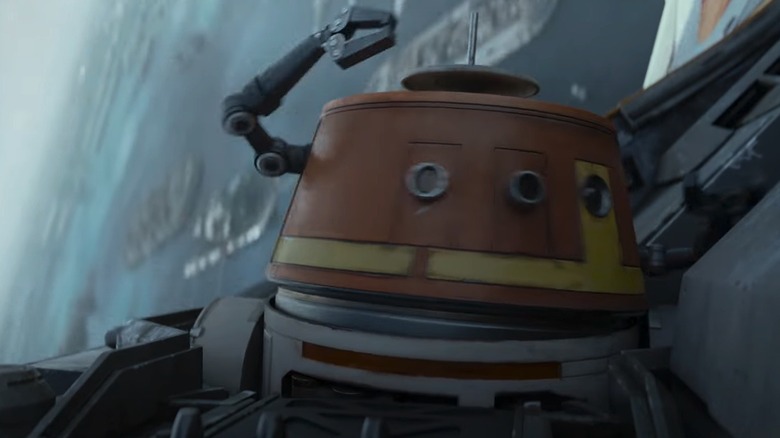 Disney Platform Distribution
While this last bit of casting news hasn't technically been confirmed, it's nevertheless a fun Easter egg for "Star Wars" fans (and especially "Rebels" fans) in the know. The latest "Ahsoka" trailer includes a shot of the astromech droid Chopper, or C1-10P, assisting in the operation of a spacecraft. Since Chopper is rarely to be found without Hera Syndulla, who was revealed to be part of the series, it makes sense that he's along for the ride, too. Like R2-D2 and BB-8, Chopper doesn't really speak, per se, but he was voiced by a human in "Star Wars Rebels," and that voice belongs to none other than Lucasfilm's executive creative director, Dave Filoni. 
The Pennsylvania native was largely responsible for the existence of "The Clone Wars" and "Rebels," so the fact that he's providing the vocal sounds for their trusty droid is a nice, fitting touch. This isn't the first time Filoni has portrayed a "Star Wars" character. The self-professed "Star Wars" fan and writer/animator/director/producer has also voiced the droid Cheep as well as multiple ancillary characters across the animated "Star Wars" series. He finally got the chance to act in live-action as the X-Wing pilot Trapper Wolf in "The Mandalorian."