The Jack Ryan Cast Makes John Krasinski Laugh As Much As He Did On The Office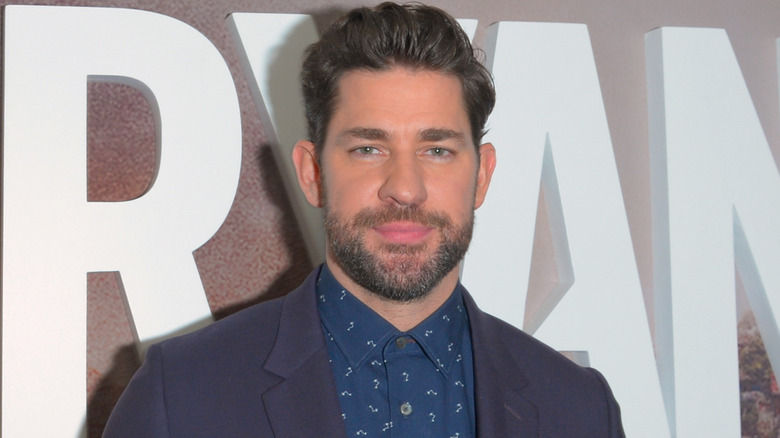 Ron Adar/Shutterstock
"Tom Clancy's Jack Ryan" star John Krasinski will return to action for the political thriller's fourth season, but mum's still the word as to when fans can expect new episodes to drop. However, Krasinski did confirm back in December that filming has been completed. "We already finished [Season 4], we actually shot three and four back-to-back," Krasinski said in an interview with The Wrap. True, very little information is available for the final season of the Amazon Prime series, but Krasinski did say that his time spent on the "Jack Ryan" set is comparable to the time he spent on "The Office." 
"I think that it's so much fun," Krasinski told Collider. "I mean, I'm not kidding when I say I think the only other time I laughed this hard on set was on 'The Office.'" That's high praise indeed considering all the behind-the-scenes footage that exists and shows off just how much fun Krasinski and the actors who brought the Dunder Mifflin paper company to life had. One needs look no further than the outtakes from "The Office" Season 4 to see how many times Krasinski and his co-stars absolutely lost it on set. And it's clear there are a lot of good times being had by Krasinski and his castmates making "Jack Ryan," too.
Jack Ryan's on-the-set antics rivaled The Office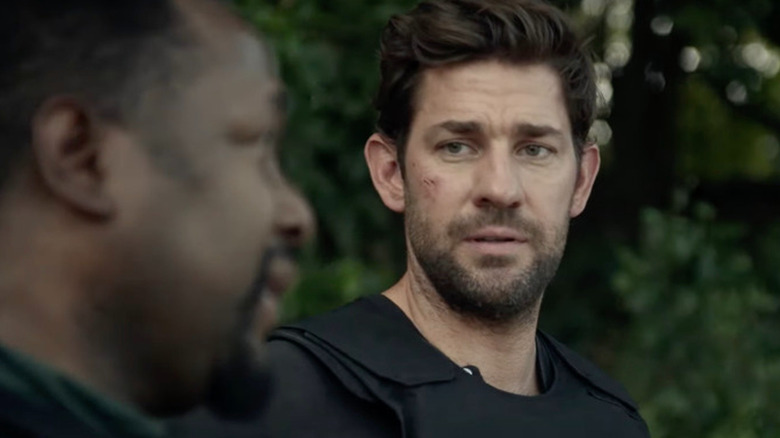 Amazon
John Krasinski and co-star Wendell Pierce have logged the most episodes on the "Jack Ryan" series, but the entirety of the cast seems to be able to crack Krasinski up on a moment's notice. But as much fun as Krasinski had laughing his way through take after take on "The Office," it seems the set of "Jack Ryan" is equally hilarious. And it turns out that the friendships he's forged with his colleagues are the catalyst for all the on-the-set hijinks.
"I think that this show, as intense as it looks, we have such a good time together because we genuinely love each other and have developed real friendships, not just work acquaintances," Krasinski said during his interview with Collider. "So, I think that, to me, that's the most surprising thing that when you see the show, people say, 'How did you get through it?' And the truth is, we had a blast doing it together."
Speaking of Krasinski's castmates, Season 4 will include the return of characters James Greer (Pierce), Mike November (Michael Kelly), and Elizabeth Wright (Betty Gabriel), according to TV Guide. Michael Peña is scheduled to join the "Jack Ryan" family as full-time regular "Ding" Chavez. Ryan's love interest Cathy Mueller (Abbie Cornish) — she is also Jack's future wife in the Ryanverse — returns from Seasons 1 and 3.