Shameless Fans Are Still Caught Off Guard By Tommy And Kermit's Love Scene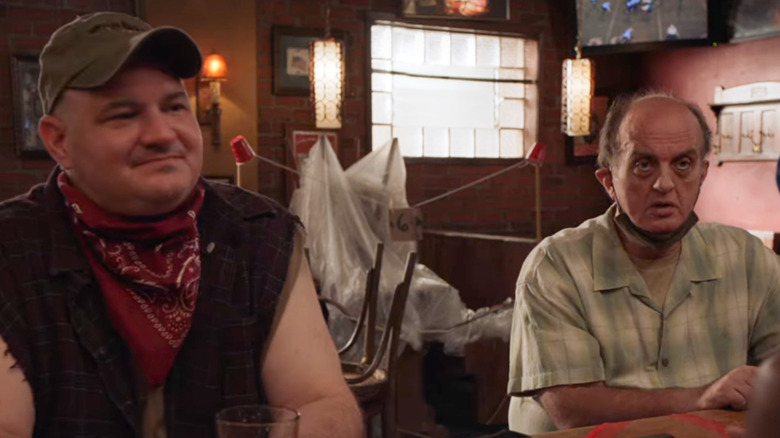 Showtime
For 10 full seasons of "Shameless," Tommy (Michael Patrick McGill) and Kermit (Jim Hoffmaster) sat on adjacent stools at The Alibi, sipping beer and offering their takes on the happenings inside and outside the bar owned by Kevin (Steve Howey) and Viola (Shanola Hampton). 
When COVID-19 restrictions closed the bar to the public, Kevin and V continued to serve their most loyal customers: Tommy, Kermit, and Frank (WIlliam H. Macy), adding a small display case from which they sold homemade cannabis brownies and gummies. In Season 11, Episode 1, "This is Chicago," Kermit and Tommy are persuaded to give the infused edibles a try, and both cannabis lightweights go overboard with their consumption. At the episode's end, they are in the bathroom washing their hands when Kermit quietly places his hand on Tommy's back pocket, leading to an exchange of come-hither looks. Tommy enters an empty bathroom stall, and Kermit follows him inside. 
Whatever happens in that stall is left to viewers' imaginations, but the implication that the two friends hook up in the stall is very clear. In a recent post to the r/shameless subreddit, u/kalechipsbishhhh wrote, "Out of all the absolutely flabbergasting moments that have happened on 'Shameless,' I genuinely think Tommy and Kermit hooking up when they were high was the most shocking thing!" u/MrPureinstinct commented, "I hated that it happened. It was just so random and nonsensical." u/MoonStar31 agreed, writing, "I hate that scene. It's so dumb. That's not how getting high works at all."
Tommy and Kermit are barely able to look at each other afterward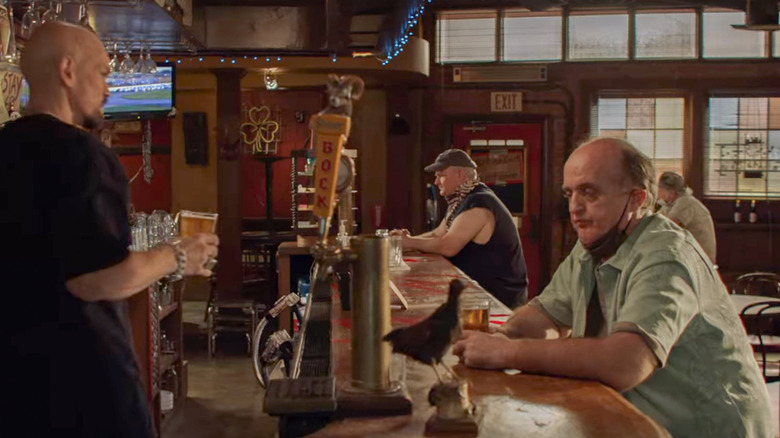 Showtime
Viewers were not alone in being thrown off by the scene. In the following episode, "Go Home, Gentrifier," both men return to The Alibi, but while Kermit takes his usual spot in front of the taps, Tommy heads for the bar's opposite end when he enters, in front of the now-empty edibles display case. 
The unprecedented distance between the two does not go unnoticed, as Kevin, V, and Frank all question why Tommy and Kermit aren't sitting together like they have always done. Kermit responds to Kevin's query with something about social distancing, while Tommy tells Viola and Frank directly to stop asking. One commenter to the post, u/futuremilfof17kids, had the same reaction Tommy and Kermit did, writing,"Literally after that scene I could never see them the same and nobody talks about it." 
By Episode 3, "Frances Francis Franny Frank," Tommy and Kermit are back in their usual spots next to each other as if the bathroom stall rendezvous had never happened, chatting like — as u/MajorKoopa puts it — "This generation's Norm and Cliff."