Shameless' Shanola Hampton Loved Veronica's Unfiltered Nature
"Shameless" is one of Showtime's most enduringly popular TV series, following the exploits of the chaotic and dysfunctional Gallagher family and their neglectful patriarch Frank (William H. Macy). It ran for 11 seasons, which still stands as a record for the premium network. Much like the British series that inspired it, "Shameless" captured audiences with its complex, imperfect characters and often-wacky misadventures of the various family members.
Outside of the Gallagher family, the comedy-drama series also focused on the people around them who were impacted by their machinations. One of the main examples of this is Veronica "V" Fisher (Shanola Hampton), who is the Gallaghers' neighbor and Fiona's (Emmy Rossum) best friend. She and her husband Kevin (Steve Howey) go through many trials and tribulations throughout the show, much like the Gallaghers themselves. But for Hampton, it was Veronica's consistent lack of a filter that made the character so intriguing for her to play.
Hampton loves that Veronica says whatever she wants without apology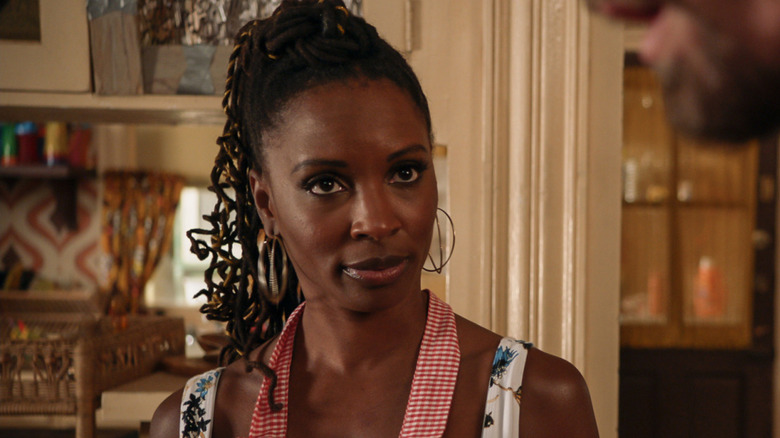 Showtime
During an interview with Glitter in 2021, Shanola Hampton spoke very highly of her role on "Shameless" as Veronica, and what made the character so compelling. While she enjoyed the character development of Veronica, for her, the best thing about Veronica was how frequently she spoke her mind.
"It's been incredible to play that evolution, but also to witness it," Hampton said. "She started out not wanting children, then really wanting children, then not knowing what to do once she had children, to being the best mama bear. My favorite part is her lack of filter; she says what she means with no apologies."
Indeed, Veronica always said whatever she was thinking — usually in a hilarious way — and was unafraid to call out other characters for their ridiculous choices, including her best friend, Fiona. While the later seasons of "Shameless" were a mixed bag for many fans, the relationship between V and Kev remained a highlight to the end.