White Noise: Is Dylar An Actual Drug?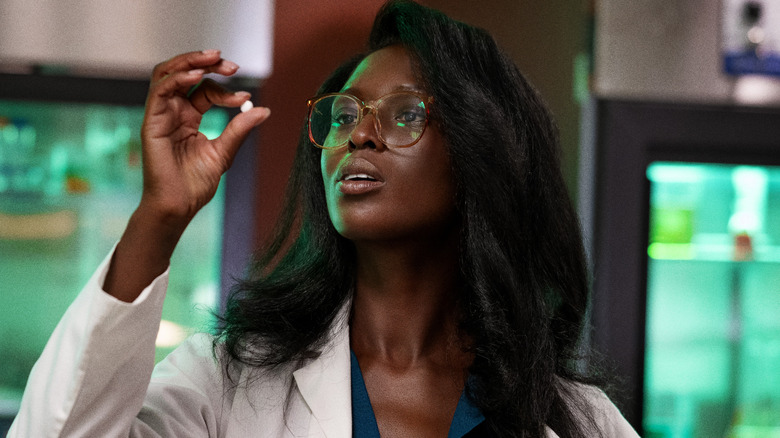 Wilson Webb/Netflix
"White Noise" is Noah Baumbach's "Doomsday Dramedy" adaptation of Don DeLillo's 1985 novel of the same name, which follows Jack Gladney (Adam Driver), a professor at the fictional College-on-the-Hill in Ohio, his fourth wife Babette (Greta Gerwig), and their blended family of four children.
In both the book and the Netflix film, death and how we deal with our fear of it are major themes. Early on, Jack and Babette have a late-night conversation about their mutual fears of dying, and shortly thereafter, Babette's daughter Denise (Raffey Cassidy) discovers an empty pill bottle labeled "Dylar" belonging to her mother. Denise reveals this to Jack, and he learns that Dylar is an experimental drug meant to remove someone's fear of death. After their small Ohio town experiences an airborne toxic event, Jack begs Denise to help him get some Dylar.
In the novel, Denise can't find Dylar listed in the Physician's Desk Reference. The drug is still in the trial phase and not available to the public. It's also not 100% effective and has horrible side effects like hallucinations, making its prospects for approval limited. Fortunately, while Dylar may be a major plot device in both DeLillo's novel and the movie, it doesn't actually exist.
White Noise is Don DeLillo's reaction to American culture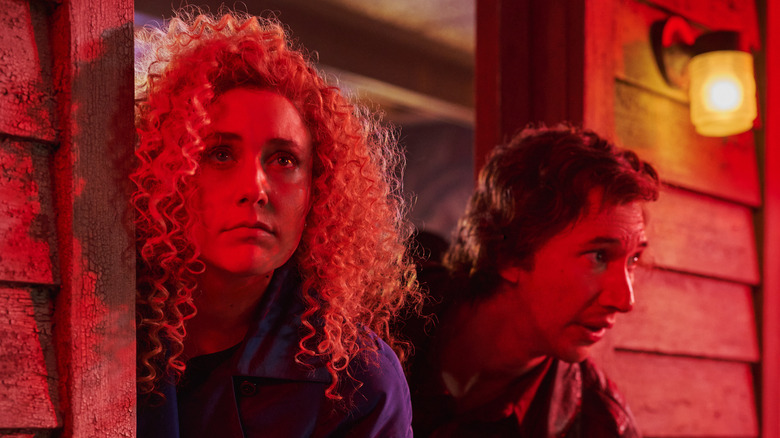 Wilson Webb/Netflix
Don DeLillo hasn't directly commented on his inspiration for the drug Dylar, but it's unlikely he was inspired by any real medication. Currently, there is no medication either on the market or in the testing phase that removes the fear of death, nor was there in 1985 when "White Noise" was published. One substance that does provide a similar effect as Dylar is psilocybin, aka the active component in magic mushrooms. A study published in the Archives of General Psychiatry in 2011 found that psilocybin did reduce terminal cancer patients' depression and anxiety about their impending deaths. However, that study came out more than 25 years after "White Noise," so it wasn't an inspiration. 
Instead, Dylar is a plot device DeLillo used to comment on what he saw as America's obsession with death. "Death seems to be all around us – in the newspapers, in magazines, on television, on the radio...I can't imagine a culture more steeped in the idea of death," DeLillo told The New York Times in 1987 while describing "White Noise."
Jack and Babette are two such Americans who are fixated on their impending demise. Dylar appears to be a quick fix for this problem. Ironically, it's Dylar itself that drives them to extremes of adultery and violence, bringing them much closer to death than they would have been otherwise. By the end of "White Noise," it's only when their source of Dylar is removed that Jack and Babette can reconcile.