Marina Squerciati Praises Chicago Fire For Bringing Stability To Its Cast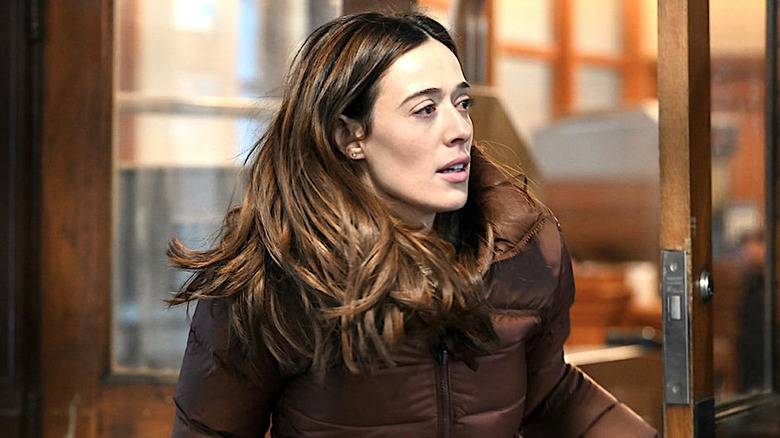 Lori Allen/NBC
"Chicago P.D." made its network debut in 2014, and if one thing has become certain, it's that series fans are likely to keep it on the air for many more seasons to come. That'll no doubt come as good news to "Chicago P.D." star Marina Squerciati, who's portrayed Intelligence Unit heavy Kim Burgess since the show's pilot episode. Squerciati is, alongside series' header Jason Beghe, one of only two cast members who've appeared in every single episode of the hit procedural to date. And Squerciati understandably could not be prouder of the continued success of "Chicago P.D." 
More than anything, Squerciati admitted to Hollywood Life she's particularly proud of the series for keeping so many people gainfully employed for such a long time because that's such a rarity in show business. "A part of this sort of life is instability and jumping from gig to gig and not knowing where your next paycheck will come from," she told the publication. Squerciati went on to say the series' lengthy small screen run has indeed been a gift to those it employs, adding, "So the fact that so many people have been employed for 10 years is more the way I look at it."
With 200 episodes behind them, Squerciati says the cast and crew of Chicago P.D. feel more like family than co-workers
There has, naturally, been a fair amount of turnover with "Chicago P.D." since its early days on NBC. But a handful of cast and crewmates did join Marina Squerciati and Jason Beghe when the show crossed the 200-episode mark earlier this year. And aside from being grateful that the show has kept one and all in proper "employed" status over the years, Squerciati admitted that run has helped the "Chicago P.D." team forge legit familial bonds. 
As the actor told Hollywood Life, "It's just amazing that we've had the stability and been able to create a family because you get so close to people and then a show ends you go to the next show." Squerciati equated shooting the series to going through high school, saying, "I think I've developed friendships kind of like in high school, like when you're with people all the time." As she noted, Squerciati feels particularly fortunate for the experience as the opportunities to forge such relationships don't often present themselves once you get past a certain age. "You don't get that when you're older because you're so busy, and I get to hang out with really fun people all the time," she claimed.
If you've watched "Chicago P.D." over the years, you know those familial bonds are as strong on screen as they apparently are off. And they'll no doubt only grow stronger as the series continues.