Where Was Netflix's Hunger Actually Filmed?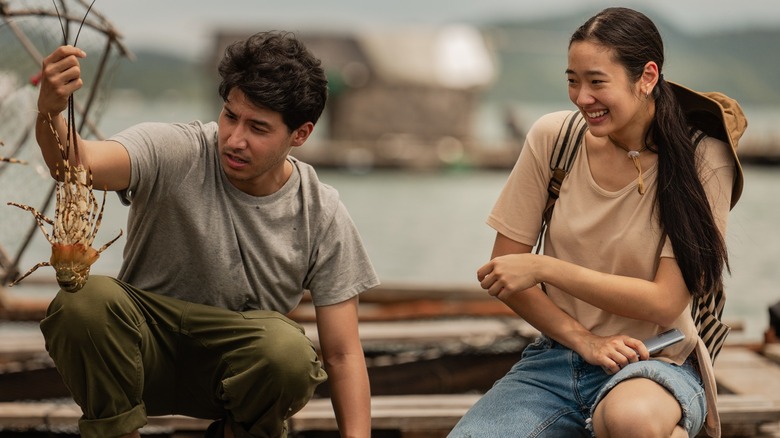 Netflix
In the best tradition of "Parasite," "The White Lotus," and other class-based satires, Netflix's "Hunger" combines heavy thematic material around a central mystery to significant effect. The Thai drama also excels at exploring the ruthless world of Thailand's cuisine industry. It follows Aoy (Chutimon Chuengcharoensukying) from her humble beginnings in her family's small restaurant to the upper echelons of an exclusive Chef's team that conceals a troubling secret.
Apart from its intriguing story, "Hunger" contains striking cinematography and production design, which naturally begs the question of where or how it was filmed. According to Tudum, the movie took place in and was entirely shot in both Bangkok and Phuket, located in Central and Southern Thailand, respectively.
Thanks to the on-location filming for the entire feature, some of Thailand's numerous popular destinations and landmarks are in the exterior shots. Here are some locations to pay attention to while viewing the film.
The film contains exterior shots of numerous Thai destinations and landmarks
Since most of "Hunger" occurs in Bangkok, many of Thailand's capital city's most crucial architectural designs can be seen in outdoor sequences. This includes the Grand Palace (the official residence of the King of Thailand) and several sections of the capital that revolve heavily around dining and food preparation. There are numerous shots of the Taling Chan Floating Market in the Bangkok section of the feature that displays the aquatic allure of the city.
Once Aoy joins Chef Paul's (Nopachai Chaiyanam) group of elite chefs for the wealthy in Thai society, the drama moves to the southern region of Phuket, which includes its own set of distinctive tourist attractions and resorts. The location is known for the Phuket Big Buddha, which can be seen in exterior shots and several shots of the city's lush beaches, waterfront hotels, and homes.
The southernmost attraction's sequences are also where most of Paul's team's fine dining culinary scenes take place. Speaking to NME, director Sitisiri Mongkolsiri revealed that the actors trained with real chefs from the region to prepare for the intensity of the film's second half, both from a culinary and emotional standpoint.
"Hunger" is now available to stream on Netflix.