NCIS: Hawai'i Fans Praise Jane Tennant's Strength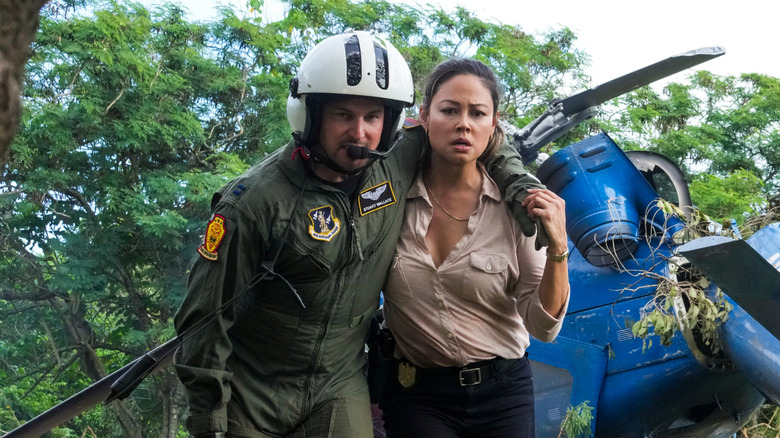 Karen Neal/CBS
Contains spoilers for "NCIS: Hawai'i" Season 2, Episode 18 — "Bread Crumbs"
Special Agent in Charge Jane Tennant (Vanessa Lachey) is a stoic and competent leader who's always willing to lend a helping hand, though the latest episode of "NCIS: Hawai'i" sees the Pearl Harbor Field Office agents working together when their boss is involved in a helicopter crash. The installment, titled "Bread Crumbs," starts off with a flash-forward showing Tennant trapped in a subterranean cave with little hope of escape. A few hours earlier, Tennant is on a helicopter transporting a criminal named Laird Harriman (Dylan Kenin), who is suspected of murdering an agent she was mentoring.
Viewers were certain that Harriman was no match for someone as experienced as Tennant. "If anyone can get that man to talk, it's Jane Tennant," wrote Twitter user @earplegalcodes. Unfortunately, Harriman frees himself from his restraints and shoots the pilot, causing the helicopter to go down. Despite the chaos, Tennant immediately takes command of the crash site and provides basic medical care to those who were onboard, adding another contender to the growing list of the character's best moments. "Love Badass Jane taking control and telling them all what to do," said Twitter user @Eloisetalkstv.
Along with Agent Sam Crichton (Nick Creegan), she heads into the wilderness to hunt for the fugitive, showing off the skills that have gotten her so far. The narrative demonstrates that Jane Tennant's strength runs deep and fans were happy to sit back and enjoy the ride.
Jane Tennant has been protecting the innocent since childhood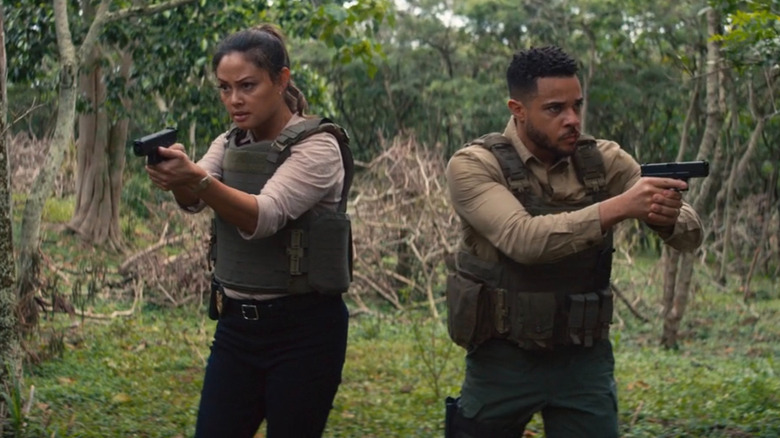 Karen Neal/CBS
Jesse Boone (Noah Mills) calls in reinforcements the moment he realizes that Jane Tennant is in trouble, but she's already on the move. Tennant and Agent Crichton pursue their target through the woods, only for Harriman to get the upper hand. Crichton is shot and both agents are injured after falling into a cavern. The situation is grim, but Tennant doesn't let it rattle her. She's calm and focused in the face of danger, and fans couldn't help but praise the character's strength. "Jane is indestructible #NCISHawaii," wrote Twitter user @GoWhereYouGrow.
Flashbacks show that Tennant's had these traits since childhood, though she's learned plenty of lessons along the way. As a kid, she stood up to bullies and never hesitated to help the underdog. Her protective instincts have always been there, even if she's had to refine them. "In conclusion: Jane Tennant was born a badass. Even baby Jane was fighting for others," said Twitter user @earplegalcodes. She ultimately finds a way to freedom, with a renewed determination to see Harriman behind bars. "Jane Tennant is not someone I would ever ever cross," wrote Twitter user @tumbling_theta.
No one is happier to see Tennant go home than her son, Alex (Kian Talan), who clearly worries about his mother's safety. "You built a ohana as strong and as dedicated as you are Jane Tennant. You should be proud! #NCISHawaii," Twitter user @JBraxt29. Overall, the episode confirms that Tennant is a force of nature.