Why Dr. Lauren Bloom From New Amsterdam Looks So Familiar
NBC
When watching a movie or TV show, few things are quite as distracting as when you recognize a performer but just can't place where you've seen them before. This might be the case with a series like the acclaimed NBC drama "New Amsterdam."
Dr. Lauren Bloom is a major character on all five seasons of the show, serving as the hospital's Emergency Department head. She's had many story arcs throughout the series, from struggling with Adderall addiction to surviving an ambulance crash to having a rocky romance with her fellow New Amsterdam doctor Leyla Shinwari (Shiva Kalaiselvan) –a romance showrunner David Schulner pronounced dead early in Season 5. But while Drs. Bloom and Shinwari's relationship still ranks high on the list of the best couples of "New Amsterdam" — and the actress who plays Bloom is a veteran of nearly 40 credited roles, some of which you've likely seen — it might be gnawing at you to see a familiar face and not know where you've encountered her before.
Consider the itch scratched. Dr. Bloom is played by English actress Janet Montgomery, who has several dozen acting credits on her resume, many of them stateside.
Janet Montgomery was a professional ballerina in Black Swan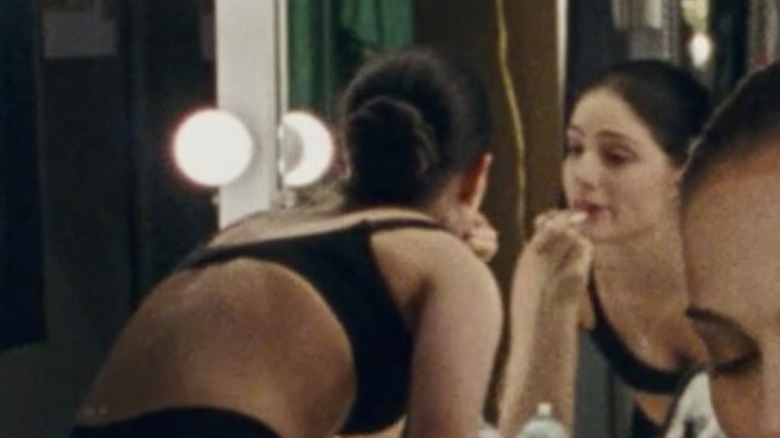 Fox Searchlight Pictures
Born in 1985, Montgomery has a ballet background — she left school at 16 to study dance at the Stella Mann College of Performing Arts –and she put those skills to good use when she was cast in Darren Aronofsky's 2010 psychological thriller "Black Swan."
Following a ballet dancer (Natalie Portman) cast as the lead role in "Swan Lake" at the New York City Ballet, the Oscar-winning film slowly unravels as she forms an unhealthy relationship with her understudy (Mila Kunis), who also closely resembles her. When writing "Black Swan," Aronofsky was inspired by Fyodor Dostoyevsky's doppelganger novel "The Double."
Montgomery has a small but physically demanding role in the film as Madeline, a British member of the dance troupe who's skeptical about the prospects of modern ballet as a business. In the movie's production of "Swan Lake," she's cast as the Little Swan. Like many members of the company, she's competitive, jealous and eager to advance in the ranks of the troupe.
As it would turn out, 2010 – 2011 would be something of a breakthrough period for Montgomery, as appearances in films like "Black Swan" and "Our Idiot Brother" and TV work on "Human Target," "The League" and "Entourage" put her face out there for sizable audiences across a wide spectrum of entertainment. 
She was Eric's assistant on Entourage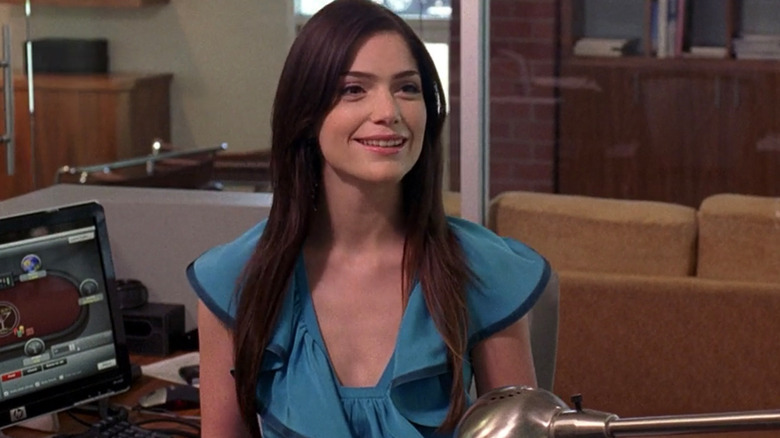 HBO
Montgomery got a chance to shine in the seventh, penultimate season of "Entourage," the HBO series about a fictional movie star (Adrian Grenier) and his eponymous entourage working to advance his acting career while pursuing various offshoot careers and side hustles.
She played Jennie, the British assistant of Eric (Kevin Connolly) at the Murray Berenson Company, where both he and Ari Gold (Jeremy Piven) worked. 
Jennie quickly earns Eric's trust and offers him good advice on his show business management, along with other members of the entourage. At one point, she convinces Vincent's brother Johnny Drama (Kevin Dillon) to accept a voiceover role on a cartoon called "Johnny's Bananas," persuading him that it's actually much more funny (and less embarrassing) than he thinks. Jennie and Johnny also develop a flirtatious relationship, and Eric warns Johnny not to pursue his assistant. "Entourage" never progressed the storyline beyond flirtation, which ultimately left some fans feeling shortchanged.
She played a troubled woman in a disturbing episode of Black Mirror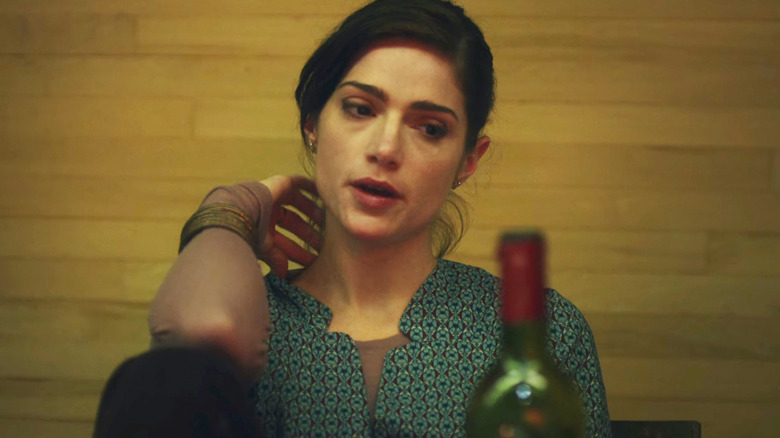 Channel 4/Netflix
"Black Mirror," the dystopic science fiction anthology series created by Charlie Brooker, earned a reputation for existing in the uncomfortable margins of storytelling. Its first two seasons aired on Channel 4 in the UK in 2011 and 2013, concluding with a Christmas special titled "White Christmas." Netflix then purchased the series in 2015, producing a third season that aired in October 2016. Since then, the series has aired two more seasons on Netflix, as well as the interactive film "Bandersnatch."
Janet Montgomery appeared in the "White Christmas" episode, set in a world where people can use an ocular implant called a "Z-Eye," which allows them to interact with both the world and the internet. This reality allows people to upload digital copies of their consciousnesses to a device called a "Cookie." 
Montgomery's character is Beth, wife of Joe (Rafe Spall), a man with alcoholism whose behavior prompts Beth to "block" Joe from her life and that of their unborn child. Joe's Z-Eye then replaces Beth with a blurred-out silhouette, preventing him from seeing her. Eventually, when Beth dies in a train crash, the block is removed and Joe is allowed to meet his daughter, leading to intense plot twists that involve paternity, murder and digital imprisonment.
She played a New York actress and Kevin's love interest on This Is Us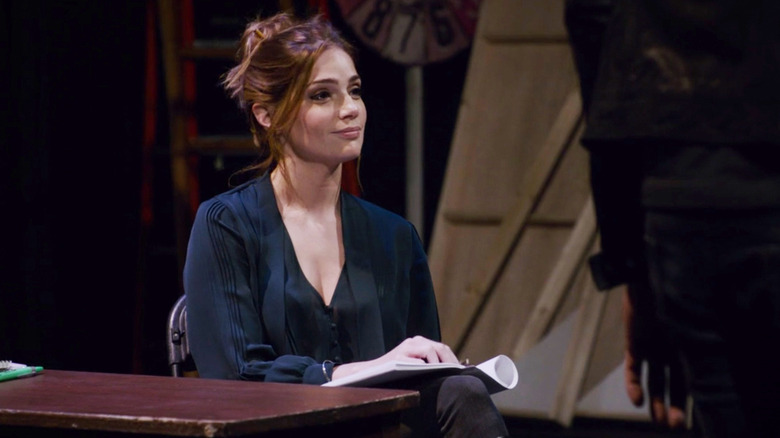 NBC
By 2016, Montgomery had continued paying dues on short-lived TV series like "Made in Jersey" (where she had a lead role), mini-series like "Dancing on the Edge" and was even a part of the notoriously-abandoned quasi-sequel "10 Things I Hate About Life."
She then struck gold again by appearing on "This Is Us." It was a guest-starring role that would end up lasting five total episodes during the show's first season, but the series would go on to become one of the most buzzed-about shows of that year. 
A multigenerational drama that ran on NBC from 2016 to 2022, "US" told the saga of the Pearson family. It mainly focused on Jack Pearson (Milo Ventimiglia) and his wife Rebecca (Mandy Moore), their two biological children Kevin (Justin Hartley) and Kate (Chrissy Metz), and their adopted son Randall (Sterling K. Brown).
During the first season, Kevin is a Los Angeles-based actor who relocates to New York City to beef up his theater resume. There, he meets Olivia Maine, a Tony Award-nominated British actress who's played by Montgomery. After initially making a bad impression, Kevin gets cast in a play alongside Maine. While working together, the two seem to be headed towards a romantic relationship, until she gets second thoughts and abruptly quits the play.
"[Olivia] thinks that he isn't real and she's trying to get a real performance out of him," Montgomery said, describing in 2016 how her character viewed the one played by Ventimiglia. "But Kevin actually teaches her a lot about herself. As it goes on, you realize that she's not as real as she thinks she is and Kevin isn't as fake as she thinks he is."
She had the lead role on the WGN America series Salem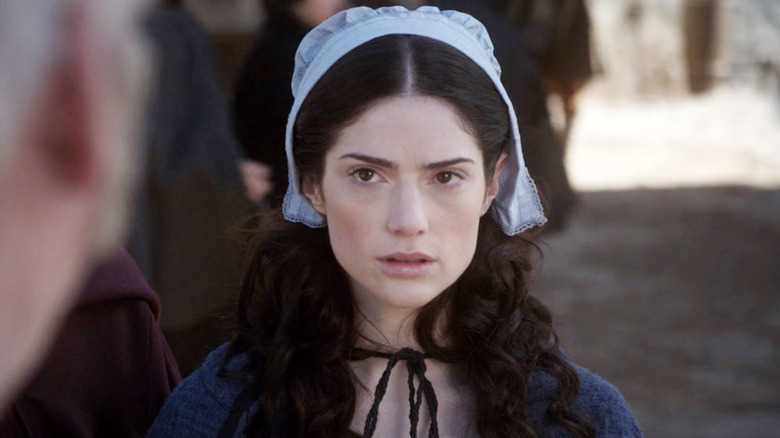 WGN America/Hulu
Seemingly on the precipice of becoming a headlining household name by the mid '10s, Montgomery once again made an impression in "Salem," the first TV drama in the WGN America subscription service's history. She would film some 36 episodes of the period drama.
A dramatic retelling of the Salem witchcraft trials in colonial Massachusetts, the show came with a twist: What if witches were real? Enter Mary Sibley, Montgomery's character. She's the wife of one of Salem's town elders at the outset of the witch trial hysterics. Then, when her long-lost lover John Alden (Shane West) returns home from war, the two strike up a relationship and she becomes pregnant.
Months later, the witch Tituba (Ashley Madekwe) manipulates Mary into thinking John is dead. Mary then sets out to bring the powers of Satan to bear, becomes a powerful witch herself, and becomes embroiled in the middle of a struggle between witches and witch hunters. The supernatural series ran for three seasons before its 2017 cancellation; in 2018, Montgomery would begin playing Dr. Bloom on "New Amsterdam."