Law & Order: Organized Crime Sentenced To A Half-Season Renewal Order - But Why Not A Full One?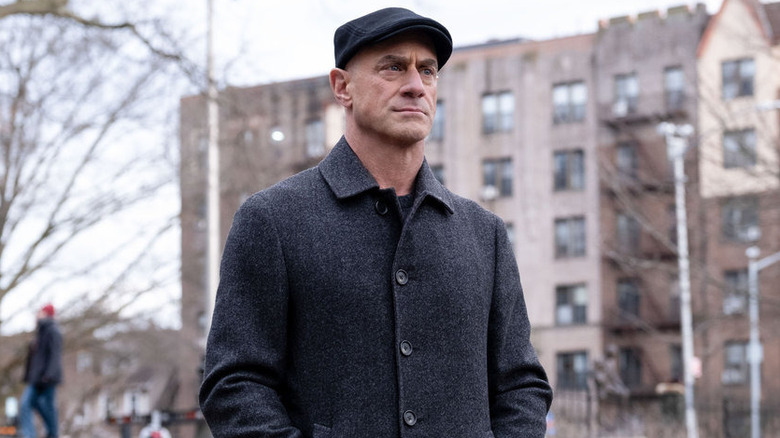 Francisco Roman/NBC
"Law & Order: Organized Crime" has been a breakout hit for NBC. Deadline reports that it's no slouch in the ratings department and often leads the pack when it comes to hard numbers in viewership. So the fact that it's been renewed for a fourth season is no surprise. It's the number of episodes it's been renewed for that comes as a shock. Deadline claims the show's only getting a half-season order of thirteen episodes compared to the standard 22 episodes gifted to its "Law & Order" canonmates.
The reason for this shortened run was apparently producer-dictated instead of network-requested. Per TV Line, the reason for the reduced order appears to stem from the show's producer's desire to tell a specific, firmly compacted storyline. Thirteen hourlong episodes definitely give "Law & Order: Organized Crime" enough room to tell a solid story, but it also requires zippy pacing. What other factors may be at work here? Might the introduction of a new showrunner over the show's chaotic third season have brought about a fresh creative direction? And will the series' reliance on crossover episodes further extend the series' profile and episode run?
The series has dealt with recent backstage changes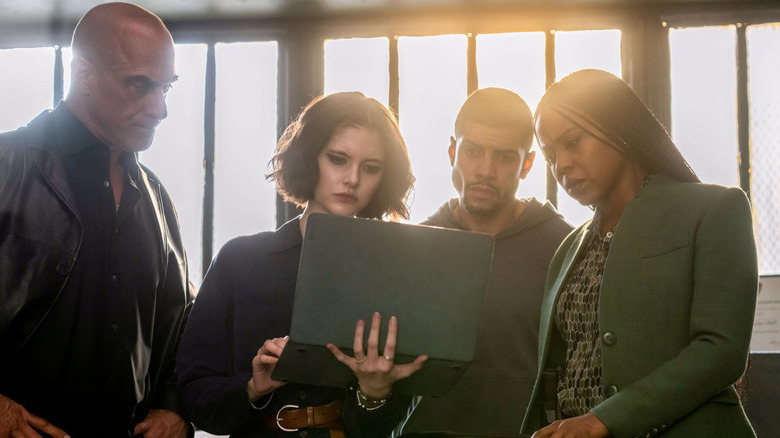 Zach Dilgard/NBC
To say that "Law & Order: Organized Crime" has experienced some turbulent behind-the-scenes seat-shuffling during the production of its third season is a bit of an understatement. First, Bryan Goluboff — who had been running the show since Ilene Chaiken left her perch during the production of Season 2 — was replaced by Sean Jablonski in September of 2022. Jablonski left the show in March due to what was described as "creative differences"; he was replaced with David Graziano, who finished out the filming of Season 3. There's no word at press time whether Graziano will shepherd the show through Season 4. It's well worth noting that throughout its entire run, "Law & Order: Organized Crime" has had several different showrunners in the span of four seasons; Chaiken replaced Matt Olmstead, who departed the series before its first season hit the airwaves. Barry O'Brien also served as a showrunner for a time after Chaiken's exit.
Ergo, it's pretty reasonable to assume that a new showrunner might mean a new direction, creatively, pacing, or perhaps when it comes to which characters the show wants to spend screen time on. While it may seem unwise to mess with the show's well-established formula, your average producer might look at the intense but malleable storytelling "Law & Order: Organized Crime" presents and see room for improvement. It's possible that a shortened season might be a tone experiment from them; either way, we'll have to see if they can cram in all of the storytelling details they want to slip into the season without any further backstage earthquakes taking place.
Crossover episodes might extend the show's overall run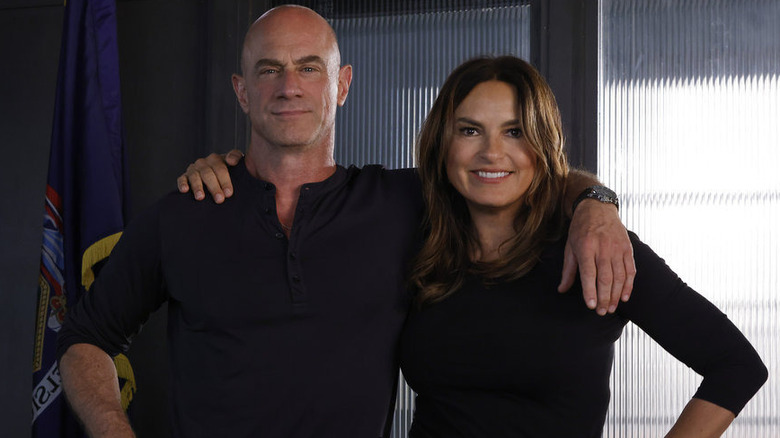 Will Hart/NBC
Crossover events have become the "Law & Order" universe's bread and butter; it's all but guaranteed that the long-frustrated love affair between "Law & Order: Organized Crime" lynchpin Elliot Stabler (Christopher Meloni) and his former partner, "Law & Order: Special Victims Unit" queen Olivia Benson (Mariska Hargitay) will continue in some way, at some point, on either show. The twosome's glacially-slow march toward being more than friends, which has outlived his marriage and her adoption of a son, seems to be taking a new turn as each show marches toward the summer. Fans are even starting to pick up more hints about their shared attraction.
Is it possible that more crossover appearances by Stabler and his fellow "Organized Crime" denizens on either "Law & Order: Special Victims Unit" or the rebooted mothership series, which now stars Jeffrey Donovan, will occur? It seems to nearly be guaranteed. That's a nifty and easy way to extend the shelf life of "Law & Order: Organized Crime" without giving it extra episodes, and one that fans have definitely been receptive to in the past. So don't be shocked if you see a lot more of Elliot on the other two shows, even if there are only thirteen episodes centered on him and his crew alone.