Super Mario Bros. Movie: Jack Black Says The Sequel Needs Pedro Pascal As Wario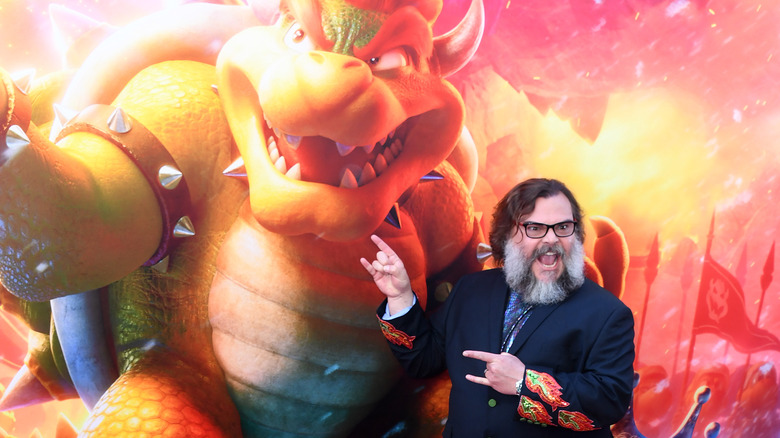 Albert L. Ortega/Getty Images
Jack Black, who voices the villainous Bowser in "The Super Mario Bros. Movie," wants Pedro Pascal to play Mario's chaotic counterpart Wario in a potential sequel. During a 2023 interview with Gamespot, Black acknowledged that there's no guarantee that his version of Bowser will ever return, even if a second "Mario" movie does indeed see the light of day. "You know, I did a few 'Kung Fu Panda' movies, and it was a different villain [in] every movie," said Black. "They may do the same thing." 
Black then went on to detail how Bowser could operate in future Nintendo properties as a reluctant ally to Mario in the case of a greater threat to both of their lives. "Are you thinking what I'm thinking?" Black continued, proposing an entirely new idea instead. "Wario. Pedro Pascal is Wario."
It's worth mentioning that this interview was published just days after Black's appearance on Season 3 of "The Mandalorian," which saw him in a memorable guest role alongside Pascal's lead character. Currently, neither Nintendo nor Illumination has announced any official plans for a second "Super Mario Bros. Movie," though according to a rumor, the two companies are planning a "Donkey Kong" spin-off with Seth Rogen reprising his "Mario" movie role (via Giant Freakin Robot). While Wario and Donkey Kong aren't all that closely associated with one another in the Mario universe, it's wouldn't be entirely outside the realm of possibility for Wario to debut in a "Donkey Kong" movie. Of course, the possibility of Pascal himself voicing Wario is slimmer, given the "Mandalorian" and "Last of Us" actor's unprecedented popularity in the present day.
Meet Wario, the Anti-Mario
Wario is an antagonistic but rarely outright evil figure in Nintendo's extensive catalog of games, acting as an agent of chaos more often than as an explicit villain. "Super Mario Land 2: Six Golden Coins," a Gameboy title from 1992 (or 1993, for American gamers) is the first video game in which Wario appears, and marks one of the rare instances of Wario acting as Mario's main antagonist. From that game's release until now, Wario has most often been depicted as a louder, messier version of Mario — the Dr. Jekyll to his Mr. Hyde. He also frequently appears as a playable character in multiplayer "Mario" games like "Mario Kart" and "Mario Party," alongside villains like Bowser and Waluigi. He likewise stars in his own series of minigame collection titles, under the "WarioWare" brand, in which he sports a unique, biker-inspired getup, rather than his usual outfit that inverts Mario's iconic look.
Unlike Bowser, whose scheme in a typical "Mario" game revolves around kidnapping Princess Peach, Wario is driven by a broader set of ambitions. He's less of a romantically-spurned-stalker kind of guy and more of a world-domination, get-rich-quick, fly-by-the-seat-of-his-pants kind of guy. If Nintendo and Illumination are looking for their next villain to set a totally different tone for a potential sequel to "The Super Mario Bros. Movie," then Wario would be a perfect match. 
Pedro Pascal would be a great choice for the voice of Wario
It's particularly funny that Jack Black, of all people, is petitioning for Pedro Pascal to voice Wario. If it weren't for the fact that Black is already the voice of Bowser, he would be an idea pick for the voice of "The Super Mario Bros. Movie" universe's version of Wario. His chaotic sense of humor and arguably even more chaotic social presence match Wario's energy to a T. And It wouldn't be that much of a stretch to say that Wario is a lot like Black's "Kung Fu Panda" protagonist Po — since Black brought up "Kung Fu Panda," so will we — with an evil little mustache. Of course, Black is understandably off limits and Bowser, whom he was ecstatic to play, is a highlight of the first film.
As for Pascal, Black might be onto something. Sure, Pascal acknowledged the "Mario" franchise during his stint hosting "Saturday Night Live," but it's his own present day social presence that makes him a solid pick for Mario's gaseous nemesis. We're not going to force anyone to keep up with TikTok trends, but those unfamiliar with his online infamy should know that Pascal is enjoying a marketing boost from being chaotic and ironically self-interested (in a fun way). So, go for it, Nintendo. Hire Pascal. He's already proven how good he can be in a video game adaptation as Joel in HBO's "The Last of Us." Besides, if he has Jack Black's approval, he's got ours.