The Mandalorian S3 Was Heavily Inspired By Ray Harryhausen & Classic Monsters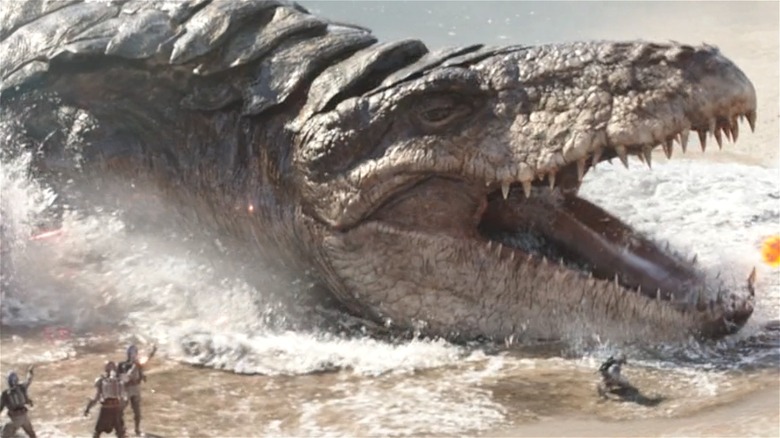 Disney/Lucasfilm
The "Star Wars" galaxy isn't one to shy away from amazing technology, mysterious powers rooted in mental prowess, and, of course, fantastic creatures that inspire the imagination. "The Mandalorian" Season 3 is certainly giving audiences an amazing tour through the galaxy. So far, viewers have seen devastated and abandoned planets, burgeoning towns, advanced domed cities, and even savage environments that give Mandalorians a run for their money because of fearsome and deadly creatures.
Unsurprisingly, it looks like "The Mandalorian" Season 3 has actually taken a lot of inspiration from that which has come before, and it isn't simply the "Star Wars" franchise it's drawing from. Speaking on the fourth day of Star Wars Celebration over on YouTube, executive creative director of Lucasfilm Doug Chiang elaborated on the current design philosophies of the company. Chiang noted that the production crew had a lot of fun crafting "The Mandalorian" Season 3, which boiled down to the fact that they wanted to focus on what makes "Star Wars" special — namely visual spectacles combined with a lot of heart. Chiang explained that "The Mandalorian" has been inspired by plenty of classic films like "Planet of the Apes," but he went on to mention another muse of Ray Harryhausen, saying that his film "One Million Years B.C." served as a direct source for the scene involving the cadre of Mandalorians battling that giant turtle creature.
Chiang says that Harryhausen films only need a droid to be considered a Star Wars film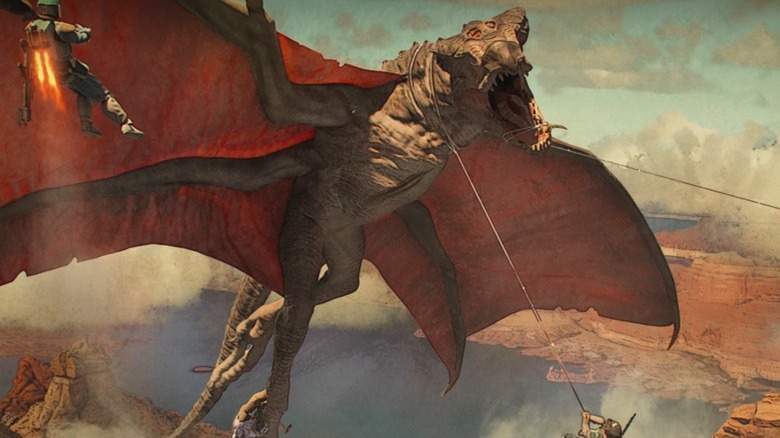 Disney/Lucasfilm
Doug Chiang continued and said that giant monsters are one of the aspects that make "Star Wars" the global sensation it is, and that these creatures can turn a normal scene into an extraordinary one. Chiang added, "If one monster wasn't enough, we actually had another with a giant bat-harpy pterodactyl. We were definitely leaning into monster mayhem for this chapter, and I just love to play with scale. This whole scene was fantastic to design. This painting by Christian Oldsman shows the Mandalorians taking down the beast by lassoing it with their lariats. This moment also tapped into another favorite monster movie and was inspired by 'The Valley of Gwangi,' one of my favorite all-time Harryhausen films. Harryhausen films, if you think about it, are very 'Star Wars.'"
Chiang then explained that he feels like if droids were added to any Ray Harryhausen film, they would essentially be another "Star Wars" movie. For those without an encyclopedic knowledge of cinematic history, Harryhausen was a prolific pioneer of special effects whose credits include "Jason and the Argonauts," "Clash of the Titans," and "Mighty Joe Young." Known for developing a style of stop-motion animation called Dynamation, Harryhausen has visual effects credits for 17 endeavors, and these movies left a huge impact on many creators like Chiang, Peter Jackson, and Steven Spielberg. Still, at least the next time a monster pops up in "The Mandalorian," one knows they have the famous special effects master Harryhausen to thank for providing the influence.