The Succession Cast Did A One Take Shot Of That Death Sequence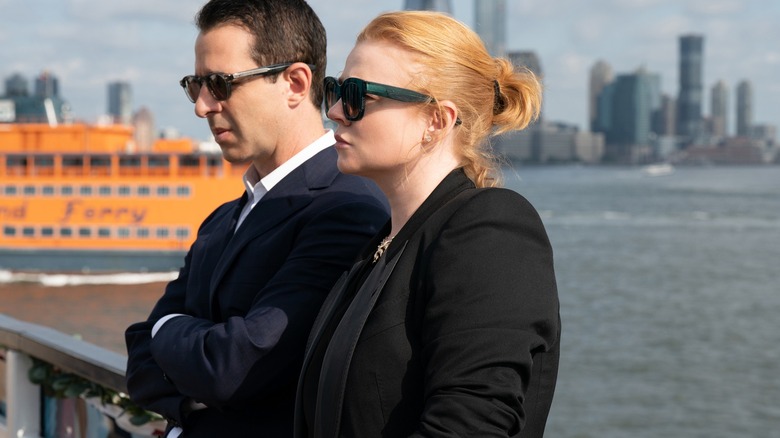 Macall B. Polay/HBO
Contains spoilers for "Succession" Season 4 Episode 3 — "Connor's Wedding"
Fans of "Succession" are unlikely to forget what it felt like to watch the Roy siblings — Kendall (Jeremy Strong), Shiv (Sarah Snook), and Roman (Kieran Culkin) — stammer into a speakerphone, only to learn that their father, Logan Roy (Brian Cox), has died on his private plane while 30,000 feet in the air. Apparently, the logistics behind this moment were absolutely insane.
Speaking to host Kara Swisher on HBO's official "Succession" podcast, showrunner and episode writer Jesse Armstrong and episode director Mark Mylod opened up about exactly how Strong, Snook, and Culkin managed to pull off that scene. When Swisher asked what it was like to film the sequence, Mylod and Armstrong revealed that because "Succession" shoots on film, they had to reload as they went.
Mylod said he wondered, "wouldn't it be good if we could shoot this whole sequence without reloading, if we could just shoot it as one? ... To achieve it, it was timing out to 27, 28 minutes at the time." However, because of their logistics, they could only shoot ten minutes at a time — so after they shot it in those increments, Mylod asked his cast if they could take a break and then return to shoot it all in one take, "which was met with trepidation, and also enthusiasm." Ultimately, Mylod and his crew made sure there was at least one camera running at all times through clever filmmaking techniques, and they managed to pull off the sequence in one take. "The results were, in my opinion, electric," Mylod revealed.
Shooting this episode of Succession was an enormous undertaking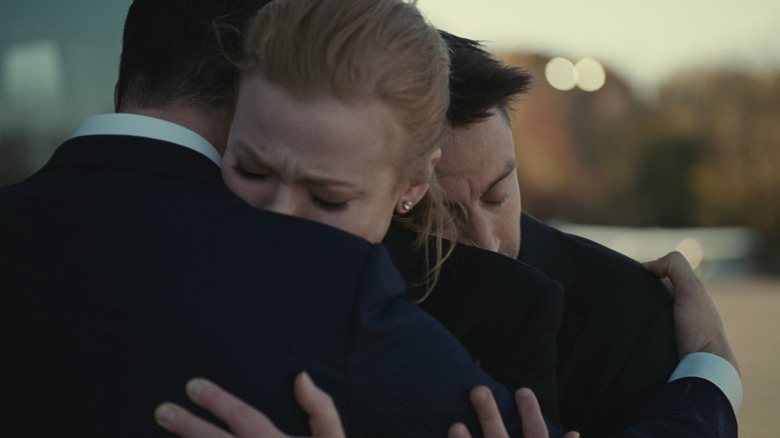 Macall B. Polay/HBO
Mylod revealed that "Scene 11," where Roy siblings getting the call about their dad, Kendall going out to the rear deck to make his own call to figure out what's going on, and everything that happens from there was very intimidating for him to approach — but he certainly understood its importance. "That sequence, again, I think Jesse and I ... we wanted it to feel like it was all in real time," Mylod told Swisher. "It felt like every time that you cut away from a character, or kind of jumped forward in time, you kind of took your foot off the gas. It felt to me ... that the camera had to be sadistic, had to be unflinching and just keep looking at the pain."
Mylod and Armstrong's vision certainly came to life; with Logan dying unceremoniously and off-screen as his children and employees panic and mourn in real time, the episode feels starkly real and unbelievably gutting as you watch Kendall, Shiv, and Roman grapple with the idea of losing their father. Mylod didn't reveal whether or not the one-take footage was used in the final cut of the episode, but in any case, what we got was plenty electric.