Gerri's Big Moment In Succession S4 Episode 3 Is More Important Than We Think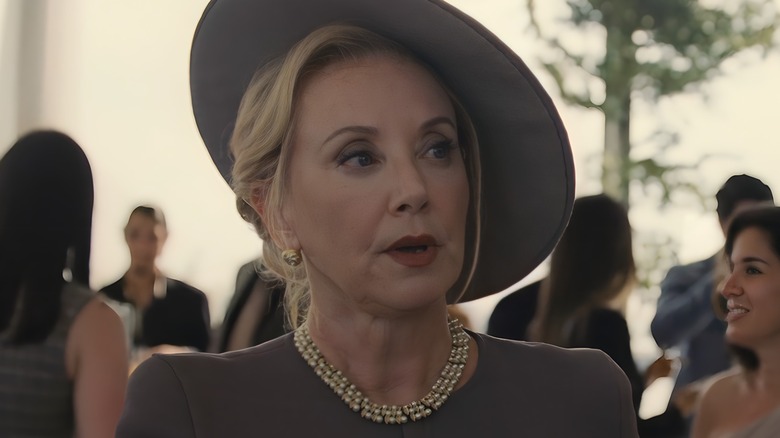 HBO
Contains spoilers for "Succession" Season 4, Episode 3 — "Connor's Wedding."
This week's "Succession" was a work of skillful, multilayered misdirection. Slyly titled "Connor's Wedding" and coming on the heels of the titular character's brutal emotional reckoning last week, it seemed as though the oldest Roy (played by Alan Ruck) would see his character arc come to a messy head. Then there was the bubbling tension between the three younger siblings — with Roman (Kieran Culkin) quietly leaving Shiv (Sarah Snook) and Kendall (Jeremy Strong) out in the cold, conflict was surely on the horizon.
And then, in unceremonious chaos, it happened: Logan Roy, the tortuous Shakespearean patriarch of the Roy family, finally died.
We all knew the character (played by Brian Cox) would likely exit stage left sometime before the show ended — after all, a project titled "Succession" doesn't work unless an actual succession occurs. And for someone as prideful and petty as Logan Roy, it seems only logical that such a thing would take the shape of family and employees surrounding his corpse and pecking at pieces of the company like the vultures they all are.
Logan himself gets no final words, or if he did, we don't get to hear them. Rather, he gets a final action — one last, cruel order that may be meant to define his exit from the series and is sure to haunt the surviving Roy family members in the very near future.
From lawyer to kingmaker...
Between Connor's wedding and Logan Roy's death, this week's "Succession" was able to drop a huge bomb subtly: Gerri Kellman (J. Smith-Cameron), Waystar Royco's legal counsel, was coldly fired directly by Roman — likely because Logan became aware that the two were sexually involved. Gerri's firing (or, perhaps more accurately, pre-firing) gets quickly swept under the rug by more dramatic happening throughout the rest of the episode, but it's arguably the second most impactful development of the night.
As the Roys call those aboard Logan's private jet to discuss a statement being written without their input, an existentially threatening realization makes itself known without anyone saying it outright — there are no more Roys at Waystar Royco. No one to protect them, speak up for them, or ensure that they have anything approximating a seat at the table. Even when they were at war with their father, the children always had an opening back into the company (as Roman proved just last week).
In the absence of their father, the children will find themselves in the bizarre position of relying on the upper management they once manipulated and abused, Gerri included. Roman's willingness to fire her put him — and possibly their entire family — on the opposing side of a growing coalition of non-family members still within the company.
For the record, neither she nor Cyd Peach (the head of ATN, played by Jeannie Berlin) were officially fired, meaning Roman has made a powerful enemy and gained nothing in return. Of the remaining key Waystar employees, Gerri is by far the savviest and most cutthroat. It's unlikely that she'll take Logan's place (after all, she turned the job down in the series' second episode), but that doesn't mean she won't be instrumental in choosing who does.