The Criminal Minds: Evolution Cancer Storyline That Was Taken From Real Life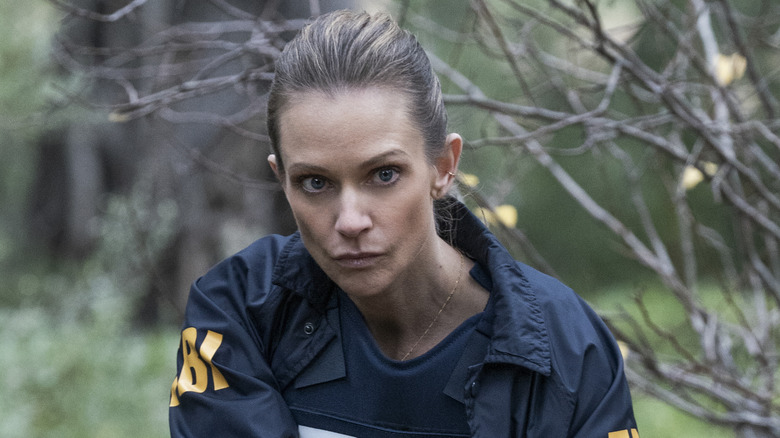 Michael Yarish /Paramount+
It's always interesting to learn how different actors prepare for upcoming storylines that their character experiences in an ongoing TV series. For A.J. Cook, her connection to the events her character's husband was going through in "Criminal Minds: Evolution" stemmed from a real-life scare. That's because while her on-screen character Jennifer was waiting for her husband, Will's (Josh Stewart) cancer test results, her real-life husband had been battling cancer at home. And while this can be compared to method acting, all the emotions that came from this scripted story brought out some intense feelings for Cook. However, despite a connection that may have caused some actors to request a different storyline, Cook leaned into her unique situation and ended up putting forth a great performance. 
In Season 1, Episode 4 ("Pay-Per-View") of the Paramount+ reboot (which is technically the 16th season of the original series), fans learned that Jennifer's (Cook) husband, Will, needed to go through medical tests to determine whether or not he had cancer. This literally hit home for Cook, who had revealed to Good Housekeeping that her real-life husband, Nathan Anderson, had been diagnosed with a form of the dreaded disease. "Some things happened and we had to sort of pivot with that storyline," said Cook. "It's like one more thing on top of your already full list of things to do in a day, and then you get handed this diagnosis and the worry that comes with that." Luckily for Cook, her real-life scare ended up being okay.
Cook's real-life cancer connection wasn't made public
As A.J. Cook's character, Jennifer, faced a scare when her "Criminal Minds: Evolution" husband, Will, needed to take on a series of medical tests to check for cancer, her real-life husband had already been through it. Cook's husband, fashion designer Nathan Anderson, had luckily beaten the disease, according to an Instagram message posted by the actress. Those who aren't close with Anderson may have been learning about this diagnosis for the first time, as there wasn't any previously publicly announced information by Cook beforehand. In fact, some fans only assumed that Anderson had beaten thyroid cancer simply based on pictures that include the location of medical bandaging from a possible surgery (via Amomama).
Cook's Instagram post explained the past year of her husband's cancer battle. In the message, she wrote, "It's been a hell of a year @nathanandy. I know you hate when I get all sentimental but #Cancer picked the wrong guy to mess with. You won baby! You're #cancerfree." Clearly, this was a big relief for Cook as she continued, "It's like the weight of the world has been lifted." The situation, as Cook explained, was not only dealt with on a personal level but utilized by her for her TV performance. Pulling from the situation to enhance her realism in "Criminal Minds: Evolution" was used to put forth a solid and believable portrayal. Hopefully, Cook will no longer need to pull from such terrifying situations like this to help prepare for any future storylines.