Matt Czuchry's Mom Loves Gilmore Girls (But Is She Team Logan?)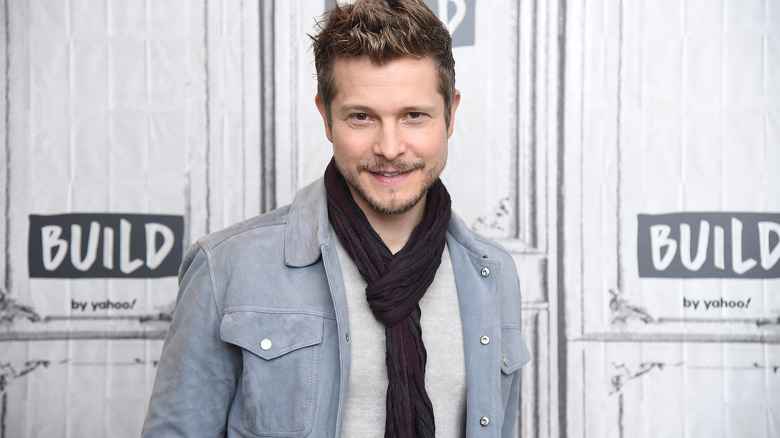 Gary Gershoff/Getty Images
"Gilmore Girls" fans have never struggled to find new things to discuss about the series. Indeed, in the 16 years since the show originally came to an end in 2007 (and the 7 years since its 2016 revival, "Gilmore Girls: A Year in the Life," premiered on Netflix), "Gilmore Girls" fans have kept themselves busy discussing the show's various storylines, twists, and characters. Of course, one of the leading topics of discussion among "Gilmore Girls" fans has always been which of the boyfriends Rory Gilmore (Alexis Bledel) had over the course of the show's seven-season run was the best.
Between Milo Ventimiglia's Jess, Matt Czuchry's Logan, and Jared Padalecki's Dean, each of Rory's boyfriends has their own passionate defenders, most of whom identify as members of either "Team Jess," "Team Dean," or "Team Logan." While opinions seem to vary from fan to fan, it turns out that Matt Czuchry's mom happens to not only be a die-hard "Gilmore Girls" fan but also a staunch supporter of her son's divisive character, Logan. Czuchry revealed as much during a 2018 appearance on "Live with Kelly and Ryan."
"My mom is a big fan of 'Gilmore Girls' as well," Czuchry said. "She was staying with me at one point and she was on the internet and she looked a little suspicious as to what she was doing. I said, 'Mom, what are you doing?' She said, 'Oh, no. Don't look at this.' I said, 'Mom, what are you doing!?' And she was like, 'I'm actually buying a Team Logan coffee mug.'"
Matt Czuchry's mom is a proud Team Logan supporter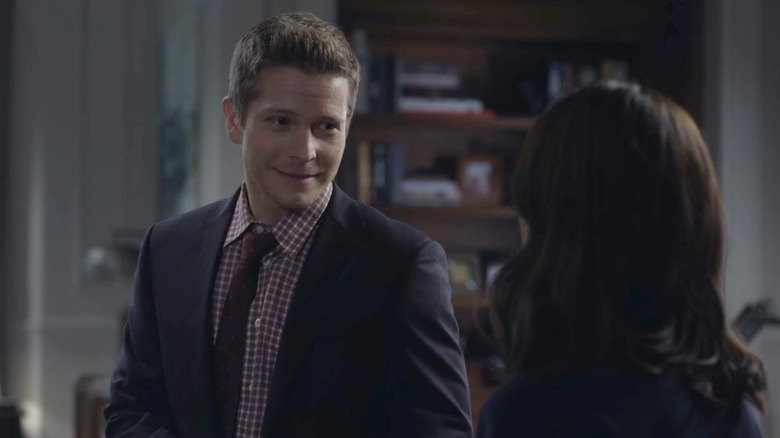 Netflix
In case his anecdote wasn't already charming enough, Matt Czuchry revealed in the same interview that his mom offered to buy him his own Team Logan coffee mug at the same time that she chose to buy her own. While he understandably turned her offer down, the actor also provided a photo of his mother holding her coffee mug as proof of both her "Gilmore Girls" fandom and her Team Logan membership.
For his part, Czuchry seems to not only be a member of the Team Logan club as well, but he also seems to believe that his "Gilmore Girls" character should have ended up with Alexis Bledel's Rory. In 2016, the actor told TVLine, "Logan loves Rory and will always love Rory." In the same interview, Czuchry explained, "I think Logan feels like Rory doesn't need anyone or anything and that [makes] Logan want to give her everything." Years later, while speaking with Us Weekly in 2021, Czurchy added that he would have had Rory and Logan end up together if he had been given control of their story.
"If I was writing it, [Logan] would be with Rory," Czurchy said. "From my perspective, with Logan, I've always [thought] ... Rory is The One. That's his love, and he would do anything for her, including giving up the whole family business."
Of course, not every member of the "Gilmore Girls" family necessarily shares the same Team Logan views as Czurchy and his mom. As a matter of fact, one of the show's original stars, Scott Patterson, has stated that he is firmly in the Team Jess camp. It doesn't, therefore, seem like the debate surrounding Rory's love interests will die down among "Gilmore Girls" fans anytime soon.