Up In Smoke's Cheech & Chong Claim To Have Been Sober While Shooting The Film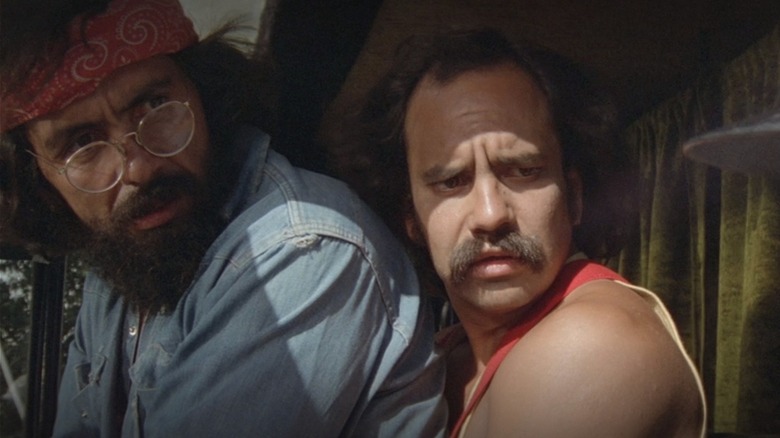 Paramount Pictures
When Cheech Marin and Tommy Chong made their debut feature film "Up in Smoke" in 1978, they were already a successful comedy duo with six Grammy nominations for their albums and one win, for 1973's "Los Cochinos." 
With so many routines centered around the their copious and constant cannabis consumption and the film filled with the haze of smoke, it is a natural assumption that the duo was high throughout the film's production. But in an interview with Rolling Stone near the film's 40th anniversary five years ago, Marin pointed out that he and Chong had to stay relatively clear-headed while making the movie, and for the most part saved their cannabis use for after production had ended for the day. 
"We maybe smoked after shooting," Marin said, "but not when we're working. We had to sustain a level of energy, especially making movies. We had long days on set. If we got stoned, we wouldn't get it done."
Cheech and Chong made eight movies together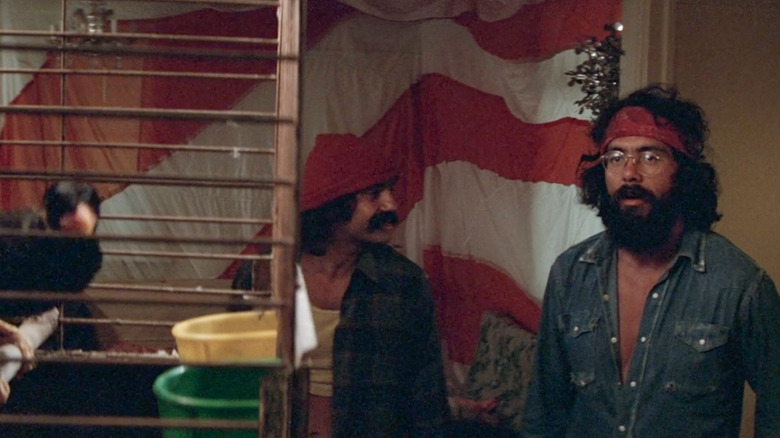 Paramount Pictures
"Up in Smoke" was based on characters from the comedy routine "The Continuing Adventures of Pedro de Paca and Man," which appeared on Cheech and Chong's 1972 hit album, "Big Bambu."   Lou Adler, who had produced many of Cheech and Chong's comedy albums, told Rolling Stone that the movie was a tough sell to studios, given that cannabis was not the mainstream (and in many places legal) commodity it is today. 
Adler recalled, "Not a lot of people were jumping at me and saying, 'Yeah, let's do this. Somebody over at Paramount understood it. I ended up financing it myself and they paid me back." It ended up being a lucrative gamble for Adler, as the film brought in more than $40 million in box office sales. Cheech and Chong would go on to make seven more films together, with all but "The Corsican Brothers" featuring heavy cannabis use and stoner humor. 
Both Cheech Marin and Tommy Chong would move away from the genre they were largely responsible for creating later in their acting careers, with Marin even playing police inspector Joe Dominguez in the late 1990s comedy/drama "Nash Bridges" alongside Don Johnson. 
Tommy Chong carried the familiar persona throughout much of his filmography, even playing a character known only as "Stoner" in the wonderfully odd 1990 comedy "The Spirit of '76." More recently, he brought the dopey but lovable Leo Chingkwake to life in both "That 70s Show" and its charming sequel, "That 90s Show."