Why Otis From Chicago Fire Looks So Familiar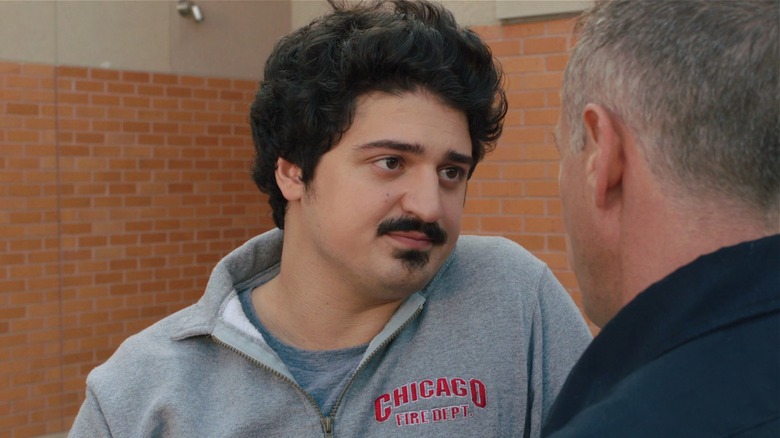 NBC
One would hope that every workplace has somebody like Brian "Otis" Zvonecek (Yuriy Sardarov). As one of the original members of Firehouse 51 in "Chicago Fire," Otis is generally beloved by his coworkers, but he is particularly close with Joe Cruz (Joe Minoso). Popping up in 161 episodes of "Chicago Fire," Otis also appears in other "One Chicago" shows like "Chicago P.D." and "Chicago Med." Typically acting as a driver, Otis actually earned his nickname from elevator duty on account of Otis being the name of an elevator manufacturer — apparently, people getting stuck happens way more than what one might expect!
Despite Otis' pleasant and helpful demeanor, the character makes the ultimate sacrifice in the line of duty, and Otis shares his last tearful moments alongside Joe. The friendship between Otis and Joe is incredibly powerful, so much so that Joe names his son after his fallen friend. Speaking about Otis' death with Tell Tale TV, Sardarov said, "It was incredibly difficult emotionally, not to mention physically, and the prosthetics and keeping it all a secret. It was tough — it was really tough. In that last scene, Joe Minoso does such an incredible job, and the tears in his eyes were real and the tears in my eyes were real." 
Sardarov's first break wasn't "Chicago Fire," and he actually appeared in movies and shorts before lending his talents as Otis, so where might have viewers seen him before "Chicago Fire?"
Sardarov acts as a campaign aide in The Ides of March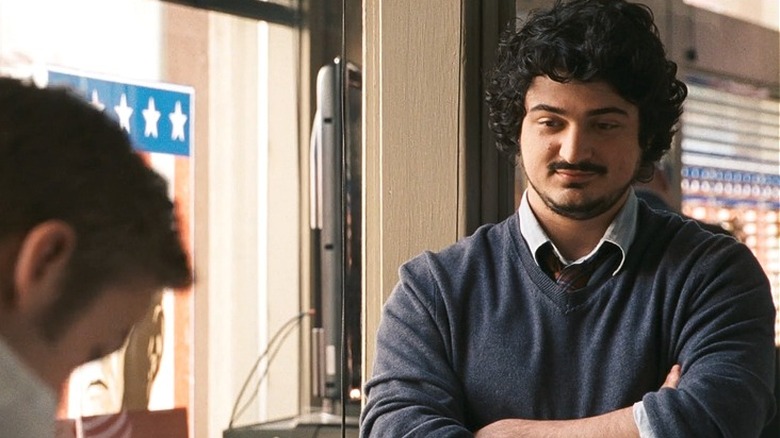 Sony Pictures Releasing
Though Yuriy Sardarov first popped up in "Chicago Fire" in 2012, his first acting credit was actually for a short called "Dupe" in 2008. From there, Sardarov continued to appear in other shorts like 2010's "Student Housing: Zombie Edition" and "Lift Gate," and he made his first transition to major projects in the TV movie "S.W.A.T.: Firefight" in 2011, where he was credited as a "Bulgarian Man." However, probably the first place audiences might remember him from is the 2011 George Clooney film "The Ides of March."
"The Ides of March" has a stacked cast featuring Clooney, Ryan Gosling, Philip Seymour Hoffman, and Paul Giamatti, and the movie is all about political corruption and scheming. Appearing as a character known as Mike, Sardarov has a relatively small role compared to his co-stars, and he acts as a political aide in the campaign for Mike Morris (Clooney) in a research capacity. One of the first scenes to feature Sardarov involves Stephen Myers (Gosling) asking Mike if he believes some rumors that are currently floating around, and he informs Myers that he is looking into the veracity of the potentially damaging information. However, Myers isn't exactly interested if the rumors are true or not, and he simply wishes their opponents to spend time addressing the claim.
Sardarov isn't to be trusted in The Double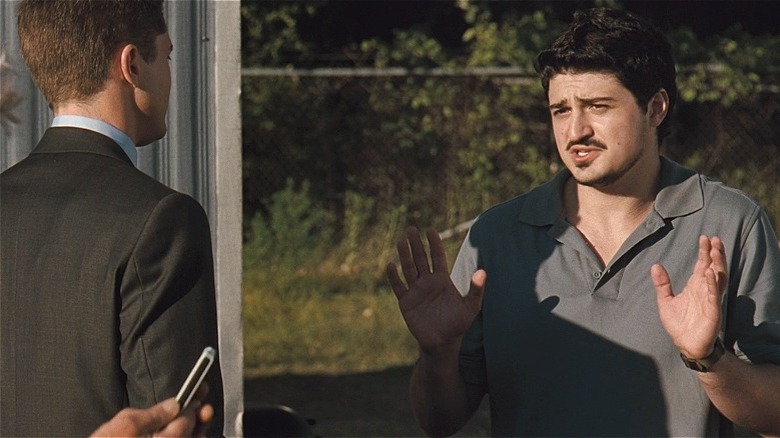 Image Entertainment
Yuriy Sardarov played another notable role in 2011, this time appearing in the movie "The Double." Although somewhat similar to "The Ides of March" in terms of its political subject matter, "The Double" is much more of a thriller, and stars Richard Gere, Topher Grace, and Martin Sheen. In the film, which focuses on the hunt for an elusive Soviet operative nicknamed Cassius, Sardarov plays the role of Leo, a figure who has some rather unscrupulous connections to seedier elements that causes Paul Shepherdson (Gere) and Ben Geary (Grace) to seek his aid.
Speaking with Chicago Tribune, Sardarov explained how "The Double" actually helped him land his role on "Chicago Fire" a few years later. "Yeah, it's very funny," he said. "I got an email from Mike Brandt and Derek Haas, who are the creators of the show; we had done a film together called "The Double" (from 2011) when I was still in college, it was a Richard Gere action movie. And maybe two or three years later I get an email from them asking if my parents still have a house in the Chicagoland area because they need local actors for this television show they're putting together."
Sardarov acts as a CIA agent in Argo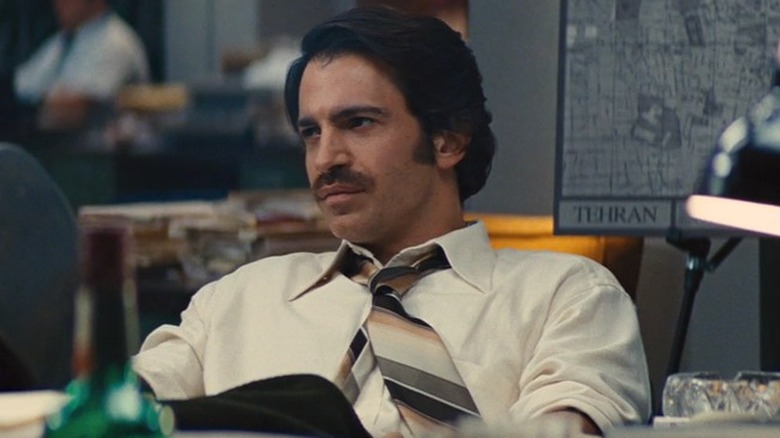 Warner Bros. Pictures
In the same year that Yuriy Sardarov landed his vaunted role on "Chicago Fire," he also had a small role in the well-received film "Argo." Starring Ben Affleck, Bryan Cranston, John Goodman, and Alan Arkin, "Argo" is loosely based on the real-life event that occurred in the aftermath of the Iranian Revolution. In order to rescue several people, a plan is hatched to create a fake movie, allowing for enough cover to provide a daring recovery. "Argo" proved to be an overwhelming success, which is highlighted in the fact that the movie was nominated for 156 awards, of which "Argo" managed to take home 95 of those.
Within "Argo," Sardarov plays a CIA agent named Rossi, a character that looks different than most of his others. One of the last scenes of the film sees CIA agents Rossi, Lamont (John Boyd), and Jack O'Donnell (Cranston) discussing the success of a mission, with O'Donnell explaining that the CIA did a great job because nobody realizes how much they were involved, and if there is any backlash, the Canadians will be blamed. 
Although Sardarov is definitely best recognized as "Otis" from "Chicago Fire," his career started just a few years before, and hopefully will continue far into the future.