The Hunger Games Actors Whose Real-Life Relationship Mirrored Their Characters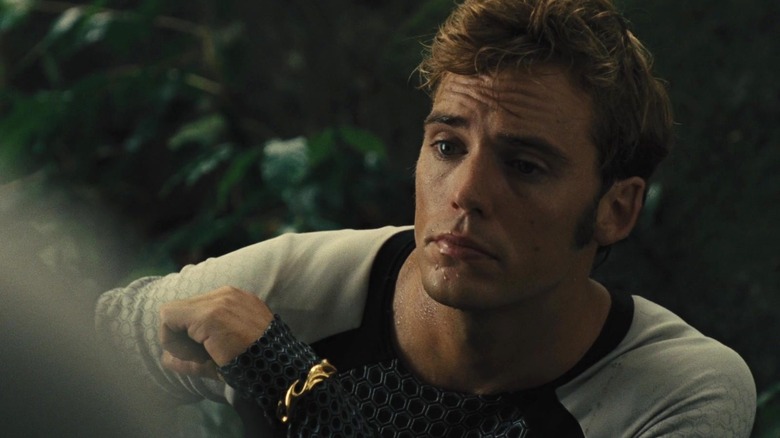 Lionsgate
Despite the dystopian story of oppression, tyranny, and kids murdering kids, "The Hunger Games" movies have plenty of memorable characters to adore and hopeful relationships to root for. Fans especially couldn't get enough of the complicated love triangle among District 12 tributes Katniss Everdeen (Jennifer Lawrence), Peeta Mellark (Josh Hutcherson), and Katniss' best friend, Gale (Liam Hemsworth).
But as "Catching Fire" sees Katniss and Peeta back in the ring again with several other previous victors, there are even more characters and relationships to cheer on. As the reclusive Katniss learns to work with and trust in others, audiences are introduced to District 7's Johanna Mason (Jena Malone), District 3's Wiress and Beetee (Amanda Plummer and Jeffrey Wright), and District 4's Finnick Odair (Sam Claflin) and Mags (the late Lynn Cohen).
While it's common for actors to develop close friendships or romantic relationships on the job, the "Hunger Games" relationship that mirrored that of their characters may not be the one you think, as it's not about romance. While Claflin got along like "a house on fire," as he told the Daily Beast, with his similar-age costars Lawrence, Hutcherson, and Hemsworth, he had an especially close relationship with his District 4 co-star Cohen, who was 53 years his senior. "She's like my sweet old grandmother," Claflin said. But their relationship became so much more than that.
Sam Claflin felt responsible for Lynn Cohen's life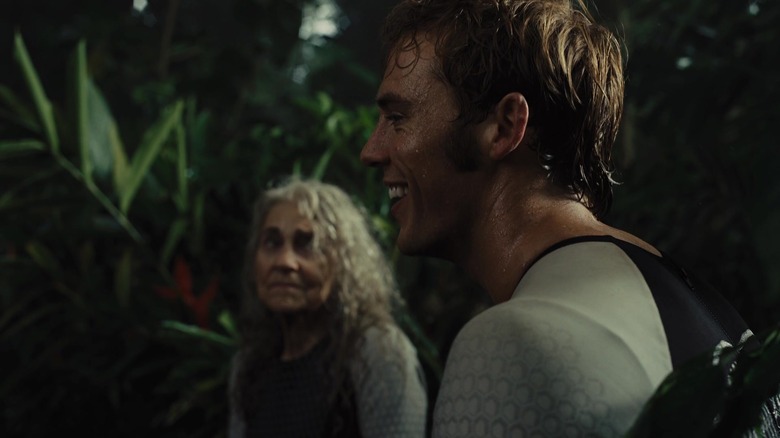 Lionsgate
While describing an older colleague as being like their sweet grandmother may seem expected, the relationship between "Catching Fire" co-stars Sam Claflin and Lynn Cohen went much deeper than that. Their bond became much like their characters. Mags, who doesn't speak, was a mentor to Finnick, while Finnick tries his best to protect Mags, literally carrying her on his back in the treacherous Hunger Games arena. "I still can't believe they gave me responsibility for her life," Claflin told The Daily Beast.
This was particularly terrifying when Claflin and Cohen took a dangerous spill on the rocky beach while filming, landing in the water. Cohen was told not to go in the water because its freezing temperature would increase her blood pressure to perilous levels. "We were told to run off the spokes of this cornucopia and I picked her up," Claflin told Digital Spy, explaining that he'd never carried her before that take. "My foot just decided to slip, my knee hit the rocks and we just started to tumble. I was like, 'Oh god, let go, let go, I don't want to be responsible for killing you.'" Fortunately, Cohen laughed it off. "She was fine, she actually found it very funny, I was the one panicking thinking I'd done some serious damage, but no, it was all very fun."
And there was yet another reason Cohen enjoyed working with Claflin. "I think she [liked] the smell of me," he told The Daily Beast. He said the older actress would tell him repeatedly on-set that he smelled very nice.