The Hunger Games' Costume Designer Explains Deviating From Finnick's Book Appearance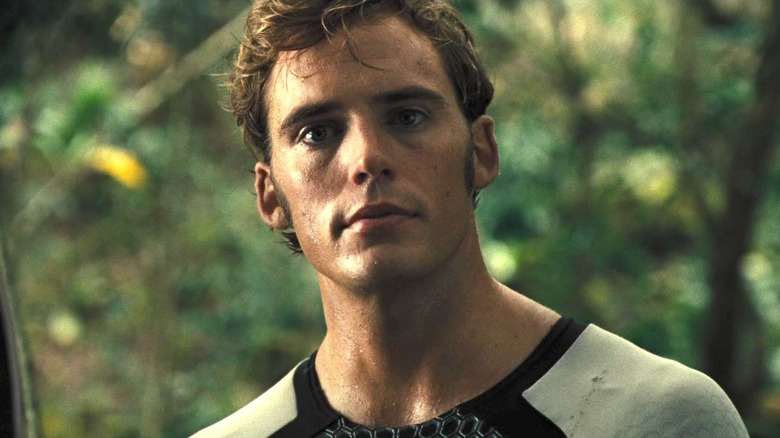 Lionsgate
Fans of the book series, "The Hunger Games," surely had a lot of expectations for what they would see on the screen when the adaptations made it to theaters — after all, book series writer Suzanne Collins wrote a detail-filled world with the dystopia of Panem. Even the clothes are iconic— from Katniss's (Jennifer Lawrence) flaming dress to Effie's (Elizabeth Banks) many over-the-top colorful outfits.
And then there's the outfit that Finnick Odair, played by Sam Claflin in the films, is wearing when readers first meet the character in the book, "Catching Fire" — or, rather, what he isn't wearing. In Finnick's first book scene, he is wearing nothing but a fishing net (as a nod to Finnick's District 4, the fishing district) that is tied in a way to hide certain body parts that need to be hidden. However, in the film "The Hunger Games: Catching Fire," Finnick has a bit more clothing on — while he is bare from the waist up (besides a couple of necklaces), he has on a long brown skirt.
As for the reasoning? Well, it comes down to a practical reason: the film's PG-13 rating wouldn't have allowed for such a risqué outfit.
Claflin was relieved about the costume change, according to Trish Summerville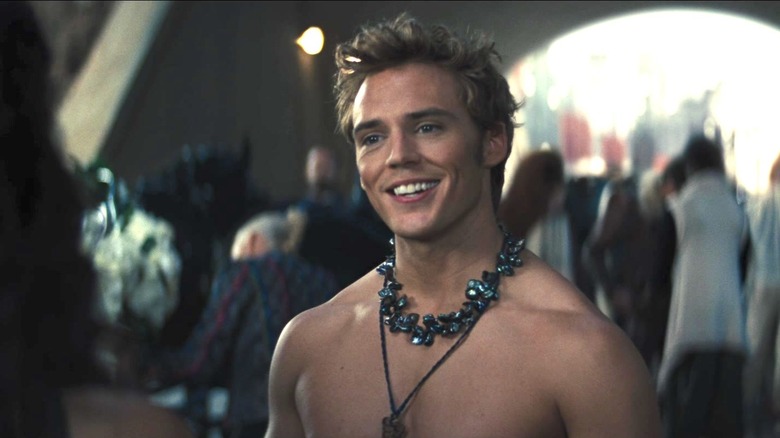 Lionsgate
In a profile of Sam Claflin in The Daily Beast, "The Hunger Games: Catching Fire" costume designer Trish Summerville opened up about why they altered Finnick's costume for the scene where he is introduced to Katniss before the parade of tributes for the 75th Hunger Games, also known as the third Quarter Quell. Summerville simply explained, "You know we're PG-13."
Claflin, for one, was grateful to have a bit more coverage for the pivotal scene, according to Summerville, who thinks the costume worked out in Claflin's favor. The designer said, "He was really relieved he has a longer skirt, and he kind of has tights underneath and kind of substantial boots. He's bare-chested, and he worked really hard to get into amazing shape."
And Summerville was in agreement that it was a better choice. She admitted that she found the final costume to be more interesting than what it was in the book. Referencing the famous male strip club, Summerville said, "[The original idea] would have been too Chippendales."