Elizabeth Banks' Transformation From Wet Hot American Summer To Cocaine Bear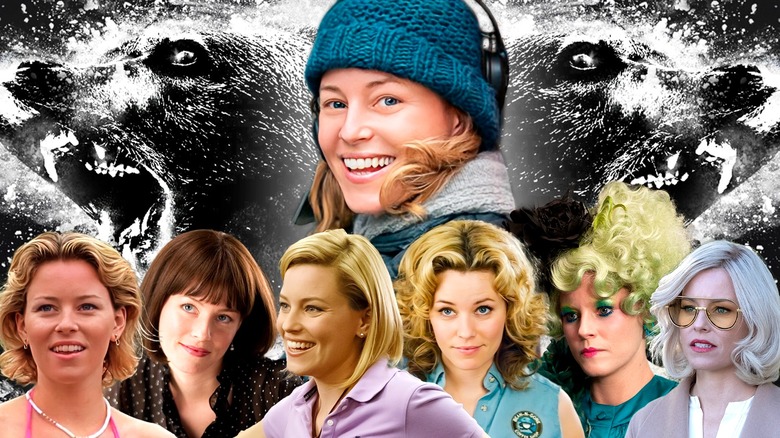 Static Media
Elizabeth Banks has had one of the most interesting careers of anyone currently working in Hollywood. The actress quickly transitioned from her school days to acting in films by directors like Judd Apatow, Sam Raimi, and James Gunn throughout the 2000s. She's also built her own repertoire as a filmmaker, having directed three feature films with more projects in the pipeline. However, what makes Elizabeth Banks such an interesting performer is her off-beat choice of material.
Whether it's the absurd comedy of "Wet Hot American Summer," horror movies like "Brightburn," or even straight-forward dramas like "Love & Mercy," Elizabeth Banks has truly done it all. Every movie fan probably knows her from at least one of their favorite projects across film and television, though more recently Banks has put her focus into her efforts behind the camera.
Banks' third directorial feature, "Cocaine Bear," has become quite the viral sensation. Banks is no stranger to acclaim, but many moviegoers may be perplexed as to how this actress became the director of such an over-the-top action flick. From some of the industry's biggest blockbusters of the past 20 years, to hidden comedy gems with cult fanbases, Elizabeth Banks has proven that no entertainer can be pigeonholed to one genre or another, especially when their talents stretch to surprising places. 
Elizabeth Banks had an Irish Catholic upbringing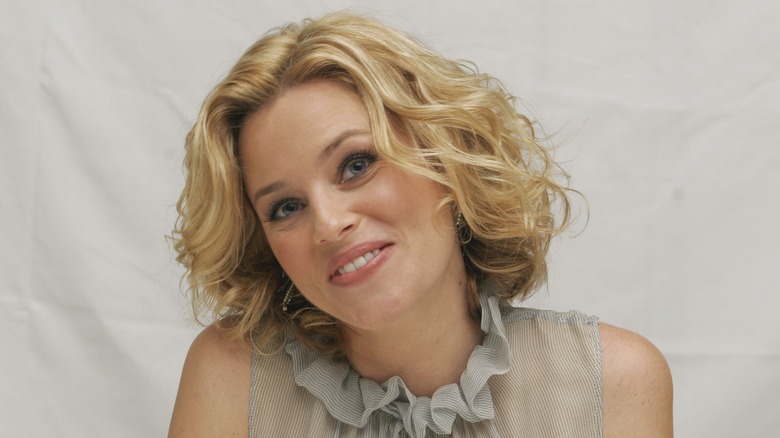 Fotos International/Getty Images
Elizabeth Banks' coming-of-age story is not one rife with struggle, as she would tell you herself. She grew up Elizabeth Mitchell, the daughter of a General Electric worker and a banker in Berkshire County, Massachusetts. Her old-school Irish Catholic upbringing found her casually getting along well with both men and women, while participating in many extra-curricular activities from softball to cheerleading and, of course, performing. 
In high school, it became clear that acting was a natural gift. "She would know what to do, instinctively," theater teacher Ralph Hammann told The Berkshire Eagle in 2008. She eventually pursued theater as a minor at the University of Pennsylvania, where she properly studied communications and graduated magna cum laude. It was a fruitful and highly educational time for the aspiring actress, who used her Ivy League school's resources to study Shakespeare.
However, Banks' aspirations for performing would take her far away from the town where she grew up, which she continues to miss. She especially misses the exuberance she got from performing in high school theater productions in the early '90s, which included a performance in the musical "Man of La Mancha" during which she didn't miss a beat even as a thunderstorm poured rain onto the stage.
Elizabeth Banks finds her name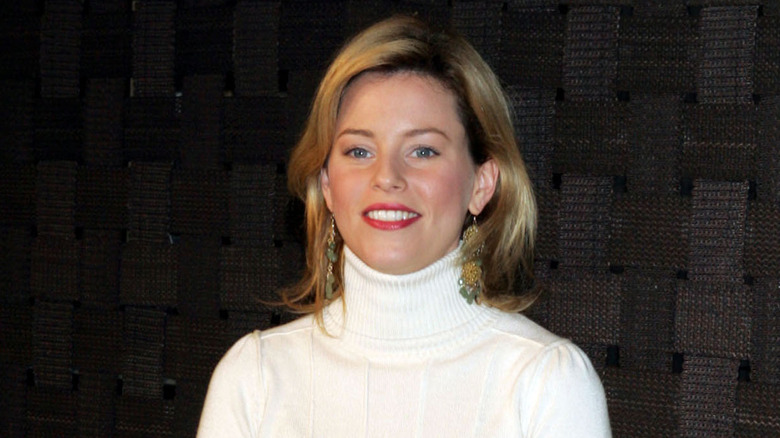 Frazer Harrison/Getty Images
After graduating from University of Pennsylvania, the actress still known as Elizabeth Mitchell enrolled in the American Conservatory Theater, a San Francisco theater company and acting school with alumni including Denzel Washington, Brie Larson, and Winona Ryder. Very quickly, the education gave her enough credibility to start booking small roles in TV and movies by the end of the '90s, including guest spots on "All My Children," "Third Watch," and "Sex and the City." By the time she earned enough credits to enter the Screen Actors Guild, however, there was already another actress named Elizabeth Michell. 
Her big screen debut came in 1998, in Kevin DiNovis' independent film "Surrender Dorothy," in which she was credited as Elizabeth Casey. The film won first place at the Slamdance Film Festival, and received reviews that praised its disturbing tone while criticizing its niche appeal. Shortly after the turn of the millennium, she would change her name once again to Elizabeth Banks, which she'd keep throughout the rest of the acting career.
Wet Hot American Summer introduces Elizabeth Banks to the world of alternative comedy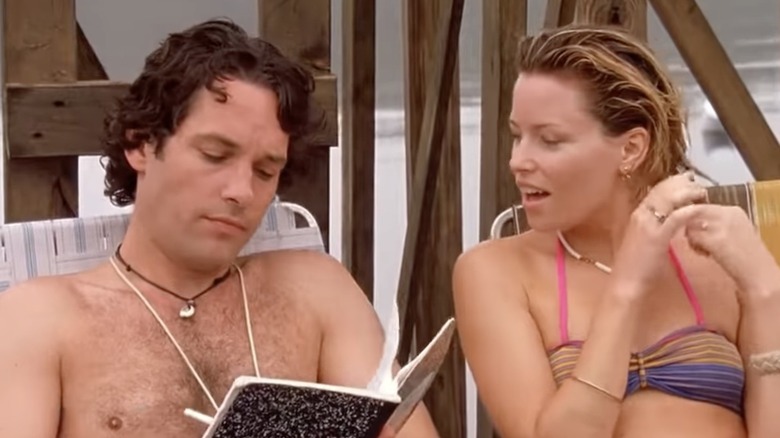 USA Films
Elizabeth Banks' big break on the big screen came with "Wet Hot American Summer," which paired her, a then-unknown actress, with an all-star comedy ensemble including Paul Rudd, Janeane Garofalo, and Amy Poehler. The film was co-written by David Wain and Michael Showalter, the former also directing, and consisted of many cast members that comprised the comedy collective known as "The State," who gained notoriety with their MTV sketch series in the early '90s. Its members included "Wet Hot American Summer" stars like Showalter, Michael Ian Black, and Ken Marino.
In the film, Banks plays Lindsay, a teen counselor at the film's fictional Camp Firewood. Notably, Paul Rudd's aloof Andy cheats on his girlfriend Katie (Marguerite Moreau) with Lindsay, which results in a disgusting make-out sesh between the two. "I was trying to make as many obnoxiously loud noises with my tongue as possible," Banks would later recall to Entertainment Weekly.
Though the film was a box office flop, it slowly gained a cult following over the years, which was all the more helpful for Banks' burgeoning career. She remained close with members of The State, appearing in their Comedy Central series "Stella" and later reprising her role as Lindsay for two Netflix series reuniting the "Wet Hot American Summer" cast: a prequel released in 2015 and a sequel in 2017. 
Elizabeth Banks enters the Marvel Universe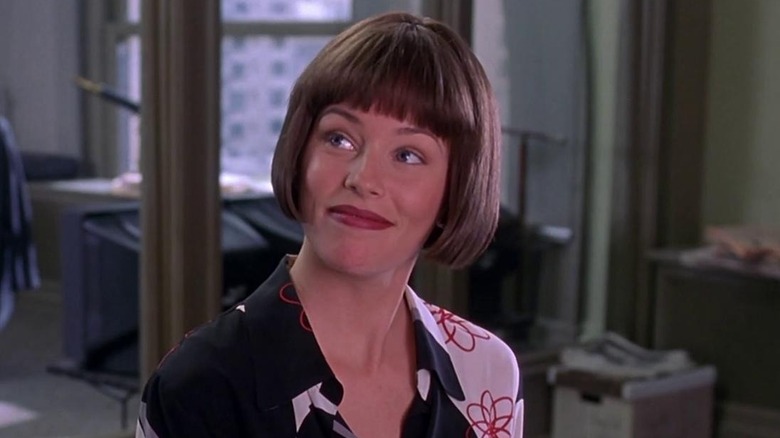 Sony Pictures Releasing
As the early 2000s progressed, Banks' roles became more and more frequent, even if she was still a supporting player. In her post-"Wet Hot American Summer" career, Banks starred in "Catch Me If You Can," "Seabiscuit," and "Swept Away." One of her more notable roles came in Sam Raimi's "Spider-Man" trilogy in a recurring part across all three films released between 2002 and 2007. 
In the Tobey Maguire-led trilogy, Banks can be seen as Betty Brant, Peter Parker's co-worker at the Daily Bugle. The two have a clearly flirtatious rapport, though unlike the comics, Banks' Betty never fully explores a romance with Peter. However, it was almost a possibility for Banks, who initially auditioned to play the role of Mary Jane Watson, who ended up being portrayed by Kirsten Dunst. Nevertheless, Banks' appearance in the "Spider-Man" trilogy was enough to accrue more frequent roles in films. 
Banks' veteran status in the trilogy would've likely guaranteed her a role in a fourth film in the franchise, though that never ended up coming to fruition. The role of Betty Brant was recast in the Marvel Cinematic Universe, with Angourie Rice playing a younger version of the character, who is now Peter Parker's classmate and a love interest of his best friend Ned. Elizabeth Banks' interest in Marvel hasn't gone away — she even expressed interest in directing "Thor: Ragnarok" before that job went to Taika Waititi.
Banks and her husband venture into producing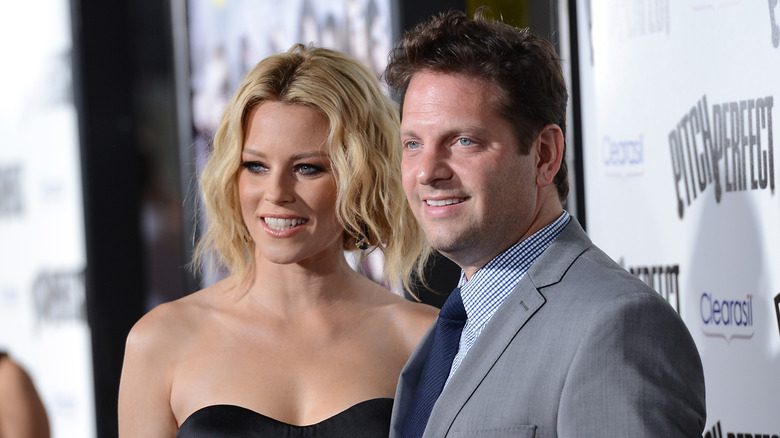 Jason Merritt/Getty Images
Although her acting career was just getting started in the early 2000s, Elizabeth Banks was already setting her sights on a career behind the camera. However, she wouldn't be venturing out on her own just yet. In 2003, she married her college sweetheart, sports writer Max Handelman. A year before Banks and Handelman tied the knot, the two teamed up to start their own production company under the name Brownstone Productions. 
Banks and Handelman's first production didn't hit screens until 2009, when they executive produced the Bruce Willis-led action movie "Surrogates." The film is based on the comic book series of the same name, and was a personal endeavor for Banks, who told MTV in 2008 that choosing the film as Brownstone's first production was "very lucky," considering it was a Disney production via Touchstone Pictures. Banks also claimed that her company was interested in producing a sequel, though the lackluster reviews of the final product have prevented that from becoming a reality
Since "Surrogates," Brownstone Productions' filmography has gotten only more high-profile and found more critical success. Highlights include the Anna Kendrick-led "Pitch Perfect" franchise, Banks' own directorial efforts, and the Hulu series "Shrill" starring Aidy Bryant of "Saturday Night Live.".
The 40-Year-Old Virgin gets Elizabeth Banks mainstream attention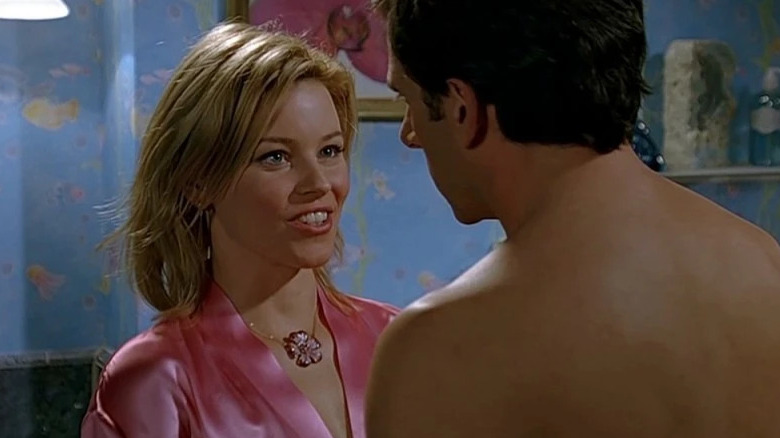 Universal Pictures
Elizabeth Banks continued to garner more and more prominent roles in blockbusters, with one significant entry in her filmography being Judd Apatow's 2005 rom-com "The 40-Year-Old Virgin." The film stars Steve Carell as a man whose friends decide to help him lose his virginity, and was instrumental in launching the big-screen careers of Carell and several of the film's supporting actors, including Seth Rogen, Jane Lynch, and Romany Malco. The film would also reunite Banks on-screen with her old "Wet Hot American Summer" flame, Paul Rudd.
Banks plays Beth, a woman on whom Carell's Andy (ironically also the name of Rudd's character in "Wet Hot") tries out a flirtation method to great success. The two nearly hook up, though Andy backs out, encouraged by his friends to chase after another woman played by Catherine Keener. Though she's only a minor player in the larger comedy ensemble, critics felt she was a stand-out. In 2023, Conan O'Brien interviewed Elizabeth Banks about her role in the film, praising her for being "funny in a different way that [he] hadn't quite seen before."
Her theater work is minimal, but critically acclaimed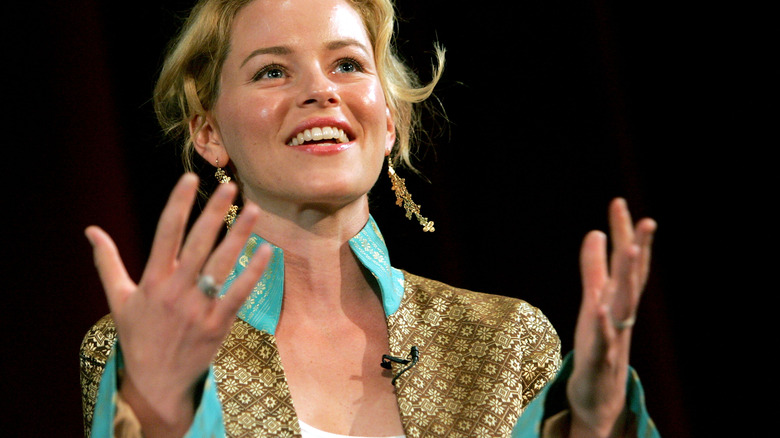 Paul Hawthorne/Getty Images
Before she threw herself fully into the world of movie stardom, Banks made a brief return to her first love: theater. In 2005, she participated in the Williamstown Theatre Festival in her home state of Massachusetts, which had previously been attended by actors like Sigourney Weaver, Christopher Walken, and Bradley Cooper. Banks' participation in the festival was as part of a production of William Inge's 1955 play "Bus Stop." 
Banks played Cherie, an aspiring nightclub singer who rebuffs the romantic advances of Bo, a young cowboy. In a 1956 film adaptation of "Bus Stop," the role of Cherie was played by none other than Marilyn Monroe, giving Banks quite the large shoes to fill. Directed by Will Frears, the production also included Logan Marshall-Green as Banks' scene partner, with other actors including Elizabeth Marvel and Bill Camp. 
In a theatre review from Curtain Up, Banks' performance in the play was praised for being "believably desperate and vulnerable." The New York Times, playing devil's advocate, noted that her portrayal of Cherie's confidence was a result of miscasting. Nevertheless, it was a valiant effort by Banks on the stage, a type of performance she hasn't returned to since. With her more recent years focused on directing, it's unlikely that Banks will find much time to return to her roots in stage performing. 
Elizabeth Banks: Movie Star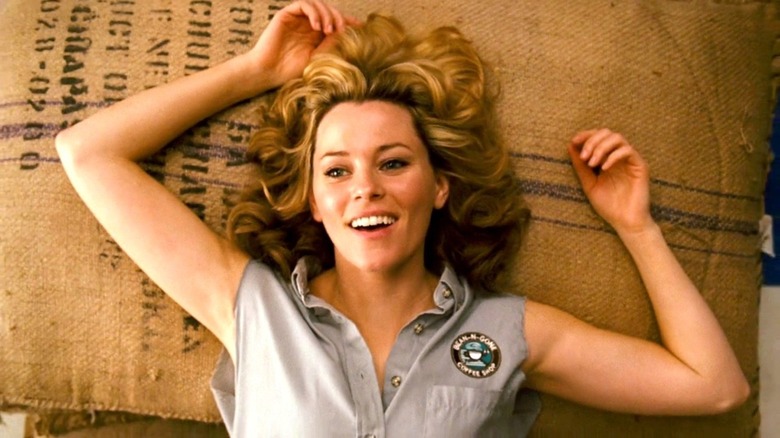 The Weinstein Company
The late 2000s saw Elizabeth Banks make the transition from supporting actress to lead. She frequently starred in comedies such as "Fred Claus," "Definitely, Maybe," and "Meet Dave" alongside some of the generation's greatest comedic talent. In 2008, she reunited again with "Wet Hot American Summer" alumni Paul Rudd, Ken Marino, and Joe Lo Truglio in David Wain's "Role Models," as the romantic interest of Paul Rudd's character (coincidentally named "Beth," just like her "40-Year-Old Virgin" character).
Banks would finally make her lead debut as one of the titular characters in Kevin Smith's "Zack and Miri Make a Porno," alongside her "Virgin" co-star Seth Rogen. The film follows Rogen and Banks as roommates who decide to produce adult films in order to help themselves out of a financial crisis. Though it's appropriately as raunchy a romp as the title suggests, some critics praised its sweeter, romantic aspects while criticizing the film's predictability and crude humor. 
Unfortunately, "Zack and Miri Make a Porno" was a box office bomb, though luckily in 2008 Banks was also investing in non-comedic roles. She starred in "W.," a biopic of George W. Bush starring Josh Brolin, playing the role Laura Bush. Banks took her role as the First Lady seriously, throwing herself in on researching the Bush family and perfecting her impression. 
A recurring 30 Rock role is a highlight of Banks' TV career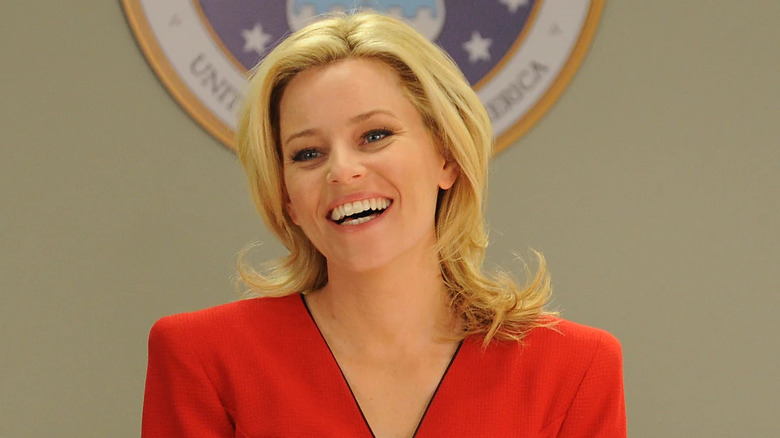 NBC
While her movie career was flourishing, Elizabeth Banks wasn't averse to turning heads on the TV screen. Her most notable TV effort came as a recurring guest star on the NBC sitcom "30 Rock." Created by Tina Fey, who also stars as series lead Liz Lemon, the show follows the backstage antics of an NBC sketch series loosely based on Fey's experiences at "Saturday Night Live." "30 Rock" also features a career-best performance from Alec Baldwin as Jack Donaghy, the NBC executive whose decisions often complicate the lives of Lemon and her staff.
Banks made her "30 Rock" debut in the fourth season of the show as Avery Jessup, a CNBC commentator and romantic interest of Jack's. Unbeknownst to Avery, she's part of a love triangle as he simultaneously pursues a romance with his high school sweetheart Nancy, played by Julianne Moore. By the end of the fourth season, it's Avery who comes out on top as Jack's continued romantic interest.
Banks re-appeared several times throughout the following two seasons of "30 Rock," before Avery and Jack finally divorced at the end of the sixth season. It was a comfortable role for Banks, who enjoyed popping up on the sitcom even as her career in big-screen dramas took off. As she told The AV Club at the time, "I'm perfectly happy to have [a] reputation as a comedian."
Her first directing gig is part of a critical and commercial flop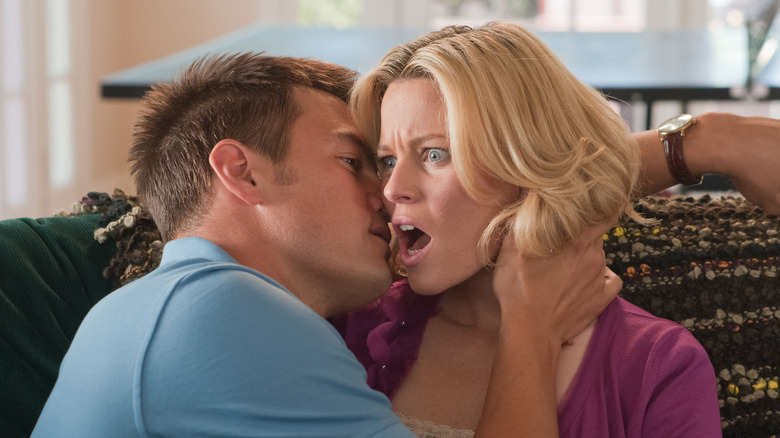 Relativity Media
It wasn't long before Elizabeth Banks set her sights on directing, though her first effort in the medium wouldn't be the proudest moment of her career. In 2013, she contributed to the raunchy anthology film "Movie 43," which mostly consists of sketches directed by filmmakers like Peter Farrelly, Brett Ratner, and Banks herself. The staggeringly impressive cast includes actors like Kate Winslet, Richard Gere, and Emma Stone. Unfortunately for Elizabeth Banks, the movie would go on to infamously be regarded as one of the worst films ever made, with Richard Roeper of RogerEbert.com calling it "the Citizen Kane of awful."
Banks directed a segment titled "Middleschool Date," which centers on a young girl played by Chloë Grace Moretz who gets her first period at her boyfriend's house, resulting in heightened panic from all the men in the house. It's one of the more tame sketches in the film's assembly, which boasts much more tasteless examples. Sadly, though, the directing side wasn't Banks' only involvement in the film.
Elizabeth Banks also stars alongside Josh Duhamel in a short written and directed by James Gunn titled "Beezel," which centers on a woman who is disturbed by her boyfriend's sadistic animated cat. Suffice it to say, "Beezel" is one of the raunchier entries of "Movie 43," though odds are Banks probably doesn't think too hard about the film nowadays. 
Banks was a big player in The Hunger Games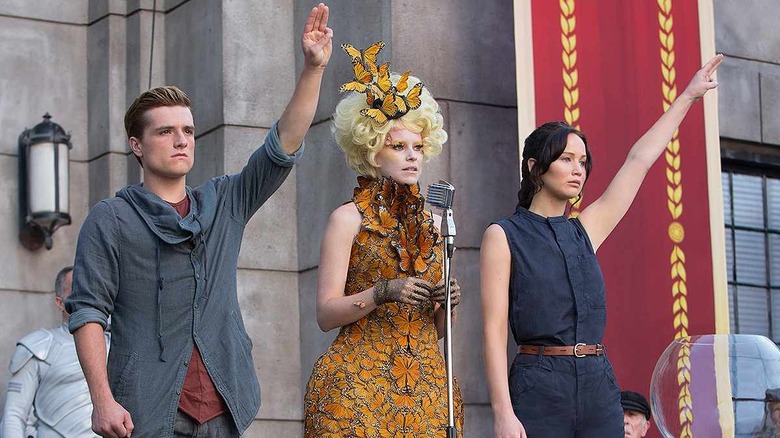 Lionsgate
While Elizabeth Banks had become known for playing funny and beautiful blonde-haired women, she would stretch audience expectations of her early in the 2010s. In 2012, she appeared in the blockbuster "The Hunger Games," based on the hit book series of the same name, as Effie Trinket. As the chaperone of series leads Katniss and Peeta (Jennifer Lawrence and Josh Hutcherson), Effie serves a key role in the story, and Banks would reprise the role for the film's three sequels.
The role of Effie, who dons various colorful costumes and wigs throughout the films, represented a fun transformation for Banks. In an interview with Behind the Lens, she described the process of depicting the character's outlandish personality while trying to keep her from being cartoonish. ""I never wanted Effie to be a clown," the actress said. "I really wanted her to be three-dimensional."
Her prominent part in "The Hunger Games" became one of Banks' biggest roles. The character's design — while impractical for Banks to wear — contributed to many Halloween costumes, and even inspired a look in Lil Nas X's music video for his hit song "Montero," which Banks reacted to on social media with approval (via People). 
Banks' Perfect directorial debut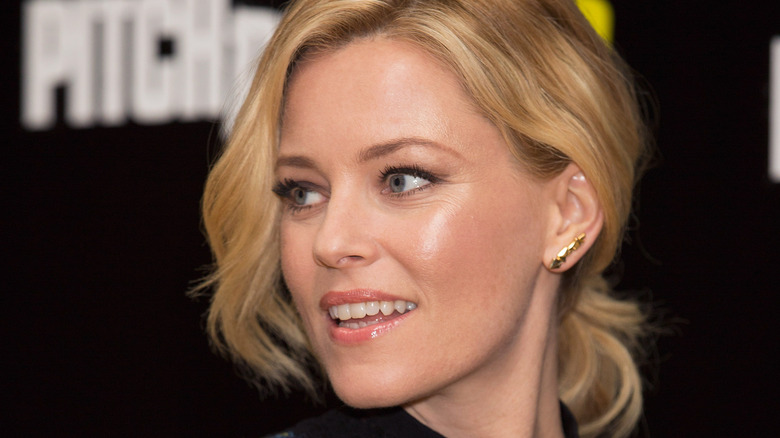 Dave J Hogan/Getty Images
Luckily for Elizabeth Banks, her first feature as a director wouldn't be as much of a critical failure as "Movie 43." In 2015, she directed "Pitch Perfect 2," the sequel to the 2012 blockbuster acapella movie she both produced and starred in. She also reprised both of those roles for the sequel, which found the film's ensemble cast including Anna Kendrick, Rebel Wilson, and Adam DeVine joined by newcomers like Hailee Steinfeld and Flula Borg.
The film was an incredible box office success, grossing over $287 million and receiving acclaim from publications like The Hollywood Reporter, who called the sequel "something even slicker and sharper" than its predecessor. Banks handed off directing duties to Trish Sie for the third "Pitch Perfect" film, though Brownstone Productions remained involved with the franchise and its spin-off series on Peacock, "Pitch Perfect: Bumper in Berlin," which Banks co-created and stars Adam DeVine reprising his role from the trilogy.
Thankfully for Banks, her acting career remained prosperous at the same time. She had starring roles in "Walk of Shame" and "Love & Mercy," the latter being a Beach Boys biopic in which she played the scene-stealing role of Brian Wilson's wife, Melinda. In 2015, she also hosted "Saturday Night Live," where she notably appeared in the popular recurring sketch "Black Jeopardy" as an out-of-place contestant. 
Charlie's Angels finds Elizabeth Banks becoming an action movie director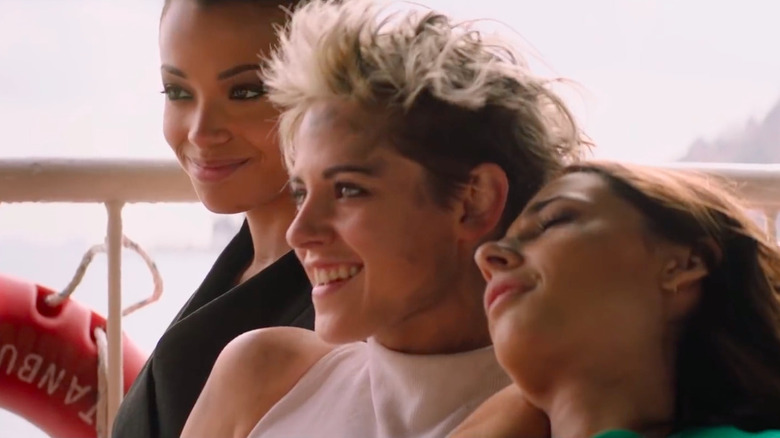 Sony Pictures Releasing
With her directorial debut in the rearview, Elizabeth Banks' filmmaking ambitions only grew as the 2010s treaded towards a close. In 2019 she helmed a reboot of the "Charlie's Angels" franchise starring Kristen Stewart, Naomi Scott, and Ella Balinska as the new trio of femme fatales. The franchise began as a TV show in the late 1970s, before gaining further attention with a pair of films in the 2000s starring Cameron Diaz, Drew Barrymore, and Lucy Liu.
For her reboot, Banks threw everything she had into the film, writing its script and also starring as Bosley, the assistant to the unseen Charlie. The film's marketing was extensive, featuring an original song by Miley Cyrus, Lana Del Rey, and Ariana Grande, the latter of whom also executive produced the film's official soundtrack. Sadly, the film grossly underperformed at the box office and reviews criticized its pacing and formulaic nature. Nevertheless, praise was reserved for Banks' direction and Kristen Stewart's performance. 
In retrospect, Banks looks at the film's failure as a learning opportunity. In an interview with The New York Times, she attributed that failure to its marketing, claiming, "There was a story around 'Charlie's Angels' that I was creating some feminist manifesto. I was just making an action movie." However, she wouldn't let one film's underperformance deter her from the action movie genre. 
Elizabeth Banks sets up some high profile projects in the 2020s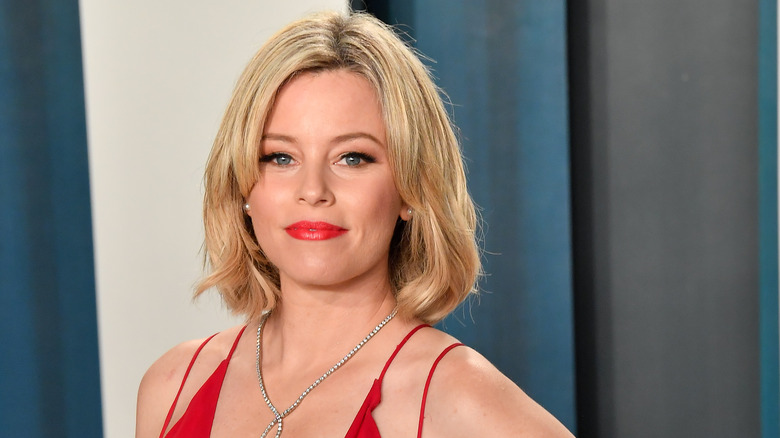 Allen Berezovsky/Getty Images
As the 2020s rolled around, Elizabeth Banks set up a promising future for her career, both as a director and a performer. To the surprise of many millennial fans, Banks was announced in 2020 to be playing the role of Ms. Frizzle in a live-action "Magic School Bus" movie, which she's also producing, based on the educational book-series-turned-cartoon from the '90s that originally featured the voice of Lily Tomlin as the eccentric middle-school teacher. 
Additionally, Banks set her sights on horror, striking another deal in 2020 to direct "The Invisible Woman," an update of the iconic Universal Monster movies, based on her own pitch to the studio. Banks also intends to star in the movie, which will take inspiration from the 1940 film starring Virginia Bruce. 
On the TV front, she's attached to star alongside Zach Galifianakis in "The Beanie Bubble," an Apple TV+ film centering on the rise and fall of the Beanie Baby toy empire. She also has plans to star in and direct a TV adaptation of Victoria Aveyard's novel "Red Queen.
Cocaine Bear makes Elizabeth Banks a master of spectacle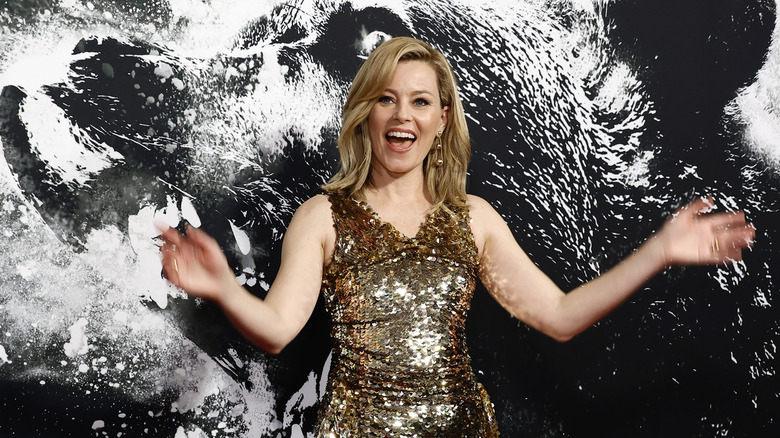 Frazer Harrison/Getty Images
Elizabeth Banks' 2023 got off to a fruitful start, finding her the ringleader behind a viral sensation. "Cocaine Bear," an action thriller loosely based on a true story of a black bear who accidentally ingested 175 pounds of cocaine in 1985, debuted as her third feature directorial effort. The over-the-top romp finds the titular animal on a murderous rampage against an ensemble cast including Keri Russell and Alden Ehrenreich, with a posthumous performance from Ray Liotta. 
For Banks, committing to directing "Cocaine Bear" was a risk worth taking. As she told Variety, "['Cocaine Bear'] could be a career-ender." It helped that she struck gold teaming up with producers Phil Lord and Christopher Miller, who she had previously worked with as a voice actor on "The Lego Movie." She was eager to direct something as gory as "Cocaine Bear," even surprising her fellow producers with the pitch deck she whipped up to convince Universal to let her direct it.
The film's box office opening was not a landslide like some of the blockbusters she'd starred in, but it performed admirably for such a ludicrous premise. Reviewers agreed that the movie was fun if not incredibly deep, but high on spectacle. At any rate, Elizabeth Banks' career has been anything but predictable.