Ahsoka Trailer: Thrawn Is The Talk Of Twitter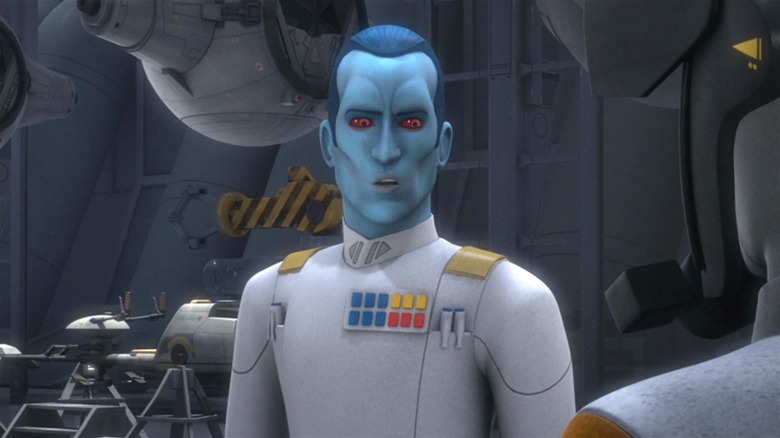 Disney/Lucasfilm
The brand new trailer for "Ahsoka" is everything a long-time "Star Wars" fan could want: plenty of references to thrilling scenes, jaw-dropping space combat, and iconic characters. One of the biggest reveals in this trailer is none other than Grand Admiral Thrawn, though viewers aren't given a chance to see him directly. However, his white uniform and blue skin are hard to miss, and the fact that Ahsoka (Rosario Dawson) not only mentions him by name, but the book in which he was originally introduced.
Making his first appearance in "Heir to the Empire" by Timothy Zahn, Grand Admiral Thrawn belongs to a race of aliens known as the Chiss, which are a humanoid species adapted for cold weather climates with distinctive hue and red eyes. A tactical genius and a staunch supporter of the Empire, Thrawn is a dangerous foe that should never be underestimated.
Of course, "Star Wars" aficionados were absolutely delighted upon seeing the character brought to life in the trailer for "Ahsoka," even if it's only the back of his head. Over on Twitter, many "Star Wars" fans could barely contain their excitement, like @blurayangel, who slammed on the caps lock button and wrote, "THRAWN'S ENTRANCE GAVE ME CHILLS."
Some fans hope that Thrawn is the primary villain of Ahsoka
Others were also incredibly excited to see the "Ahsoka" trailer feature Grand Admiral Thrawn, with many sharing their thoughts and theories. @_ChristopherM has their own hopes, and said, "We likely won't know for sure until the end of #Ahsoka but I would love to see THRAWN as the main antagonist in Dave Filoni's untitled #StarWars movie set in this timeline. Let that character cook and become the successor to Darth Vader." Meanwhile, @John_Piland had some fun with Thrawn's reveal, and posted an image of Ahsoka referencing "Heir to the Empire." The user then followed the picture up with the meme of Leonardo DiCaprio pointing with the actual book in his hands.
Several fans of "Heir to the Empire" also noted Ray Stevenson's mysterious and unnamed character, like @N8Mess and @MaceAhWindu, and how he could be another character from the book — namely a cloned and unstable Dark Jedi known as Joruus. @UpToTask was thankful for the "Ahsoka" trailer, and offered a rallying cry to other fans of Thrawn. Meanwhile, @Stephen_Kent89 enumerated all of the Thrawn and "Heir to the Empire" references and said that "Ahsoka" will be the anchor for "Star Wars" canon for years to come.
In addition, @Lilfellow25 hopes that Thrawn will be the Season 1 villain of "Ahsoka," and stated, "Thrawn is a very complex character. He has morals and not only that but he has intellectual reasoning by why he does what he does. That's why his character is labeled a genius. He will play the hand he's dealt." 
Ultimately, there are many fans of the animated series and books that are totally ready to see Thrawn make his transition to live-action.