School Spirits: How Many Episodes Are In Season 1?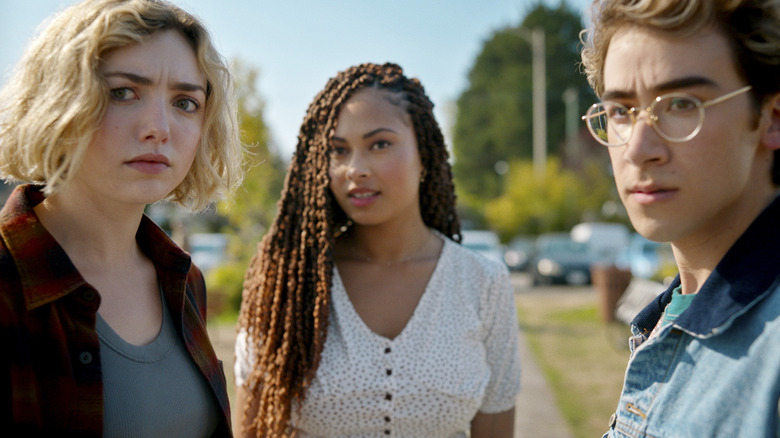 Paramount+
When "School Spirits" Episode 1 opens, its protagonist Maddie Nears (Peyton List, who plays Tory on "Cobra Kai") is dead. Her consciousness persists, however, as a ghost tethered to her high school. Fortunately for Maddie, she's not the only person to have ever died at her school, meaning a few other ghosts are there to show her the ropes of the afterlife. Unfortunately, she doesn't remember the manner of her death, and therefore must solve her supposed murder alongside the living humans attempting to do the very same thing.
Since "School Spirits" is a streaming service original, on the ever-growing Paramount+, its release is untethered to any sort of regular schedule. In fact, as is becoming increasingly commonplace for streaming series, the first three episodes of "School Spirits" all dropped on the date of its March 9, 2023 premiere, before it transitioned to an episode-a-week timetable.
For those wondering how long this first season of "School Spirits" is in full, it's scheduled to conclude on April 13, 2023 with its eighth episode, according to a Paramount press release describing the season as eight episodes in length.
Viewers are enjoying School Spirits Season 1, but a second season has yet to be unconfirmed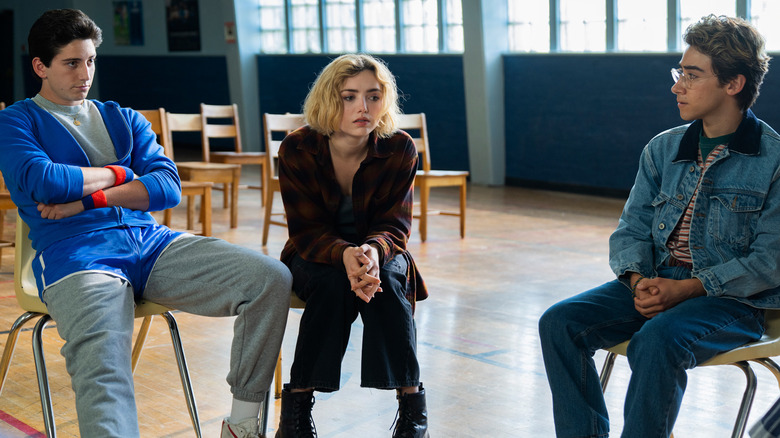 Ed Araquel/Paramount+
When "School Spirits" Season 1 first premiered, many critics received the show positively. For example, a Collider review awarded the first season of "School Spirits" with a B+ rating. In another positive review, Variety author Daniel D'Addario wrote, "Without losing sight of the sorrow of Maddie's story, 'School Spirits' manages to be surprisingly sparky and fun — proof positive that there are new stories to tell about the institution no one would ever want to be stuck in for their entire afterlife."
Meanwhile, the show holds a 93% audience score on Rotten Tomatoes, and fans regularly discuss its major plot developments on Twitter with the hashtag #SchoolSpirits. That said, it's unclear whether support for the show is sizable enough to guarantee its renewal — even with Season 1's end fast approaching, Paramount+ has yet to officially announce whether or not another season of "School Spirits" is on its way. Accordingly, fans online like Twitter users @averyjcmesons and @patronusblake are worried about the prospect of a second season, given the current radio silence and frequency of cancellations in today's streaming landscape.
For now, at least, fans can rest assured that "School Spirits" Season 1 will end upon the release of its eighth episode. Whether or not Paramount+ will release a second season, however, seemingly still depends on the size of "School Spirits" Season 1's viewership as it nears its conclusion.