Indiana Jones 5 Trailer Has Fans Saying A Lot About Harrison Ford's Age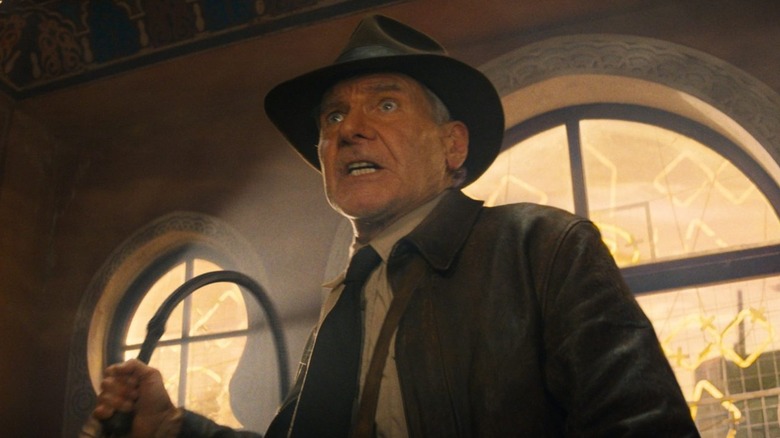 Disney/Lucasfilm
Harrison Ford turned 80 last year, and was in his late 70s when filming on the upcoming "Indiana Jones and the Dial of Destiny" took place. That makes him one of the older action stars to have gotten a Hollywood adventure movie, even if he is one of the only actors alive who could convincingly pull off such a thing. But age is certainly a factor at this point for Ford, as it's sure to be for Indiana Jones himself in the film, and fan reaction to the second trailer for "Indiana Jones and the Dial of Destiny" seems to include a lot of commentary on that point.
But most of that commentary is positive in nature. "I've been a fan of Indiana Jones for over 30 years. I never, ever imagined that there would be another movie, or at least one with Harrison Ford. It's insane that he's still doing this at his age. Hopefully they give him the sendoff he deserves," posts YouTube commenter Polymathically, speaking for many Indiana Jones fans out there. While olppa1 opts for a little bit of artful hyperbole: "Harrison Ford is 120 years old and still doing action films. Awesome!"
Most fans seem psyched for Ford to return to the role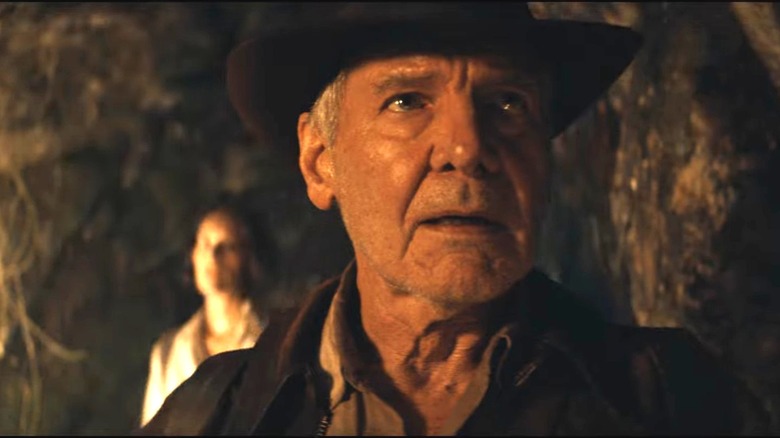 Disney/Lucasfilm
Over on the Indiana Jones subreddit — where it figures that fans would be a little more acclimated to the idea of Harrison Ford returning to Indiana Jones at his age compared to the general populace on YouTube — the reactions to the new trailer for "Indiana Jones and the Dial of Destiny" are still largely positive. "That de-ageing is phenomenal. This is going to be so good," posts u/Over-Collection3464, referencing the uncanny de-aging effects used to depict some previously unseen action during Indiana's heyday, made using decades-old footage of Harrison Ford we never got to see.
"You gotta give huge respect to Harrison Ford for playing one of his favourite roles at the age of 80 years old," posts Doom Studios, back on YouTube. And Mountain Paddler goes a step further in the enthusiastic age commentary, positing that the Indiana Jones character is suited to age along with Ford: "Oh yes! Harrison is timeless as Indiana. The role definitely ages well."
Hollywood has always had a tolerance for aging male action stars, but Ford appears to be taking things to another level with his return to the "Indiana Jones" series, and fans seem mostly excited by the prospect. "Indiana Jones and the Dial of Destiny" hits theaters on June 30, 2023.