House Of The Dragon: The Kingsguard Ceremony Is Showcased In A Deleted Scene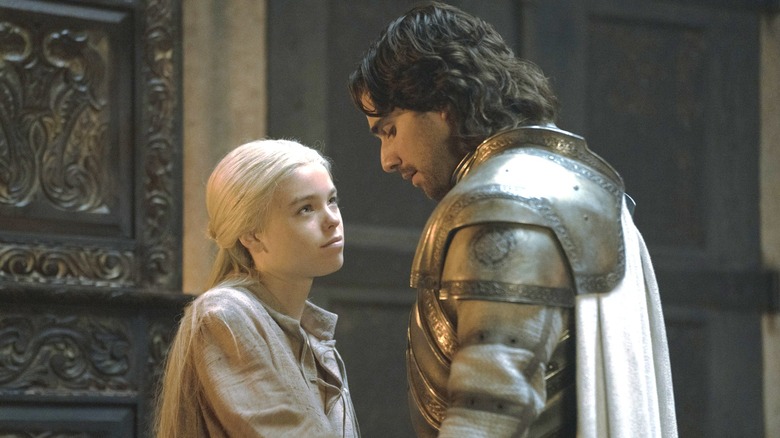 Ollie Upton/HBO
Criston Cole (Fabien Frankel) is first introduced in the pilot episode of "House of the Dragon" as a competitor in the Heir's Tournament. Later, Princess Rhaenyra (Milly Alcock) names him to the Kingsguard — a decision she may forever regret. 
A deleted scene featuring Cole being sworn in to the Kingsguard was filmed with Alcock, Paddy Considine as King Viserys, and Graham McTavish as Kingsguard Commander Ser Harold Westerling. However, in the companion book "House of the Dragon: Inside the Creation of a Targaryen Dynasty" (via EW), "House of the Dragon" showrunner Ryan Condal explained how when they watched the sequence, "It felt tonally wrong to include a 'win' for Rhaenyra before Dragonstone." The team decided not to include the ceremony in the episode's final cut.
Still, the dramatic irony behind the scene would have been incredible in hindsight. Condal mused, "She picks Criston Cole, who later becomes the reason she nearly gets disinherited, and becomes one of her worst enemies." Rhaenyra discovers over Season 1 that a Kingsguard's oath is for life, but the same can be said of Cole's hatred for her.
Cole becomes one of Rhaenyra's greatest enemies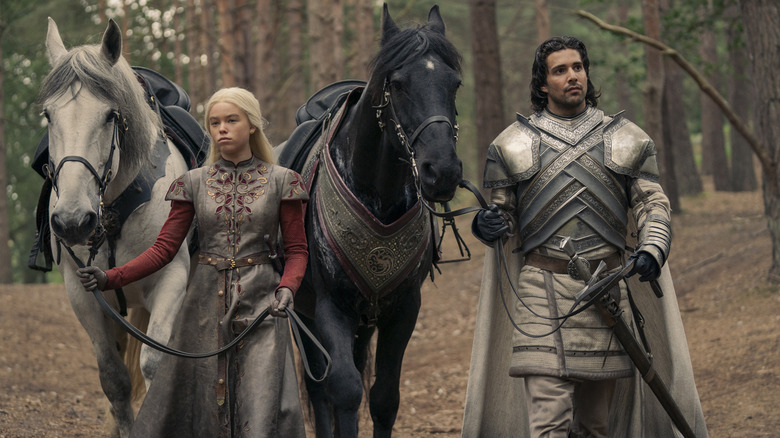 Ollie Upton/HBO
Sure, Princess Rhaenyra makes the crucial mistake of sleeping with Criston Cole and then turning down his offer of marriage in the Free Cities. But in response, a heartbroken Cole becomes increasingly violent and resentful, even beating Joffrey Lonmouth (Solly McLeod) to death in a fit of rage.
Or maybe the Kingsguard member was always like this but kept it buried deep inside. Fabien Frankel told The New York Times, "Obviously, there is a darkness within him that a certain moment triggers, and he becomes what he is." He tries to kill himself, but Queen Alicent (Emily Carey) stops him from doing so. He then becomes one of her firmest allies and one of the key "Green" members at court. 
As a result, Cole becomes key to the future of the Targaryen dynasty, even crowning King Aegon II (Tom Glynn-Carney) at his coronation ceremony. However, Frankel isn't sure if Cole truly hates Rhaenyra. He commented, "First love is first love. I think everyone will always love the person that they fell in love with for the first time." Nevertheless, Cole and Rhaenyra clearly see their affair as a mistake, and it certainly is a fateful one for the kingdom of Westeros.
If you or anyone you know is having suicidal thoughts, please call the National Suicide Prevention Lifeline​ by dialing 988 or by calling 1-800-273-TALK (8255)​.