Awkwafina Found Renfield's Practical Filmmaking Refreshing, Unlike 'Tennis Ball Work'
Universal Pictures
"Renfield" is on its way to theaters, putting the spotlight onto Count Dracula's (Twitter favorite Nicolas Cage) oft-forgotten assistant. The film sees Nicholas Hoult take on the title role as R.M. Renfield attempts to carve out a normal life for himself away from Dracula's evil schemes. That includes striking up a romance with New Orleans Police Department officer Rebecca Quincy, as portrayed by Awkwafina. While contributing to the legacy of Universal Monster movies is quite a feather in her cap, it's not the only perk Awkwafina has come to appreciate about taking part in "Renfield."
Speaking with Screen Rant, Awkwafina described the fun of making "Renfield" from a behind-the-scenes perspective. Something that stood out to her almost immediately was director Chris McKay's commitment to filming within real, physical sets with practical effects, which have become rarities in modern Hollywood. "It's not all tennis ball work. Everything is really happening in front of you. When they go off, it's scary. It was really fun," she said, alluding to the frequent use of tennis balls on sticks in CGI-heavy big-budget blockbusters.
As it turns out, his use of real sets and practical effects are just a couple of reasons why Awkwafina was so happy to collaborate with Chris McKay on "Renfield."
Awkwafina was happy to collaborate with Chris McKay for multiple reasons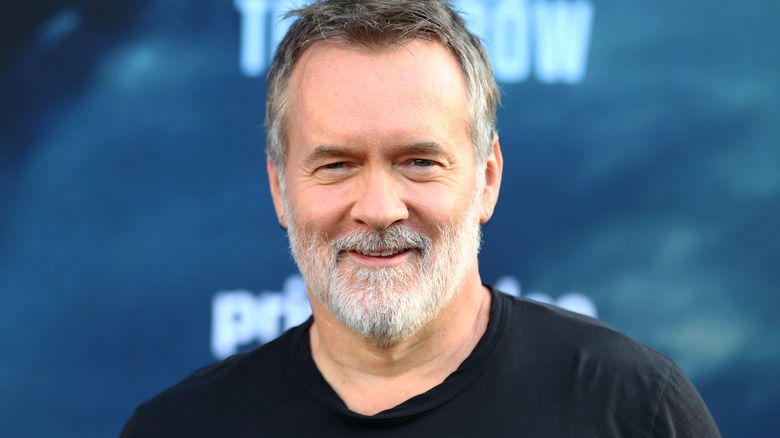 Matt Winkelmeyer/Getty Images
At the time of this writing, Chris McKay's professional directorial efforts are limited, to say the least. Aside from "Renfield," his most notable cinematic credits include "The LEGO Batman Movie" and "The Tomorrow War," but it stands to reason that will very well change in the near future. After all, Awkwafina has given him major praise for his implementation of practical sets and effects on "Renfield" and also highlighted his strengths as a director that made working on the feature such a great experience — an overall glowing endorsement that Hollywood brass would be wise to take note of.
"The way that he shoots is very, very detailed and precise. He knows exactly what he wants, but he also really trusts his actors. I think we all felt really free to riff," Awkwafina told Screen Rant of McKay's directorial style, which she feels is somewhat influenced by his editing experience. She adds that he's very receptive to any issues the actors may have with a given scene or line and that he's more than capable of putting together any cool scene he wants. All in all, she described watching him make "Renfield" as plain old fun.
"Renfield" opens on April 14, 2023.