Twitter Can't Get Enough Of Nicolas Cage's Sadistic Count Dracula In Renfield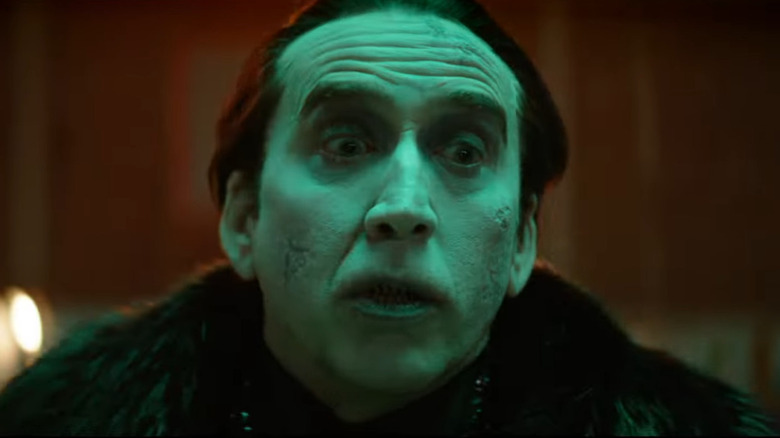 Universal Pictures/YouTube
Nicolas Cage is in a bit of a career resurgence at the moment. After years of primarily direct-to-DVD fare and a litany of memes at the expense of his eclectic acting style, Cage has begun appearing in movies that utilize his larger-than-life career to their advantage. A prime example of this is 2022's "The Unbearable Weight of Massive Talent," where Cage plays himself meeting up with an obsessed fan. Now, Cage is joining the esteemed company of actors who have portrayed Count Dracula in the upcoming "Renfield."
A new trailer for the film came out on March 22, and fans are hyped to see Cage in all of his violent, bloody glory. Underneath the video are a ton of comments from fans who believe Cage as Dracula is inspired casting, like one user writing, "Nicolas Cage as Dracula is such great casting, I don't understand why no one has thought of it before." And praise for Cage's Dracula was even more uproarious over on Twitter. 
Nic Cage and Dracula are a match made in heaven ... or hell
While Nicolas Cage's Dracula is bound to be a major player in "Renfield," he's not the main character. That distinction goes toward the titular Renfield (Nicholas Hoult), the vampire's loyal servant. Gore and hilarity ensue, and fans can't wait to see another classic Cage performance that's more than likely going to inspire even more memes. 
For many, "Renfield" is appointment viewing, like Twitter user @motelsiren, who wrote, "RENFIELD is my Super Bowl. i fully threw my fists in the air when the trailer came on before cocaine bear. nicolas cage as dracula as a modern-day homage to the draculas who came before him is all i've ever wanted in this life. i don't want to see any slander on my timeline tysm." Based on other reactions, that statement hardly seems like hyperbole. 
Plenty of people were sold on Nic Cage's name alone, but the sheer lunacy of the film is just another selling point for @RedheadfromMars: "Nicolas Cage as Dracula is about to become my entire personality." Meanwhile, @LouisPeitzman has another pitch for Nic Cage's character, "Can we just do a shot-for-shot remake of Dracula with Nicolas Cage instead of whatever Renfield is." That's a lot of hype to live up to. See if "Renfield" lives up to it when it comes out in theaters on April 14.