Justified's Erica Tazel Thought She'd Only Land The Role If Rachel Was A Rookie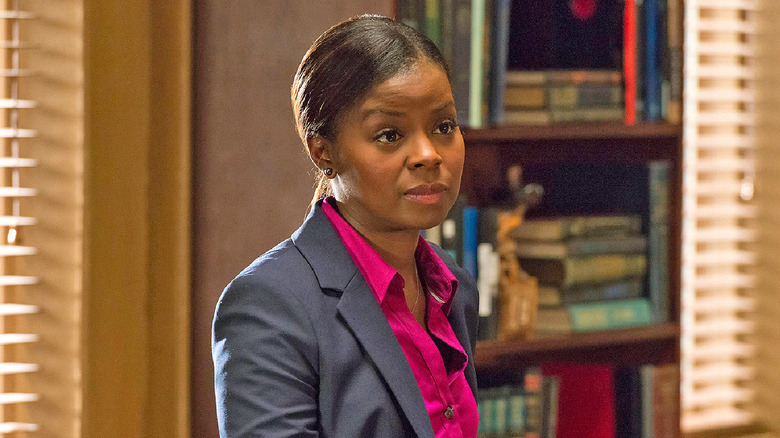 FX
Erica Tazel had a series of small roles on network shows like "The Office," "Law and Order" and "Without A Trace" early in her career, but eventually work started to dry up. The actress then got an audition to play series regular U.S. Deputy Marshal Rachel Brooks on "Justified." However, she thought she didn't stand a chance compared to the older, more known actresses up for the part.
She explained to Vanity Fair, "I thought maybe if they made Rachel a rookie I'd have a shot." Tazel was flattered to be on the short list for the character anyway and still figured someone else would get the role. "It's going to be one of them, the pressure's not on me," she said. "But I got it." Rachel and Deputy Marshal Tim Gutterson (Jacob Pitts) don't get as much screen time as Deputy Marshal Raylan Givens (Timothy Olyphant) or his nemesis Boyd Crowder (Walton Goggins), but Rachel is shown to be more than capable working in the field and matching wits with Raylan.
Erica Tazel noted how few women of color are U.S. Marshals
Rachel Brooks on "Justified" is an excellent marshal and dedicated professional. So it's rather understandable if, as a Black woman, she resents Raylan early on because his privileged position as a handsome, imposing, and cocky white man lets him get away with a lot. 
Erica Tazel certainly gets how Rachel feels. The actress told Vanity Fair, "I think we can count on maybe two hands with some fingers missing the number of female U.S. Marshals we currently have and then when you look at color it's even less." In her capacity as Deputy Marshal, Rachel also regularly deals with racist and prejudiced remarks from typically bigoted residents of Harlan, Kentucky.
Still, while Rachel doesn't have much patience for Raylan's most impulsive moves, they do share a real mutual respect. She also takes over Art's (Nick Searcy) position as Chief Deputy of the Lexington U.S. Marshals field office at the end of the series. Ultimately Rachel proves she has the right instincts to rise up the ranks of the U.S. Marshals service — and Erica Tazel rose to the challenge with her.