American Pickers: The Simple Way Fans Can Get Featured On The Show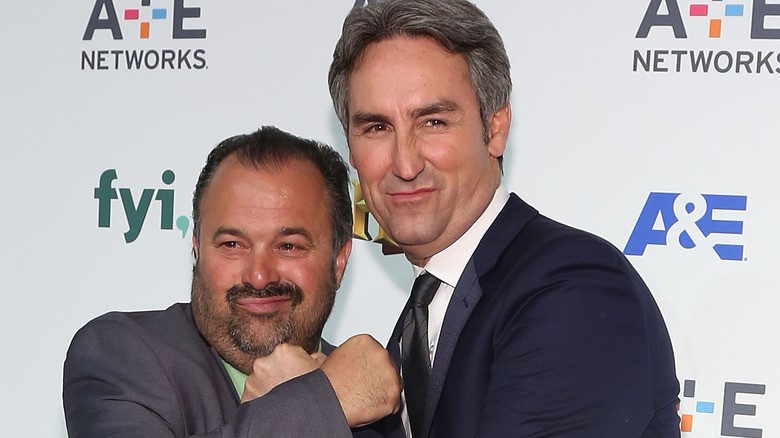 Taylor Hill/Getty Images
"American Pickers" has been going strong on History for over a decade now. Each episode brings new sights to see as the pickers travel around the United States to find hidden treasures lurking in people's basements and garages. After watching a few episodes, anyone may look at the show and figure they have some cool stuff to sell. Turns out, getting featured on "American Pickers" may just be one email away.
History accepts emails from anyone interested in being featured on an episode. All you have to do is provide a text description of your collection along with any other details that may make for captivating content. If there are personal stories attached to items or anything rare, it's possible Mike Wolfe could be interested. However, years ago, Frank Fritz spoke about getting people involved and mentioned how they receive thousands of emails a day. It may be slim odds of actually getting picked, but if you're lucky enough, the "American Pickers" crew may just stop by your house.
Don't expect to make a killing
For anyone wanting to be on "American Pickers," it's not an easy way to make a buck. Frank Fritz went on to reveal how History doesn't pay collectors for appearing on the show, but he admits most people aren't deterred by that. He said, "They're more than happy to be on television. You know, believe it or not, we go, and we buy stuff, a lot of times ... We give [people] a fair price for their stuff, and they don't have to do anything. They don't have to market, they don't have to take it out, they don't have to dig it out. They don't have to do anything."
The only real chance at getting cash collectors have is whether the pickers decide to purchase something. If you've seen the show, you likely know that Wolfe rarely makes huge picks on the road. Most of the time, they'll buy an item or two for reasonable prices. Most people probably walk away from their "American Pickers" excursion with a couple hundred bucks, but it may not even be that much. Unless you happen to be sitting on a vintage car Wolfe's been looking for his entire life, you likely shouldn't expect to retire off what you sell. 
And if you happen to be near one and are looking to enhance your antique collection, you can always visit one of Antique Archaeology's store locations. A lot of what Wolfe has purchased on the show ends up there.