Star Trek: Strange New Worlds' Ethan Peck Gifted His Co-Stars A Bag Of Used Ears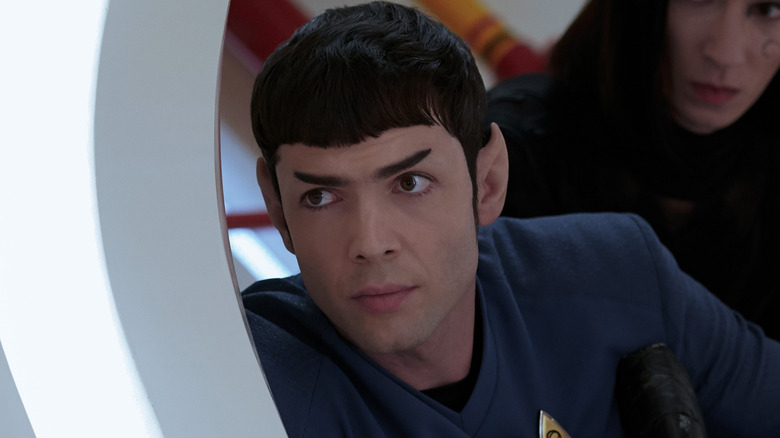 Marni Grossman/Paramount+
If there's one thing that the cast of "Star Trek: Strange New Worlds" is sure about, it's that their co-star and Spock actor Ethan Peck is always willing to lend an ear. However, that actually might not be as much of a good thing as it initially sounds.
In an interview between IMDb and the "Strange New Worlds" cast, actor Anson Mount revealed that Peck once left a bizarre gift for him. "Last year for wrap, I walked into my trailer and Ethan, for his wrap gift for me, had left a Ziploc bag of used ears," he recounted. "I was like, 'Really?'" Co-star Paul Wesley then chimed in, noting that he had received the same strange present.
For die-hard movie fans, this incident may bring to mind the rumor that Jared Leto once gifted a dead rat to his "Suicide Squad" co-star Margot Robbie — but it's a lot less macabre than it might seem. The ears that Peck left for Mount and Wesley are not actually severed human appendages, but rather prosthetic ears he would wear while filming to achieve Spock's iconic pointy-eared look. That makes the whole prank a little less weird... but only a little.
Peck uses premium fake ears for Spock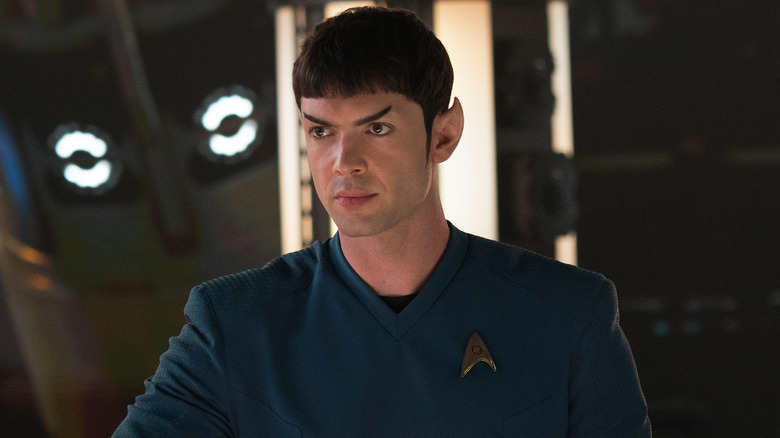 Marni Grossman/Paramount+
Those aren't just any old prosthetic ears that Ethan Peck gifted to his fellow "Star Trek: Strange New Worlds" cast members — they're top of the line models made by the best of the best. In an interview with Variety, Peck explained that the ears are designed by the acclaimed special effects studio Legacy Effects. The team has worked on all manner of major blockbuster projects, including "Avengers: Endgame," "Godzilla: King of the Monsters," "Avatar," and "The Suicide Squad."
Peck went on to explain the time-consuming process that makeup artist Chris Bridges takes on every time he needs to put the ears on. "The ears came from these molds of my ears," he said. "Every pair is fitted on a foam mold of my ear. He glues it on, and then he uses acetone to melt off the excess edge from the mold. Then there's blow-drying done to help speed up the drying process, and then he blends the edge of the silicone ear with my skin, so that it creates a smoother surface. Once he's done both ears, we glue on the edges of the eyebrows, which is a 5-10 minute process. And then he paints the ears and blends them into my skin before I get my makeup done."
With how arduous of a process it is just for Peck to use these Spock ears, it's hard to fault him for having a bit of fun with them once they've been discarded. It leaves his castmates with quite the production souvenir, too.