Adam Rodriguez Really Got Hurt When Delko Got Shot On CSI: Miami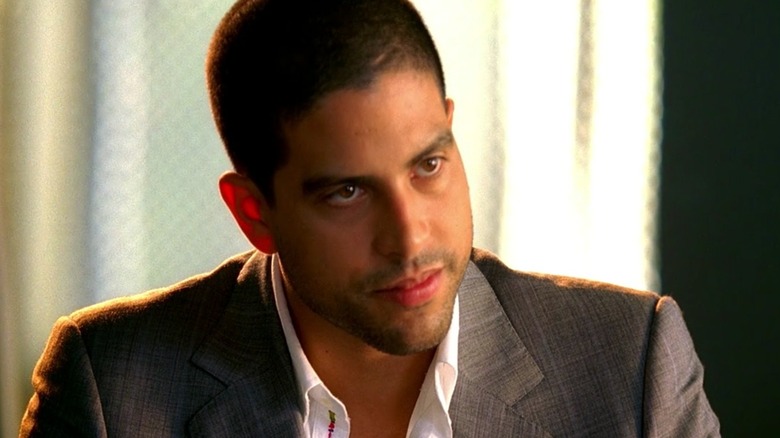 CBS/Hulu
When characters in TV shows have to fight, sometimes the actors portraying them get hurt in the process. In the case of Adam Rodriguez, he walked away with an injury after portraying Erik Delko in "CSI: Miami." In the "CSI" spinoff, Delko portrays a crime lab tech, who often acts as a secondhand to Detective Horatio Caine (David Caruso). 
In "CSI: Miami" Season 5, Episode 14, "No Man's Land," Delko is shot in the head and his fate hangs in the balance through the next episode, "Man Down." To make matters worse, Delko is nearly killed when his team hunts one of their archenemies, Clavo Cruz (Gonzalo Menendez), a killer previously protected by his father's diplomatic immunity. 
In a 2007 interview with CBS, Rodriguez revealed that when he fell in the scene where he's shot, he's holding a gun and hits his hand, receiving an injury himself. He proceeded to showed off his black and blue finger for the camera.
"I get shot in the leg, and when I fall ... my hand has a gun in it, and I just smash my thumb," Rodriquez said. 
Adam Rodriguez said CSI: Miami isn't the same without Delko
Erik Delko's brush with death ended with a full recovery, but the character was almost given the axe in "CSI: Miami" Season 8, where Delko disappeared from the team to go work for the district attorney's office. The switch left potential for recurring appearances, but "CSI: Miami" Season 9 invited Delko back full-time, and it's all because fans would not allow CBS to let go of Adam Rodriguez. 
"I think that fans really made it known that the show wasn't the same without Delko," Rodriguez told Entertainment Weekly in 2010. "CBS was wise enough to pay attention to that and make sure that they kept the chemistry of the show the way the fans wanted it." 
Instead of a bullet nearly killing Delko, this time it was contract negotiations. In the same EW interview, Rodriguez said the network was not meeting his demands and walked away from the negotiating table. Luckily, Delko didn't vanish into the distant district attorney's office, and Rodriguez made his way back to "CSI: Miami," pleasing many fans in the process.