Ted Lasso's Hannah Waddingham Can't Even Think About Rebecca Spinoff Right Now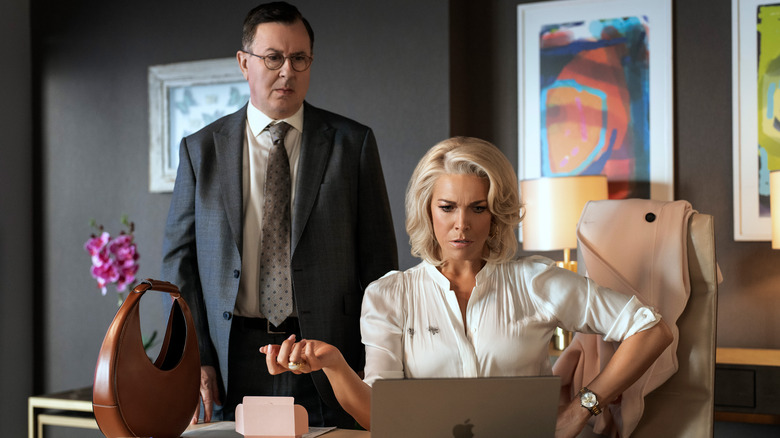 AppleTV+
Audiences are in the midst of enjoying the third and possibly final season of "Ted Lasso," but many aren't ready to see it go. The comedy series hasn't been here for a long time, but it's been a good time, telling a heartwarming tale of AFC Richmond and everyone involved with the club. With the potentially final episode creeping up, fans have shifted their focus to potential spinoffs, but that's more than star Hannah Waddingham wants to think about right now.
"You know what? I can't even think about that," the actress told Collider regarding a possible Rebecca Welton spinoff. "I wouldn't know how to let that in because I can't imagine, first of all, not being with Ted. And secondly, I am so immersed in the Greyhound world [referring to the AFC Richmond mascot] that my brain literally won't let that in. It's very strange. I can hear you, but I'm not acknowledging it."
Waddingham's response to the potential end of "Ted Lasso" is understandable, as she's made a family with her fellow cast members, finely crafting Rebecca along the way. "Rampant denial" is how she described her refusal to register that "Ted Lasso" could be nearing its end.
Waddingham loves Rebecca's changes in Season 3
AppleTV+
Hannah Waddingham is in a special place with "Ted Lasso," having the opportunity to show more of a human, casual side of her TV character. While fans watched Rebecca grow through Seasons 1 and 2, the actress particularly loves the changes we see in Season 3.
"I like the fact that we really do see a change in Rebecca this season," she said after Collider asked what she's enjoyed the most from her character's journey. "I very much lent into the fact that I wanted her hair to be slightly different and softer. I love that her clothes are a little bit more out there. There's some difference in the color. I was very instrumental in that shift in her."
Waddingham went on to say that, in Season 2, there wasn't much for her to "sink her teeth into" as Rebecca was much more put together during that time. However, in Season 3, she's a "proper hot mess again," as she goes back to not really knowing "what the hell she's doing." Hopefully, when "Ted Lasso" rolls credits for the final time, it isn't the last we see of Rebecca. While Waddingham can't think about a spinoff right now, there's plenty more of her character to explore and many more Emmys for her to win.