Super Troopers Director In Talks To Collaborate With Marvel Studios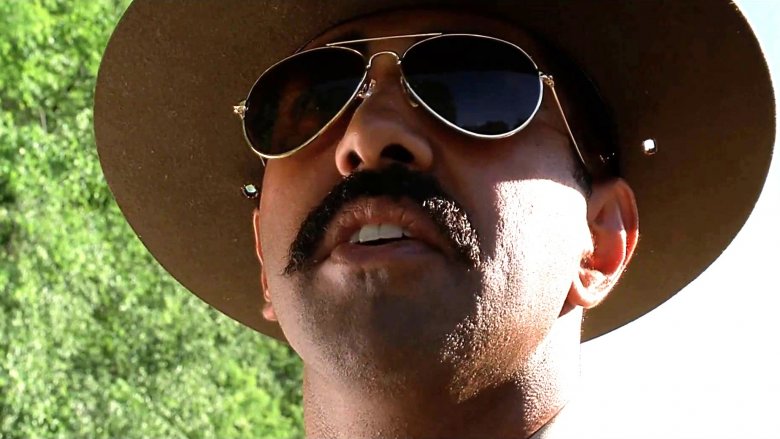 Fox Searchlight
Director Jay Chandrasekhar may be jumping from Super Troopers to the world of superheroes — specifically heroes of the Marvel disposition.
Most known for his work as part of the comedy troupe Broken Lizard, Chandrasekhar is also a recognizable television director, having worked on shows like Community, New Girl, and The Goldbergs, among many others. 
Now the filmmaker may be preparing to make the jump to mega-budget tentpoles, and the snozzberries have never tasted quite so sweet.
Speaking in an interview with Syfy, Chandrasekhar revealed that he was recently approached by Marvel Studios to explore a potential collaboration.
"They sent me the Marvel Encyclopedia and they said, 'What do you guys want to do?'" Chandrasekhar said. "So, it's upstairs. My kid's going through it. And he's going to make a list of what he thinks we should do, and I'll go through it." 
"I'm curious to see what a 13-year-old's mind comes up with," he added.
Before we get too ahead of ourselves, this news does not necessarily mean that the Beerfest, Slammin' Salmon, and Club Dread director has been offered a job on a Marvel Studios picture, so don't start immediately expecting a Large Farva with your Eternals movie. 
Rather, this news is more interesting for what it tells us about Marvel's process. While precious few movies have been announced for the studio's post-Avengers 4 slate, we all know that the company is working hard to get the next phase of its shared universe ready for action. 
As opposed to Warner Bros. leak-prone DC universe, where plenty of movies that will probably never happen have been picked up by the press, Marvel Studios has managed to keep their development secrets fairly locked down. 
From the way Chandrasekhar tells it, the studio appears to be reaching out to a wide variety of filmmakers, seeing what sort of movies they'd be interested in making — him included.
The question is, what could Marvel Studios be working on that the longtime purveyor of lowbrow comedy would be good for as director? 
Is it possible that he, like fellow funny guy James Gunn of Guardians of the Galaxy fame, could be heading into outer space to explore the Marvel cosmic with some kind of wisecracking Nova movie? Or would he be more interested in staying on Earth and bringing Squirrel Girl to the big screen? 
(For what it's worth, our hopes are on She-Hulk, who — if you didn't know — has a much better sense of humor than you'd think.)
Of course, lots of things are possible, with plenty of potential for weirdness-to-come in Marvel's expansive library of comics. But seeing the Super Troopers guy poised to potentially be in charge of a $200 million superhero movie is, for today at least, about as weird as this stuff gets.
Chandrasekhar recently returned to the well he sprung from on April 20 with Super Troopers 2, a modest movie that more than made its money back at the box office. After taking a bruising with the rather floppy performance of Solo: A Star Wars Story, that may end up being all that the Disney side of this alliance really cares about.