Pledge Allegiance To The Poster For Super Troopers 2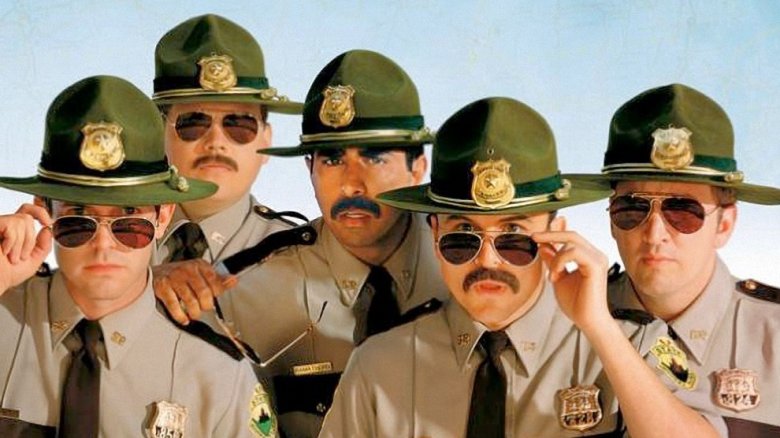 The cops are here, but don't worry — they're cool.
Fox Searchlight's long-awaited sequel to cult comedy hit Super Troopers is finally nearly ready to come down the pipeline, and you can check out the rousing poster for the follow-up adventure down below.
As you can see, the poster is a paragon of patriotic excellence, with the boys of comedy troupe Broken Lizard (Jay Chandrasekhar, Kevin Heffernan, Erik Stolhanske, Paul Soter, and Steve Lemme) standing proudly in uniform on the back of a soaring bald eagle. 
Gripping an American flagpole like they're about to stake it down in Iwo Jima, the troopers soar off into a burning orange sky over the tagline "The Mustache Rides, Again." At a glance, its design looks vaguely reminiscent of the cover of Judas Priest's Screaming for Vengeance album — but that might just be the weed talking.
The original Super Troopers was released in 2001, becoming a modest hit with audiences and returning over $23 million against a budget around 1/23 of that. While it only garnered a 35% score on Rotten Tomatoes, the shaggy dog tale of a struggling, thoroughly mediocre squad of Vermont state troopers working to save their station from budget cuts resonated with the highly-coveted stoner audience, becoming a quotable, lowbrow sensation. 
Since the success of Super Troopers, Broken Lizard has produced five other comedy movies together, including Beerfest, Club Dread, and The Slammin' Salmon. Super Troopers 2 is their first sequel, arriving in theaters nearly 17 years(!) after the original movie first put them on the map.
Super Troopers 2 is set to light up on April 20.