Young Sheldon Theory: Georgie Will Propose To Mandy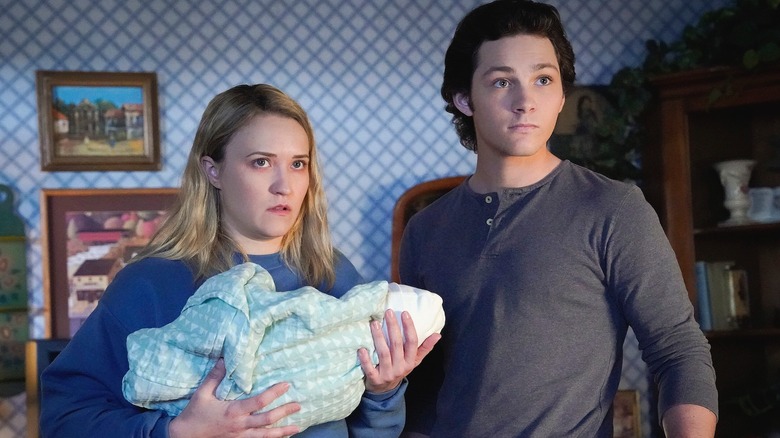 Robert Voets/CBS
As Sheldon Cooper (Iain Armitage) continues to mature in "Young Sheldon," some fans feel the show is limited by the continuity of its parent series, "The Big Bang Theory." This includes numerous moments throughout the original show's run that found the adult Sheldon (Jim Parsons) often negatively sharing memories of his family and childhood. The prequel's 7th season may turn out to be its last thanks to Cooper's moving closer to California (where "TBBT" was set) from his hometown of Medford, Texas.
But other more pleasant moments may soon transpire, according to some viewer theories. One assumption is the possible engagement between Sheldon's older brother Georgie (Montana Jordan) and Mandy (Emily Osment). On the r/YoungSheldon subreddit page, Redditor u/AirlineCharacter1702 created a thread that includes a link to the title of Season 6's 18th episode, "Little Green Men and a Fella's Marriage Proposal."
Since Georgie and Mandy are now looking after a child, some fans predict the installment's name could only possibly refer to the couple's engagement announcement. But other theories also point to the young couple getting engaged in this same timeframe.
Fans also point out that Georgie married at age 19, as revealed in TBBT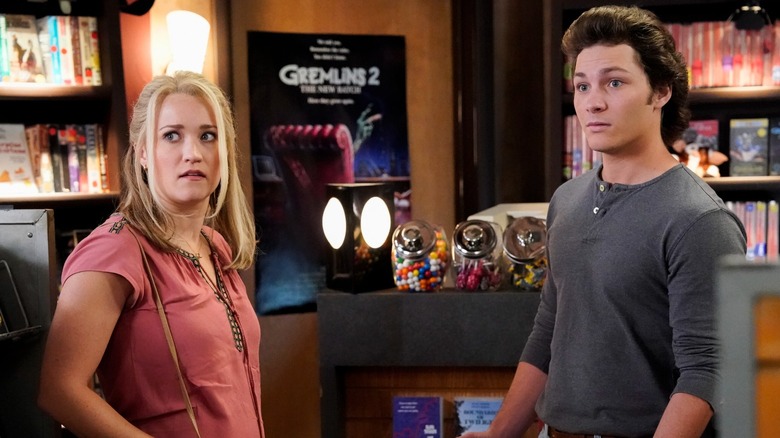 Robert Voets/CBS
The title of Season 6, Episode 18, is revealing, but some audiences need more context to distinguish its double meanings. In response to the subreddit thread predicting Georgie and Mandy's engagement, u/Loud_Condition-4005 shared, "That would be my guess! No idea what the little green men are though," followed by a crying-laughing emoji. But extraterrestrials and vague wedding proposals aside, there are additional theories about the couple apart from an episode title.
On another r/YoungSheldon subreddit thread, u/edits_updates_more theorized that Georgie proposed to Mandy at the age of 17, which is his current age on the show. This would mean the pair are engaged for two years before his marriage to someone, as mentioned on "The Big Bang Theory." The viewer wrote about how this would give the duo more time to get to know one another further before eloping.
Yet another speculation on a separate thread about Georgie and Mandy ponders information from "The Big Bang Theory" about George Sr., who died when Sheldon was 14 and his older brother was 19. U/emmawert11 speculates that Georgie married Mandy when he was 19 after his father died since the senior George opposed the couple tying the knot.
Regardless of what happens in the 6th season's 18th installment, fans are studying the meanings of what its title could imply.