Some Young Sheldon Fans Feel The Show Is Limited By What Happens On TBBT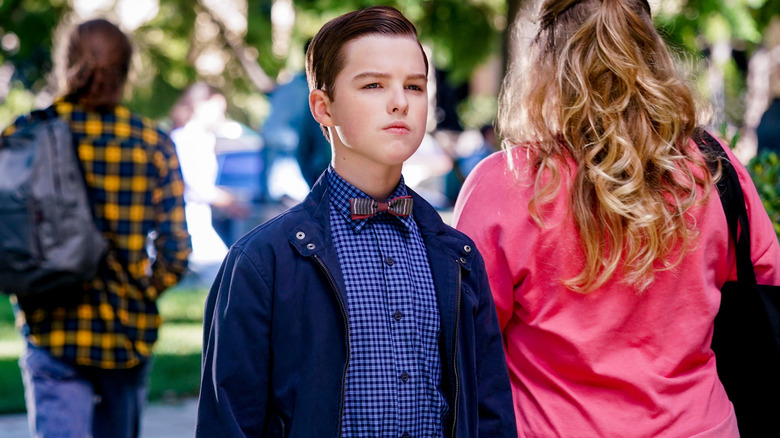 Sonja Flemming/CBS
Expanding on a popular show with a prequel series is not unheard of, and it's a strategy that can create even more success for an already popular franchise. "House of the Dragon" expands on the Targaryen history regularly referenced on "Game of Thrones." Meanwhile, "Yellowstone" is capitalizing on its success with a few prequels that follow the Dutton family's history, including the popular "1883." As fans enjoy these expanded storylines, some fans of "Young Sheldon" are worried that "The Big Bang Theory" has created too many barriers for this prequel.
The subreddit r/YoungSheldon is bursting with storylines that fans would like to see on "Young Sheldon" but don't anticipate due to its connection to "The Big Bang Theory." Some want a longer romance between Sheldon and Paige (Mckenna Grace). Others wonder about the missed opportunities with Missy (Raegan Revord). u/IHB31 wrote, "I really don't think the creators of 'The Big Bang Theory' and 'Young Sheldon' realized how much of a hit that Missy and Paige would be. If they did, I strongly suspect that both of them would have been a much bigger part of 'The Big Bang Theory' to begin with." While Paige is not mentioned on "The Big Bang Theory," fans meet the adult version of Missy (Courtney Henggeler) in two episodes.
u/dizcuz wrote that they would rather see Sheldon's (Iain Armitage) dad George (Lance Barber) stay alive. George's death becomes a part of the canon on "The Big Bang Theory" during Season 7, Episode 9, "The Thanksgiving Decoupling," and it has become a highly anticipated moment on "Young Sheldon."
Although fans keep speculating on what could have been, one of the show's co-creators explained that it's not as predictable as it seems.
Young Sheldon still has some creative license according to Steve Molaro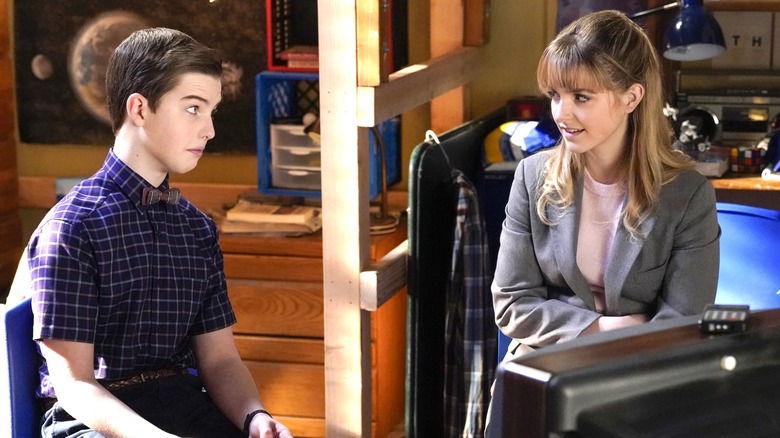 Robert Voets/CBS ©2022 CBS Broadcasting, Inc.
In 2020, "Young Sheldon" co-creator Steve Molaro told TV Line that while they are mindful of the storylines told in "The Big Bang Theory," they are not afraid to break canon if it will avoid stagnation on the prequel. But there is one detail that they are not willing to part with. In "The Big Bang Theory" timeline, Sheldon begins college at 11 years old, and that was a detail that Molaro and the rest of the crew decided to continue using in "Young Sheldon." "We know he goes to college, [and] I'm fairly loyal to the 'Big Bang' canon. If it's going to hurt the show, I'm willing to get a little creative with it, but in this case, I think it was time. We were all ready to do it," he said.
As fans express concerns over predictable storylines, some are not feeling invested in the characters themselves. u/longrange3334 wrote, "Every character started exactly how we see them in 'The Big Bang Theory' so all of them were given little room to grow or change ..." Zoe Perry told the New York Post that there is still room for characters to grow even though their backstories were established way before "Young Sheldon" hit the airwaves, noting dialogue that mentions Mary's wild teenage years. "It's so interesting to think about that and what that might've looked like," she said, adding that there is still plenty of new storylines to explore as they delve into Mary's relationship with her mom.