Law & Order's Ice-T Doesn't Plan On Leaving SVU Any Time Soon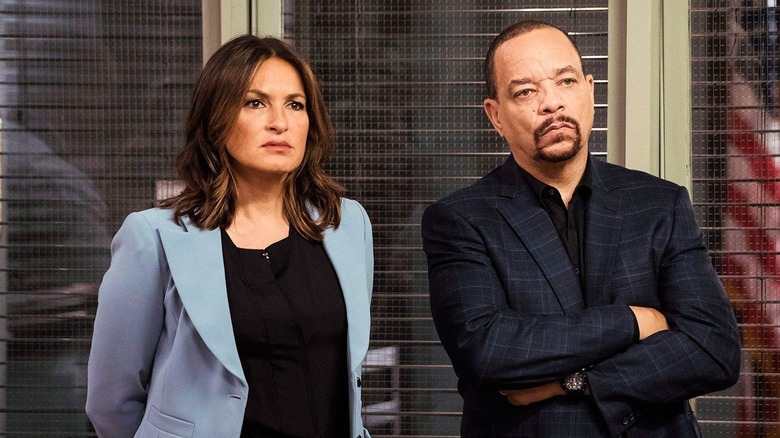 NBC
Characters come and go all the time in "Law and Order: Special Victims Unit," whether it's Christopher Meloni exiting his role as Detective Elliot Stabler (that he later brought back in "Law and Order: Organized Crime") or Dean Winters leaving the series to become the human embodiment of Mayhem for Allstate Insurance. If you're a longtime fan, you're probably clinging for dear life to both Olivia Benson (Mariska Hargitay) and Fin Tutuola (Ice-T) — and luckily, the latter isn't going anywhere anytime soon.
Appearing on the Questlove Supreme podcast in April 2023, Ice-T made one thing clear: he'll stick around at Manhattan's SVU as long as they'll have him. Asked about his future character arc, the actor said, "I don't really care where my character goes, as long as he doesn't die." He continued: "I'm gangster with them. I signed up with Dick Wolf and I'm like his ride or die, I've been on five shows with Dick Wolf. So he understands and I told them on some real sh**, I said, 'If y'all are gonna get rid of me, give me six months advance so I can book a tour or something. Just don't do me. Don't just do me, I deserve that.'"
Ice-T is on Law and Order: SVU for the long haul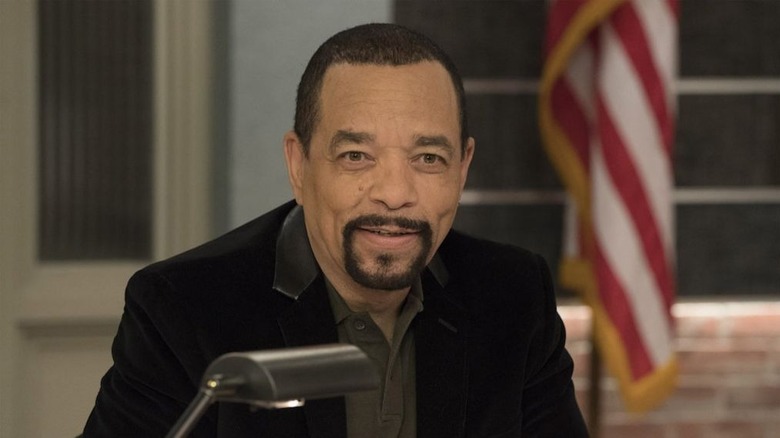 NBC
"And now, being the longest-running actor in television, they owe me that," Ice-T concluded. "So I'm good with them. I told Dick Wolf straight up, I said, 'I'm on the show until the wheels fall off.' I'm there, I don't have no plans in leaving. And all things come to an end, we're getting ready to start the 25th season. And at some point it'll be over and then I'm just gonna go out and read for all Samuel Jackson's parts!"
Ice-T has been an integral part of "Law and Order: SVU" since the show's second season; originally paired with the late Richard Belzer's surly Detective John Munch, he also teamed up with Amanda Rollins (Kelli Giddish) during her tenure on the series. Fin can be gruff, taciturn, and play things close to the vest, but he really cares about his job and the victims they help, always going above and beyond just like every other detective in the unit.
Beyond that, Fin's relationship with his son Ken (Ernest Waddell) has been a central focus of his character — when Ken comes out to his father, the relationship between them is rocky for a bit, but Fin's love for his son and eventual grandchild overcomes any hesitation he might have. Clearly, Fin will be sticking around to read chatroom transcripts out loud for the entire precinct for years to come.