Ted Lasso S3E4: History Repeated Itself When It Shouldn't Have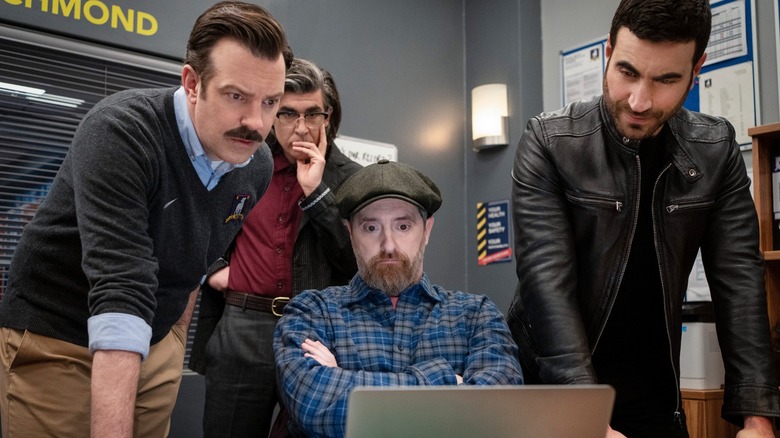 Apple TV+
Contains spoilers for "Ted Lasso" Season 3, Episode 4
If your blood pressure is slightly higher than usual following this week's episode of "Ted Lasso," that's totally understandable. Tensions are high for the big game against West Ham but even more so following the team's inevitable reunion with its former assistant coach, Nathan Shelley (Nick Mohammed). The last time Ted Lasso (Jason Sudeikis) has seen him was after a heated exchange and a torn bit of paper, the fallout of which reaches a critical point in this week's episode.
After Coach Beard (Brendan Hunt) and Roy Kent (Brett Goldstein) discover that Nate is responsible for tearing the "BELIEVE" sign up before quitting via CCTV, the two suggest showing the rest of the team for motivation. Ted is relatively quiet on the matter, not giving the go-ahead but only discovering during halftime that the pair went ahead and did it anyway. It's a tactic that proves unsuccessful, leading the Greyhounds to a shocking loss with a flurry of red cards attached to it.
Is it a lesson learned to trust in Lasso in the future? Maybe. However, that's not the first time this has happened. Back in Season 1, a similar situation occurs when Beard and Ted are at odds, and the assistant coach ends up being in the wrong. So why does he do the same again here?
Beard should've learned from the whole Roy-benching issue that Ted knows best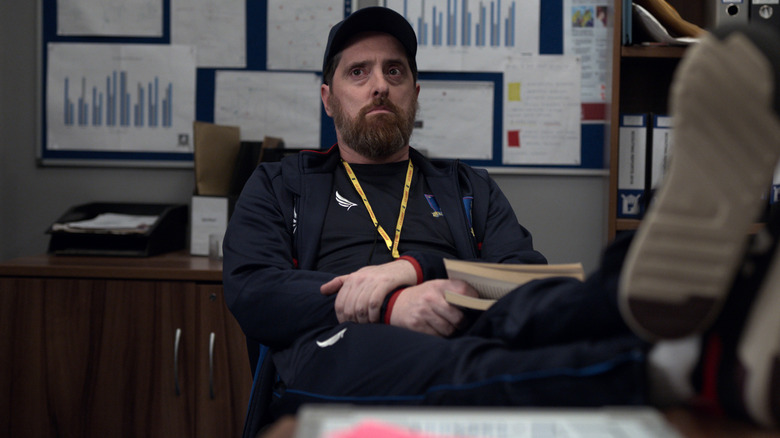 Apple TV+
In Season 1, Episode 9, "All Apologies," a big issue among management is whether or not to bench Roy during his final chapter as a Richmond player. Nate and Beard think it's time for him to call it a day, but Ted disagrees, leading to both his then assistant coaches giving him the cold shoulder. Though Roy eventually suffers a career-ending injury, it's how he wanted to go out, making Ted's decision the right call for Roy, even if Beard thinks otherwise.
It begs the question, then, of why Roy and Beard take the route they do when Ted is clearly not on the same page. Both management and the team could've been made aware of the truth and risen above it, letting the characters on "Ted Lasso" suffer for a change and become stronger as a result. Instead, the two apologize, admitting they "overcorrected and played with hate," which just isn't the Lasso way, something Beard should know by now, given the backstory of his and Lasso's mysterious friendship.
Hate is the path to the dark side, aka West Ham, and the past is the past. For now, the team should just focus on the game and trust that Ted will make the right choice in any decisions coming his way. All they have to do is BELIEVE.