Why Adult Van From Yellowjackets Looks So Familiar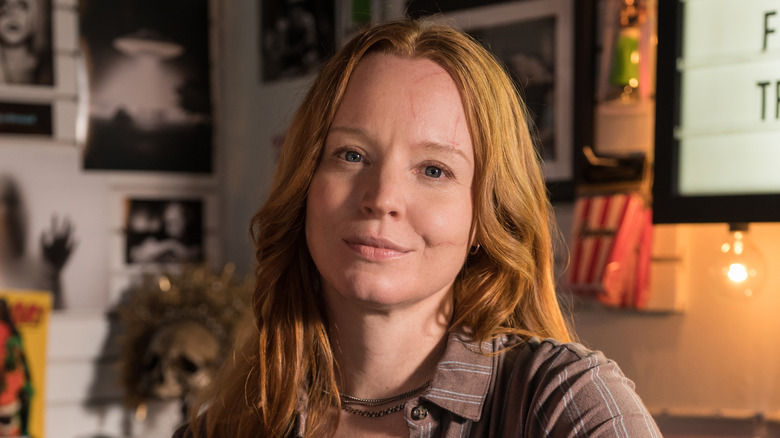 Kailey Schwerman/Showtime
Contains spoilers for "Yellowjackets" Season 2, Episode 5 — "Two Truths and a Lie"
It turns out that another member of everyone's favorite cannibalistic soccer team on "Yellowjackets" managed to make it to adulthood: Vanessa "Van" Palmer (Lauren Ambrose). Since returning to civilization post-rescue, Van has been making a living off nostalgia; she runs a small mom-and-pop store that rents out VHS tapes and sells movie ephemera. When a rattled Taissa Turner (Tawny Cypress) shows up at her doorstep, we quickly learn what's happened to their romance — and that an undercurrent of caring and feelings still bubbles between them. 
Lauren Ambrose's career has been anything but nostalgia-laden; she has performed in Shakespeare in the Park and played Eliza Doolittle on a Broadway stage, appeared in cult comedies and personal dramas alike, become part of two huge science fiction franchises, and headlined her very own horror series. "Yellowjackets" is something of a passion project for her; she told the New York Times in 2023 that she had been a fan of the show before joining the cast, a first-time experience in her career.
At one point, she told The Columbus Dispatch, her story might have been quite different. Riding on the strength of her appearances in plumb prestige series and popular teen flicks, she might have become a different sort of star acting in very different roles. But instead she's chosen a quieter career filled with character parts. "I've always just been more of an actor," she told the newspaper. Here are some of those notable roles.
She made a splash with In and Out
Lauren Ambrose's first film featured her playing Vicky, a student of Howard Brackett (Kevin Kline) in "In and Out." Vicky is one of the many teens who finds themselves privy to the twists and turns of high school drama teacher Howard's romantic life when a former student (Matt Dillon) thanks him during an Oscar acceptance speech, outing him as a gay man in the process. The problem is that Howard identifies as heterosexual, and shenanigans ensue.
Even this early in her career, Ambrose has a certain wide-eyed sparkle that makes her stand out in this minor early performance. Vicky doesn't have a lot of meat on her bones as a character, but whenever Ambrose appears onscreen she holds the camera's attention and makes Vicky's minor plights and foibles interesting. She does a good job of reflecting Vicky's steadfastness and principles.
Apparently Ambrose's co-stars still retain fond memories of her from the shoot. Alexandra Holden posted a photograph of the two of them on the film's set with Matt Dillon on Instagram in 2021. Reflecting on the experience and the kindness of Kevin Kline, Holden put in a plug for Ambrose's horror drama "Servant," proving that the bonds Ambrose made on that set have lasted to this day.
Around the same time, Ambrose made a number of memorable appearances on "Law and Order." But her next big move would take her in a completely unexpected direction.
She was part of the teen ensemble in Can't Hardly Wait
That's Lauren Ambrose as teen rebel Denise Fleming in the iconic '90s teen comedy "Can't Hardly Wait." Denise has big city dreams; she's headed to NYU soon after graduation. But before she leaves town, she agrees to accompany friend Preston Meyers (Ethan Embry) to a house party. Denise finds herself the odd person out at the party until she winds up accidentally locked in a bathroom with childhood friend Kenny Fisher (Seth Green). High school has separated bright, tart-tongued Denise from popular poseur Kenny. But she sees through Kenny's hip-hop persona and their friendship is renewed, and quickly turns into more.
Ambrose is very appreciative of what "Can't Hardly Wait" has done for her career, and how many fans it won her. Appearing on "Live With Kelly and Ryan" (via People) in March 2023, Ambrose explained that the film was indeed one of her first jobs in the industry. "I had to go out and do a screen test for it with other actors. That was one of my first trips to L.A.," she said. Reflecting on the film's cast, she added, "It's just amazing. 'Can't Hardly Wait' is full of actors who have had long careers now. You look at that cast now, and like, the extras [are famous]." 
"Can't Hardly Wait" made Ambrose a familiar face to teens everywhere, but her next role would bring her to the attention of a cult audience.
Lauren Ambrose hit the waves for Psycho Beach Party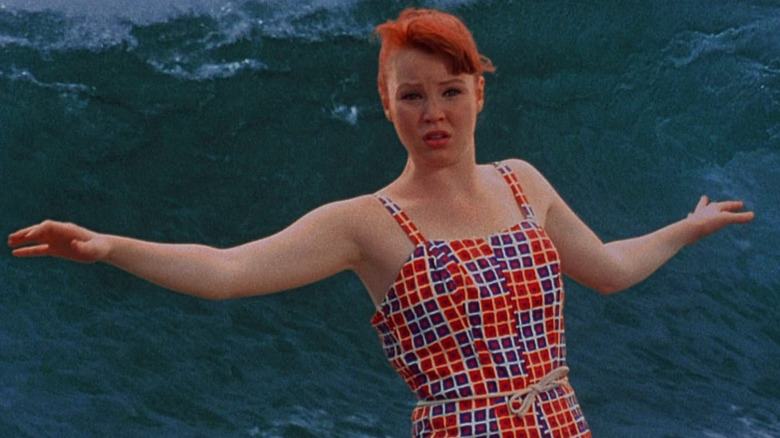 Strand Releasing
Lauren Ambrose gained a bit of indie cred as the perpetually perky tomboy Florence "Chicklet" Forrest in the cult film adaptation of playwright and drag artist Charles Busch's "Psycho Beach Party." Chicklet seems like your average teenage tomboy from the 1960s — she even wants to spend her summer learning how to surf — but she's got a giant secret. Florence has a split personality caused by childhood trauma, which makes her to lapse into alternate personalities whenever she's confronted by spiral-printed images. When a number of her classmates — mainly people who have bullied her — start turning up dead in horribly gruesome ways, Chicklet starts worrying she might be a serial killer. 
The film definitely allowed Ambrose to sharpen her acting skills. Per the film's commentary track by director Robert Lee King and actor-screenwriter Charles Busch, the movie's budget was so small that most of the takes in the film were the actor's first or second stabs at the material. That means Ambrose had to be quick on the draw on camera every single time — something her theatrical background arguably helped her do. She was also required to use some of her opera training in the film and can briefly be heard singing an aria as Chicklet switches between personalities. 
While "Psycho Beach Party" might have flown under the radar to become a cult classic, Ambrose's next part would catapult her into stardom as a part of a big ensemble.
She became the beating heart of Six Feet Under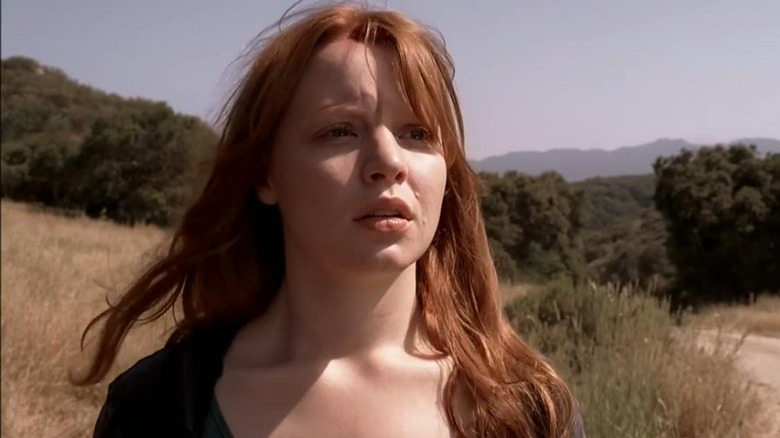 HBO
If you remember Lauren Ambrose from anything other than "Yellowjackets," it's likely to be the iconic HBO drama "Six Feet Under." That's her as Claire, the youngest sister of the funeral home-owning Fisher clan. She's often seen behind the wheel of the family's hearse, which she drives throughout the show.
Claire is a budding photographer and rebellious teenager who feels tied to the business but yearns to grow and escape, doing something that has nothing to do with the funeral parlor. She also loves her family, even though she has a tendency to be snarky about their ways. Ultimately she does pursue her passion for the arts, moving to the East Coast to pursue photography and becoming the only Fisher sibling to truly break ties with California for any length of time. 
Ambrose was nominated for two Emmy awards for her work in "Six Feet Under," and the series would springboard her toward further success. But she told IndieWire in 2012 that she was ready for the program to end when it did. "My perspective was that we had worked on it for a really long time and it was time for it to be done," she said at the time. "Even though it was such a great, wonderful job and wonderful experience — it was really just such a glorious time of getting to act every day with actors who I love and respect and still just adore — when it ended, it was like, of course."
She added fire to Torchwood: Miracle Day
Lauren Ambrose is no stranger to genre work; that's her as Jilly Kitzinger in "Torchwood: Miracle Day." An American PR rep, Jilly is a wildly ambitious woman who finds herself in a proverbial pot of jam when people suddenly stop dying the world over. She lands Oswald Danes (Bill Pullman) as a client and ends up in league with The Family, an all-powerful group seeking to reorder the human experience. Death ceasing worldwide is just one of those steps.
The actress was thrilled to take on the part of Jilly. "This is a vicious and ambitious person — a new kind of role for me!" she enthused to the Today Show in 2011. She was also truly excited to perform her own stunts. "I get to do stunts in the show, and get in fights ... cool stuff I had never done before. And wear superfancy couture clothing and have my nails done," she added. She also admitted to Vulture that she was not familiar with "Torchwood" when she took the project, but signed on after speaking with Russell T. Davis.
Ambrose told Digital Spy in 2011 that the complex Jilly isn't among the typical sort of roles she's offered, but she relished playing someone so evil, yet so human. "The good thing about playing a villain is to realize that everyone has a soul," she explained. "She's got a lot of good qualities [and] she's just doing her job."
She was brainy in the X-Files revival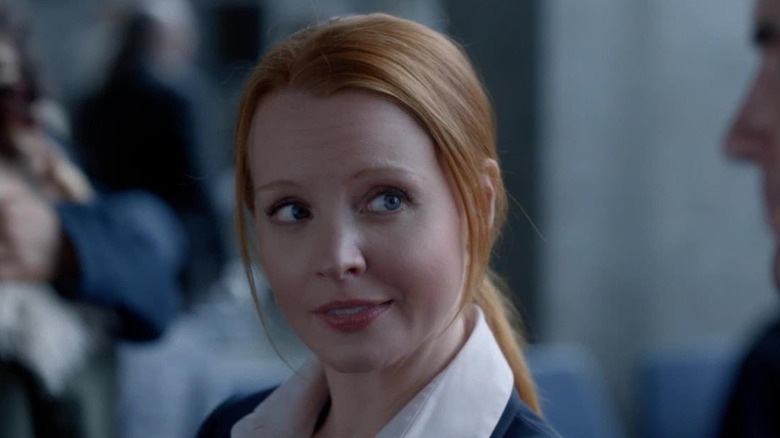 Fox
Lauren Ambrose described her role on "The X-Files" as "Scully on steroids" to TV Insider, and indeed, skeptical Agent Einstein fits that bill to a T. Einstein and her conspiracy-obsessed partner, Agent Miller (Robbie Amell), are funhouse mirror images of Dana Scully (Gillian Anderson) and Fox Mulder (David Duchovny). The foursome team up together on a couple of cases — first that of a man in a coma whom Miller and Einstein believe Mulder can communicate with, then a mysterious alien virus which brings Mulder close to death and the world to the brink of an alien invasion.
Ambrose told Entertainment Weekly in 2016 that she found herself at home on the "X-Files" set. "It was a really fun place to work, and it was really humbling to be on the set of this big cultural, iconic show," she declared. "They were all very welcoming and lovely people to work with, and I have a lot of respect for what Chris [Carter] and they have created over the years." She also admitted to TV Line that, like "Torchwood," she hadn't seen an episode of "The X-Files" before joining the cast. "It wasn't really on my radar," she said. "I'd never really been much of a TV watcher, but I have watched them as they've been on TV, and I love it. I think it's so wonderful and hopeful and just creative. I was aware of its long tentacles, but I never really saw it when I was younger."
She courted chaos in Servant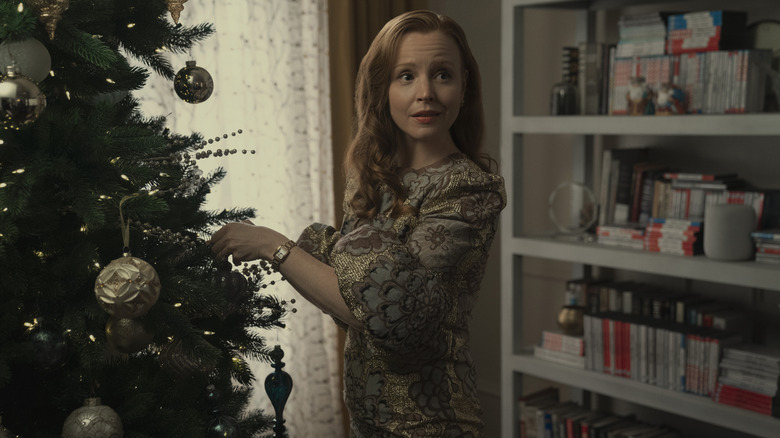 Apple TV +
Lauren Ambrose's most recent pre-"Yellowjackets" role put her front and center for more supernatural chaos. That's her as Dorothy Turner in Apple TV+'s "Servant."  Dorothy is struggling mightily with a mistake that has devastated her family. Physically and mentally suffering, Dorothy and her husband Sean (Toby Kebbell) commit to pretending that the baby doll they've bought, named Jericho, is a real live boy. They even hire a babysitter named Leanne Grayson (Nell Tiger Free) for him. But it turns out that Leanne has secret powers — and a secret connection to a mysterious organization, which is trying to hunt Leanne down before it's too late.
The thriller, a product of M. Night Shyamalan, wraps up the supernatural with the extremely personal. Ambrose told Variety in 2021 that acting in a horror piece was a new but exciting experience for her. "The crazier and darker the material is, it seems so challenging to do," she said. "But ultimately that's what's so fun as an actor: to play these extremes of human emotions. So for me, it's like, 'Bring it on, how crazy can we get?'" She'll find out soon enough, as craziness definitely await her and Van in Season 2 of "Yellowjackets."