Sons Of Anarchy's Wayne Unser Has A Name With A Hidden Meaning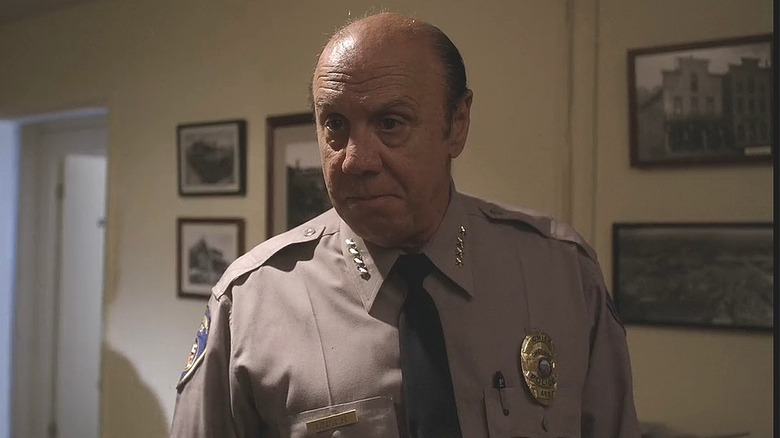 FX
Although "Sons of Anarchy" ended years ago, audiences are still learning new things about the show. Whether it's how Ron Perlman landed the role of Clay Morrow after not being the studio's first choice or that the entire show is "Hamlet," there's plenty to learn about "Sons of Anarchy."
Another interesting tidbit that most fans may not know is the meaning behind Wayne Unser's name. Dayton Callie's Charming police chief character was in the series from its beginning to the end, bending the law for the SAMCRO bikers the entire time. If you know a thing or two about German, "Sons of Anarchy" would have spoiled Unser's relationship with the biker gang from the very start. "Unser" translates to "our" in German, serving as a subtle reference to the Police chief "belonging" to SAMCRO from his introduction.
Throughout his time on "Sons of Anarchy," Unser's relationship with Clay, Gemma (Katey Sagal), and the rest of SAMCRO strengthened. It started with him looking the other way regarding the gang's activities. However, by the end, he helped them cover up numerous crimes, including the murders of ATF Agent June Stahl (Ally Walker) and rival gang leader Jimmy O'Phelan (Titus Welliver).
Unser didn't expect Jax to pull the trigger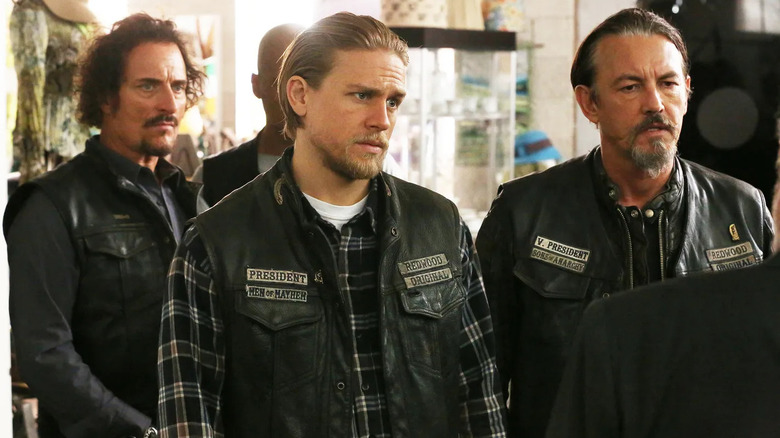 FX
Wayne Unser's death was a surprise in 2014, mainly because the triggerman was none other than Jax (Charlie Hunnam) himself, executing a man who had been a friend, and as his name symbolizes, an ally to SAMCRO since the beginning.
Dayton Callie spoke to Entertainment Weekly about his character's death, saying that Unser planned to save two of his friends, Jax and Gemma, but things clearly didn't turn out that way. "I went up there to try to get [Gemma] to surrender and take her in. If Jax came in, I had no intention of ever shooting Jax," he told the outlet. Callie had a simple answer when asked if Unser expected Jax to fire. "No. I wasn't. So if I wasn't, he wasn't. [Laughs] It's like, let's just stop and talk about this. Let's put the guns down. I know Jax since he was born. I'm not gonna shoot him. He didn't do anything yet. I don't know that he killed all those people."
Unfortunately for Unser, "Sons of Anarchy" had already pushed Jax past his breaking point, with Clay (Ron Perlman) and Gemma taking everything from him. With Tara (Maggie Siff) dead, Jax only had his kids left, but it was far too late by then. He was on a path with no return, and Unser happened to step in between him and his revenge against Gemma.