How Ron Perlman Landed His Role In Sons Of Anarchy
Ron Perlman has had numerous iconic roles throughout his illustrious 40-year career. He's done a little bit of everything, from horror with "The Island of Dr. Moreau," to science fiction with "Alien Resurrection," to even playing a superhero in the "Hellboy" series. He's partnered with long-time friend Guillermo del Toro in movies like "Blade II," "Pacific Rim," "Nightmare Alley," and "Pinocchio." However, some of his most notable roles come from his work on the small screen, including "The Magnificent Seven," voicing Slade Wilson in the animated "Teen Titans," and co-starring as Clay Morrow in "Sons of Anarchy" (via IMDb). 
Perlman's time on "Sons of Anarchy" cemented him as a great TV villain. Although Clay started the show as a father figure to Jax (Charlie Hunnam), he quickly became an antagonistic force against Jax, with the two disagreeing on how to lead the biker gang. Clay wants the club to continue its criminal activity, including enacting violent actions whenever someone wrongs SAMCRO. Jax disagrees, believing the Sons of Anarchy should legitimize and stop committing crimes. 
The series eventually reveals that Clay killed Jax's father, John Teller, the founder of the Sons of Anarchy. Once Jax learns of this, it sets him down a path of revenge, resulting in him killing Clay at the end of Season 6. 
Perlman's portrayal of Clay Morrow became one of his most iconic roles, and it's hard to imagine "Sons of Anarchy" without the actor — but that was nearly the case.
Ron Perlman wasn't the first choice for Clay Morrow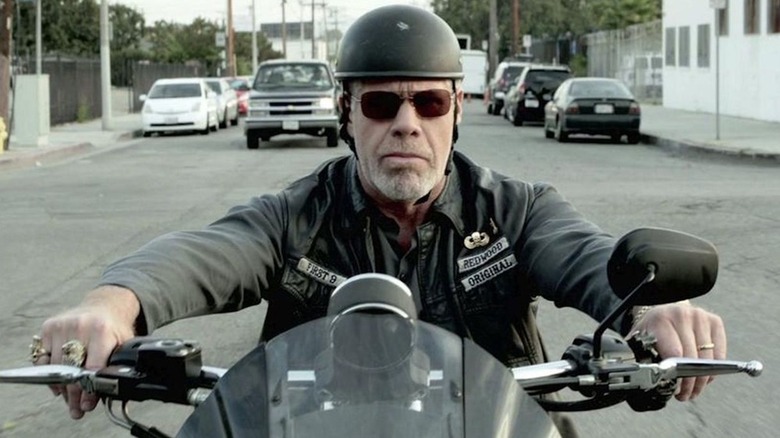 FX
"Sons of Anarchy" premiered in 2008 and, at the time, Ron Perlman had hit a peak in his career. The actor received critical recognition for his performances across TV shows in the '80s and '90s, but the early 2000s saw his career take off with roles in "Hellboy" and "Teen Titans." Given his star power during this time, one would think that landing a spot on the "Sons of Anarchy" cast would be light work for the actor, but that wasn't necessarily how it went down.
In an interview with NPR, Perlman went in-depth on the audition process he went through to land the role of Clay Morrow. "They had already shot the pilot with another actor playing Clay Morrow," he told the radio show. "And the network decided that they weren't getting what they were hoping to get and that they were willing to — they loved the series enough to — if they thought they found the right actor, they were willing to reshoot the pilot and ... restart the clock and green light the show for a whole first season." The network simply wanted someone more dynamic in the role, and Perlman gave them that. "They were looking for a more operatic version of this guy. And it just so happened — you know, I happened to be free that week."
While Perlman wouldn't explicitly state the actor who filmed the original pilot, it was shared in 2008 that "Daredevil" actor Scott Glenn signed on to portray Clay. While things didn't work out with Glenn and FX, he would go on to land a significant role in HBO's "The Leftovers." The network decided to go with Perlman's portrayal of Clay, and the rest is history.