Ghosted: Chris Evans Raves About Ana De Armas' 'Unbelievable' Stunt Work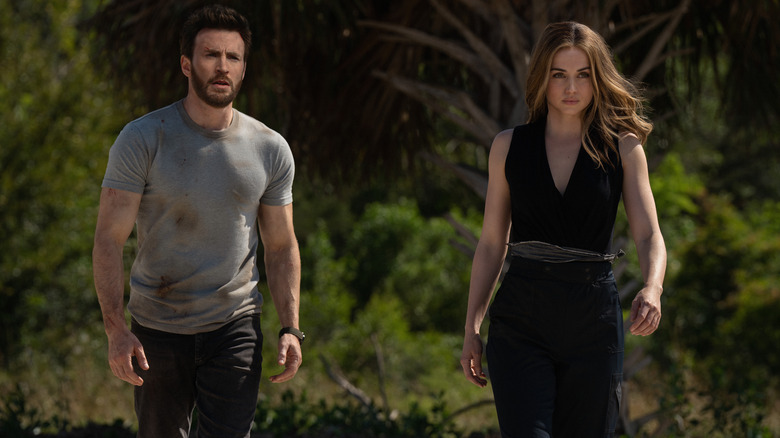 Apple
After years in the MCU, Chris Evans has seen his fair share of cinematic action and has witnessed plenty of professionals partake in several dangerous stunts. When filming was underway for the AppleTV+ movie "Ghosted," the actor quickly realized that not only was his co-star, Ana de Armas, a talented actor, but she was also very skilled at the stunt work involved.
While "Blonde" and "Knives Out" are some of her more notable accomplishments, de Armas' stock in action movies continues to rise after impressive showings in "No Time to Die" and "The Gray Man." She has made great efforts to establish herself as a force to be reckoned with on-screen, and on the set of "Ghosted," where she plays a dangerous secret agent named Sadie, Evans couldn't help but marvel at the actor's excellence in the stunt department. 
"She throws herself into everything completely," Evans said at a panel at Chicago's C2E2 convention (via Comicbook.com). "The first action sequence we had, she was doing things that were on Black Widow level. Truly unbelievable stunt work, where I was like, 'Wow, you've been doing your stunt training.' She really went for it." 
Evans claims de Armas made her secret agent efforts look easy, indicating that fans could be in for another excellent action experience when they see "Ghosted." While she is set to enter the "John Wick" franchise in "Ballerina," fans shouldn't get too excited about the actor taking on these types of films on a regular basis.
Ana de Armas wants to press pause on the pulse-pounding genre
While some may have figured that movies like "Ghosted" and "Ballerina" would lead to an era of Ana de Armas action, it seems that the actor has other plans that don't involve her participating in thrilling chase sequences or exhilarating gunfights. During a discussion about the movie "Blonde," she mentioned how after she had some arguably scene-stealing moments in her "James Bond" debut, an array of action offers flooded in, allowing her to carve her own path in the genre; however, it appears de Armas wants to press pause on taking action roles after "Ballerina." 
"I'm craving a wave of 'Blonde'-type films," Ana de Armas said in an interview with Vanity Fair. "I want to do work with directors and do character work. I have had the opportunity to meet directors that I want to work with. The people that I'm getting access to is changing, and that makes me very excited."
De Armas is ready to cease flexing her fighting muscles and start flexing her drama skills. While it's a less-than-ideal situation for action fans, it opens the door for some intriguing possibilities, given what she has already pulled off. Not only has she been nominated for an Oscar, but she has also played a crucial role in several films that have been Oscar contenders. While she probably won't be trying to escape a barrage of bullets while uncovering an international conspiracy in any of her potential dramatic endeavors, if there are any stunts required, her efforts in the action genre have given her an edge that's been approved by a former Captain America.