New Jurassic World: Fallen Kingdom Poster Teases Big Explosions, Bigger Dinosaurs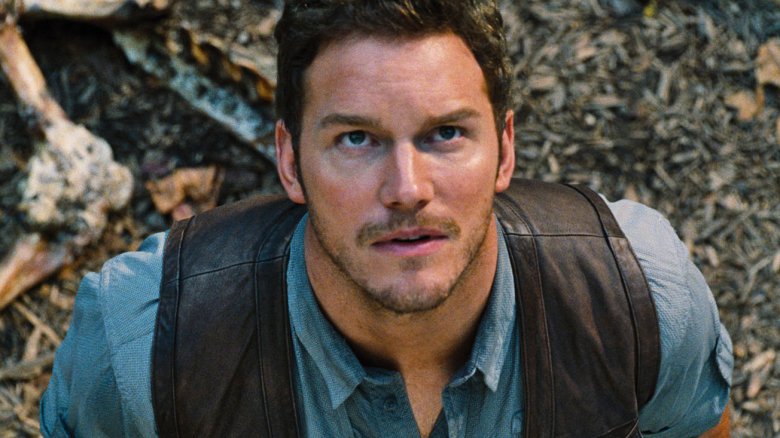 Ah, Jurassic World, where the only thing more terrifying than the violent volcano spewing lava and ash all over the defunct theme park are the massive dinosaurs running amok on the island that holds it.
Ahead of Jurassic World: Fallen Kingdom opening later this month, on June 22, Universal Pictures and Fandango have unveiled an all-new poster for the sequel. The one-sheet (courtesy of Collider) teases the volcano endangering the lives of the dinosaurs on Isla Nublar, the place where the shut-down Jurassic World still stands. Front and center are six enormous dinosaurs featured in the sequel — which is promised to contain more creatures than the original Jurassic World and any of the three Jurassic Park movies that came before it. There's the Tyrannosaurus rex and Velociraptor, standard for any pic about dinos, but fans can also spot the genetically engineered Indoraptor, the new dinosaur set to make its debut in Fallen Kingdom.
Check out the poster, available as a free gift with a purchase of advance tickets to Jurassic World: Fallen Kingdom through Fandango, at the bottom of this article.
Leading Jurassic World: Fallen Kingdom are returning stars Chris Pratt and Bryce Dallas Howard as Owen Grady and Claire Dearing, respectively. Also starring are fresh face Justice Smith as Franklin Webb, B. D. Wong as Dr. Henry Wu, James Cromwell as Benjamin Lockwood, Ted Levine as Ken Wheatley, Rafe Spall as Eli Mills, Toby Jones as Gunnar Eversol, Geraldine Chaplin as Iris, Isabella Sermon as Maisie Lockwood, Alex Dower as Anton Orlov, Daniella Pineda as Dr. Zia Rodriguez, and Kevin Layne as a submarine pilot. Everyone's favorite Chaos Theory expert Dr. Ian Malcolm, played by everyone's favorite stylish uncle Jeff Goldblum, will pop up as well, making a cameo appearance in the sequel pic. 
Prior to unleashing this epic new poster, Universal revealed the official plot synopsis for Jurassic World: Fallen Kingdom, giving fans a solid idea of what to expect going into the film: "It's been three years since theme park and luxury resort Jurassic World was destroyed by dinosaurs out of containment. Isla Nublar now sits abandoned by humans while the surviving dinosaurs fend for themselves in the jungles. When the island's dormant volcano begins roaring to life, Owen (Chris Pratt) and Claire (Bryce Dallas Howard) mount a campaign to rescue the remaining dinosaurs from this extinction-level event. Owen is driven to find Blue, his lead raptor who's still missing in the wild, and Claire has grown a respect for these creatures she now makes her mission. Arriving on the unstable island as lava begins raining down, their expedition uncovers a conspiracy that could return our entire planet to a perilous order not seen since prehistoric times. With all of the wonder, adventure, and thrills synonymous with one of the most popular and successful series in cinema history, this all-new motion-picture event sees the return of favorite characters and dinosaurs–along with new breeds more awe-inspiring and terrifying than ever before."
Directed by J.A. Bayona and written by Colin Trevorrow and Derek Connolly, Jurassic World: Fallen Kingdom will stomp into cinemas on June 22.