Russell Crowe Teases That Sony's Kraven Movie Isn't A Lighthearted Superhero Romp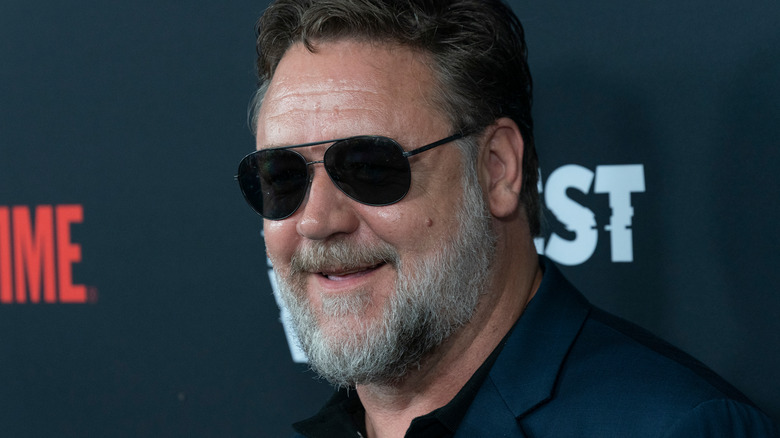 lev radin/Shutterstock
Despite the harsh fan and critic reactions to its previous Spider-Man villain movies "Venom," "Venom: Let There Be Carnage," and the endlessly-memeable "Morbius," Sony is indeed going full steam ahead with a solo movie for infamous rogue Kraven the Hunter. Former Quicksilver actor Aaron Taylor-Johnson has signed the dotted line to play Sergei "Kraven" Kravinoff, working opposite the likes of Ariana DeBose and Fred Hechinger. Hollywood icon Russell Crowe will also appear in the film that he describes as not being for the faint of heart.
Speaking with CBR, the actor behind Kraven's father, Nikolai Kravinoff, revealed that "Kraven" won't be a typical fun, lighthearted superhero flick. "One of the things he said, that it's, it's just an unexpectedly dark world," he shared, echoing director J.C. Chandor's sentiments about the story the writing team has put together. Crowe adds, "He's [Chandor] really excited about what he's got in front of him...Really excited about the way people will receive it." Time will tell how Marvel fans react to the final film.
The supposedly dark "Kraven" will mark Russell Crowe's second jaunt through the Marvel universe, with his first coming in 2022's "Thor: Love and Thunder" — one of the goofiest and least serious Marvel Cinematic Universe entries out there.
Hopefully Kraven fares better for Crowe than Thor: Love and Thunder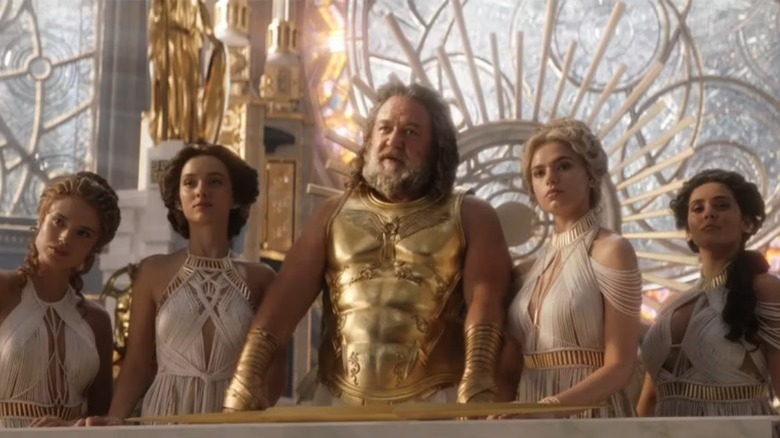 Marvel Studios/Disney
Before he attached his name to "Kraven" as Nikolai Kravinoff, Russell Crowe joined the MCU via "Thor: Love and Thunder." There, he portrayed the Greek god Zeus: an egotistical, over-the-top leader among the universe's many deities whose overconfidence almost indirectly leads to Gorr the God-Butcher's (Christian Bale) victory. Crowe's approach to the character certainly fits what the wacky script calls for, but that doesn't mean that all Marvel fans were happy with his performance and the film's take on Zeus.
"The "It's a-me, Mario" accent was a dumb creative choice (of which there are MANY in this film) on top of a bad casting choice," wrote Redditor u/tdogg241 in a thread about Crowe's Zeus. u/Hero_Fall acknowledges that the character was almost entirely meant to be comedic relief (though in a film that's non-stop hit-or-miss comedy, is that even necessary?) but they feel both he and Crowe were wasted in "Love and Thunder." u/princesamurai45 at least cuts Crowe a little slack for trying to do something fun with the character.
All in all, Russell Crowe's first go-around in the Marvel world wasn't great. His take on Zeus was odd, to say the least, and "Thor: Love and Thunder" is widely agreed to be one of the weaker Phase Four MCU installments. Could "Kraven" and the part of Nikolai Kravinoff make up for Crowe's "Love and Thunder" misfortune? We'll just have to wait and see when "Kraven" opens on October 6, 2023.